14+ Pros and Cons of Using Popular Web Hosting Control Panels
What are the benefits of using a web hosting control panel for your server? In this concise guide, we look at the ins and outs of this dynamic solution, highlighting the advantages and addressing potential concerns. You may be trying to reduce the complexity of handling numerous server tasks, from file transfers to database management. Discover how hosting control panels streamline your website management processes for smooth operations.
Key Takeaways
The roles and benefits of web hosting control panels.
Understanding the ease of managing domains and software installations with hosting vontrol panels.
Check the user-friendly interfaces and advanced features for easy server management.
Learning about drawbacks of the web panels and how to mitigate them with choices like CloudPanel.
Valuable insights into user roles and security features.
What is a Web Hosting Control Panel?
A web hosting control panel is a web-based interface enabling easy hosting services management. It simplifies tasks such as managing domains, installing software, and administering databases.
With a focused, user-friendly dashboard, even non-technical users can easily handle complex operations. A control panel optimizes maintenance, boosts security measures, and enables efficient website management. Examples include CloudPanel, which makes complex server tasks into simple, automated processes on an easy-to-use interface.
Pros of Using Popular Web Hosting Control Panels
1. Easy management of hosting services
Website management can get tedious and complex, and system administrators need a simplified, efficient approach. The right hosting control panel allows efficient oversight of multiple websites, server security updates, backups, performance, and more.
Features such as one-click deployment, automated server health checks, and mail server support further ease various administrative tasks. These panels are necessary for web hosting, enhancing daily admin tasks into hassle-free and automated processes.
2. User-friendly interface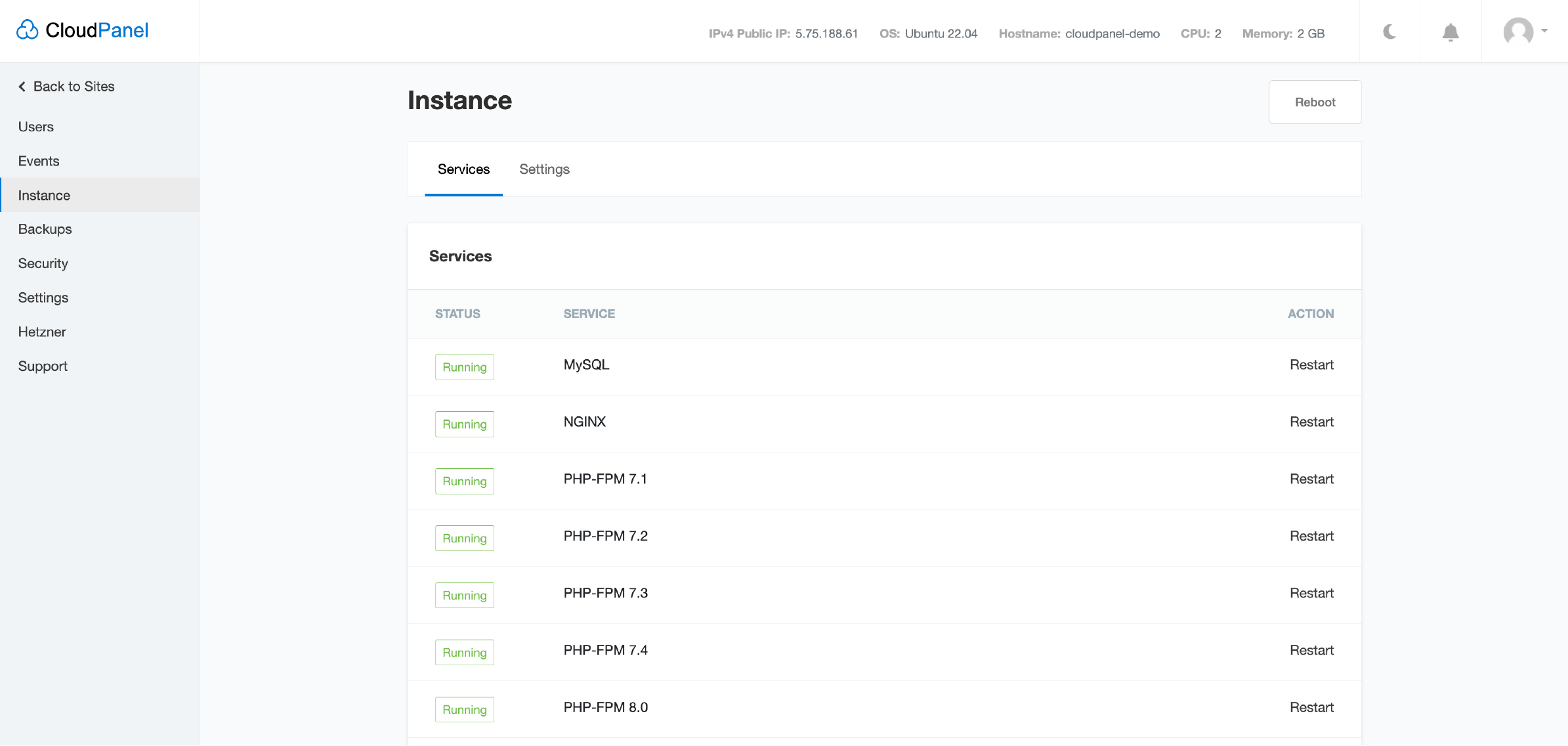 Hosting control panels have a user-friendly interface and layout. Even for non-tech-savvy individuals, they are fairly straightforward to navigate. A well-designed hosting control panel enables swift learning for most users.
Possessing file and domain management along with database control within a singular platform is highly convenient. You don't have to memorize complex codes or input lengthy instructions. Every necessary command is conveniently accessible on your screen with a clean interface. The buttons and icons tell you what each section does. It helps cut down on mistakes when managing your projects.
3. File management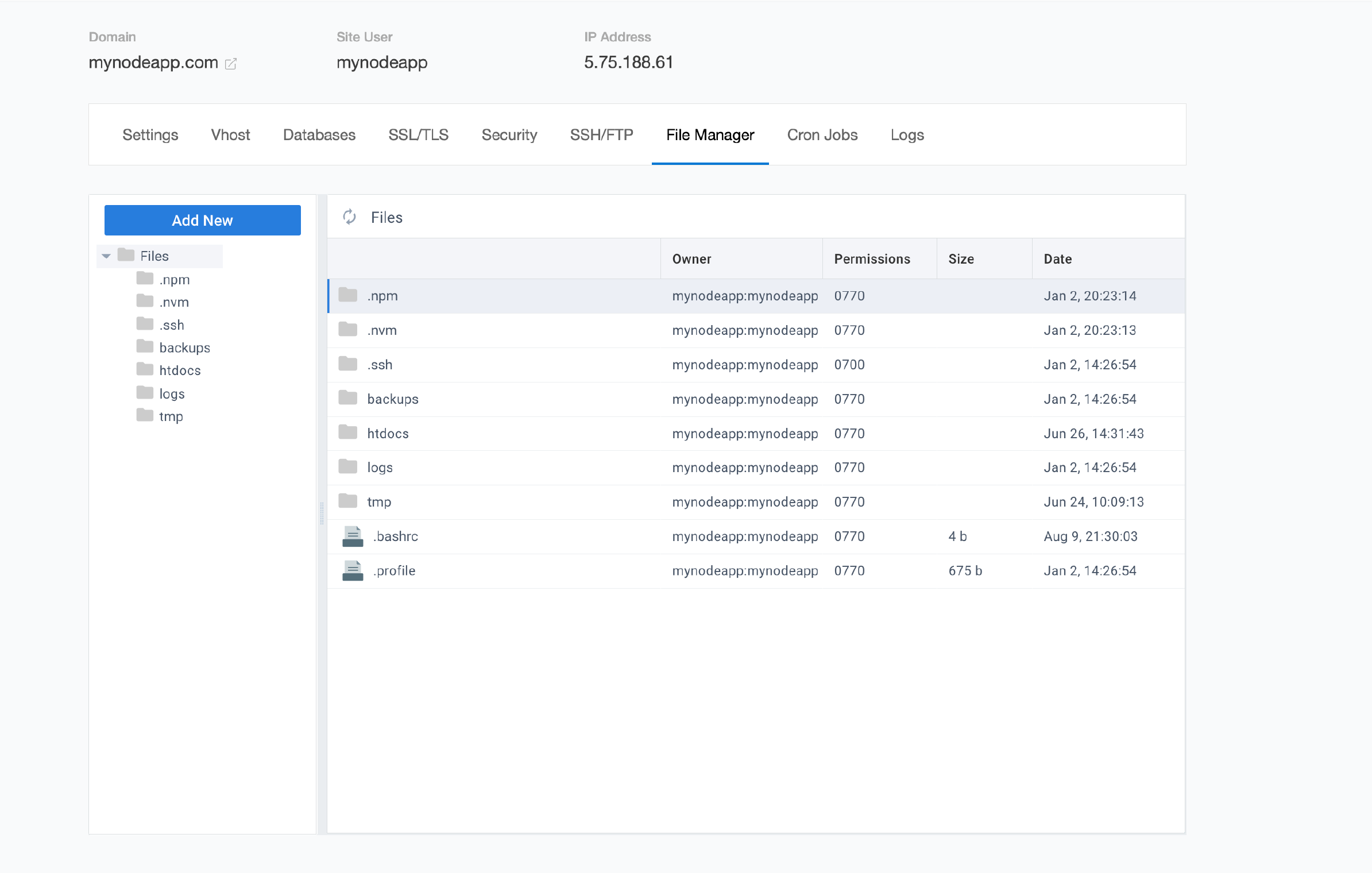 Control panels make file management simple. You can see, move, or delete files with a few clicks. It enables File Transfer Protocol (FTP) to send big files fast, save time and reduce complexity. The file manager, A file manager in the panel, offers unique benefits and enhanced user experience:
Preview Files: It lets you preview files before opening, providing a snapshot of content.

Consistent Organization: A file manager on a control panel offers a structured layout for better file organization.

Bulk Actions: It allows for bulk actions like mass deletion or moving of files, reducing individual handling.

File Compression: It can compress and decompress files, saving storage space.

User Access Control: It enables setting permissions, who can see or edit files, enhancing security.

File Navigation: It provides a system that helps locate files quickly and accurately.

Disk Space Monitoring: It aids in tracking storage use, ensuring your server isn't choked up.
4. Easy software installation

Installing software becomes a seamless process with web hosting control panels. It enables users, regardless of their technical skills, to install a wide range of software applications on their websites effortlessly.
It can set up a content management system like WordPress or an e-commerce platform like Magento. The hosting control panel offers simplified installation steps. You can swiftly have your desired software up and running with a few clicks without delays.
The feature is especially useful for beginners who may find manual installations overwhelming. Thus, opting for hosting control panels with easy software installation capabilities is highly recommended for those seeking a trouble-free solution to enhance their website.
For instance:
CloudPanel simplifies the installation of popular application frameworks such as:
PHP sites
Node.js
HTML static sites
Python sites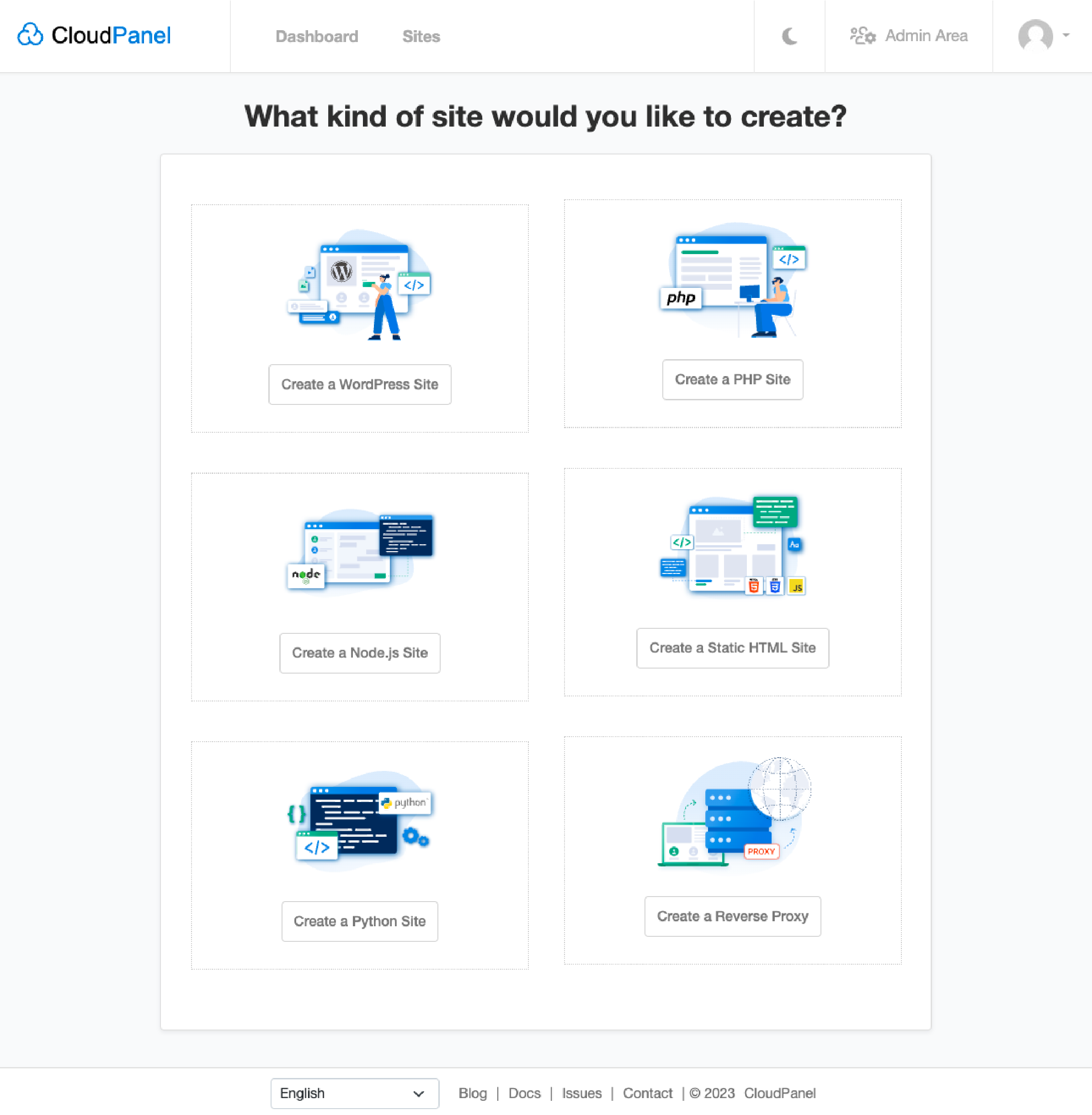 To start an application, follow these steps:
Log into CloudPanel and navigate to the Add Site section.

Click the "Add Site" option in the front area to begin the application installation process.
5. Domain & sub-domain management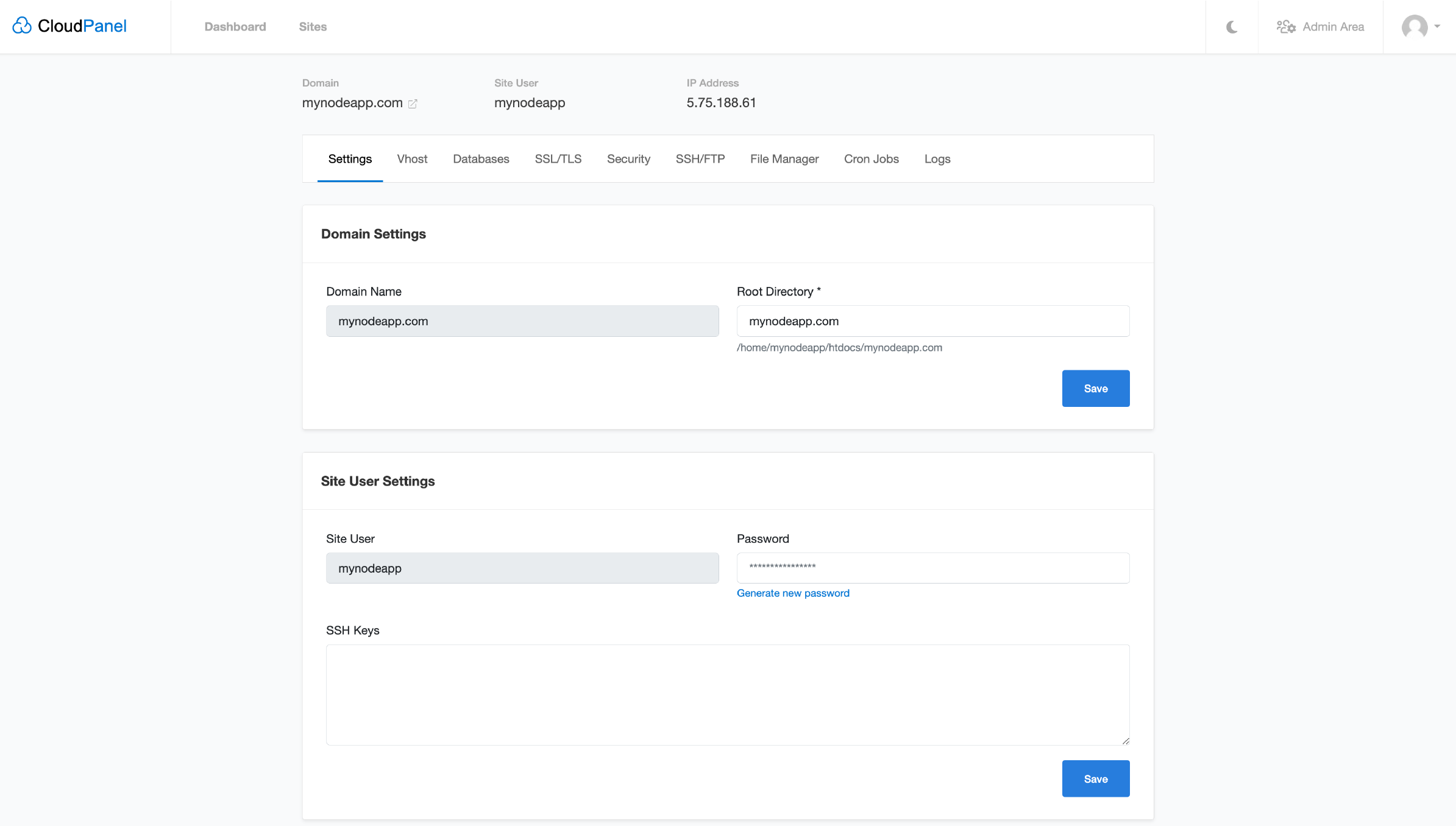 Hosting control panels offer easy domain and sub-domain management capabilities. It makes it simple for users to control their website addresses. Users can register new domains, set sub-domains, and manage DNS settings.
This feature allows users to easily create multiple websites or sections within a single website with unique URLs. Users can also configure email accounts associated with their domains and set up redirects or aliases. Overall, the easy domain and subdomain management ensures that users have full control over their online presence.
Use case example: In CloudPanel, you can modify your site's Root Directory within the Domain Settings. The default setting is the Domain Name, but you can customize it to suit your specific requirements.
6. Access to advanced features
Hosting control panels give users advanced features to enhance their website management experience. These features help customize their server configurations and access additional tools for optimizing their websites.
Users can easily set up SSL certificates for secure browsing with a control panel. You can manage databases for dynamic web applications like WordPress. You also have the option to integrate content delivery networks(CDNs) to improve website speed. CloudPanel comes with an integrated Varnish cache for high performance for your websites. These panels offer file transfer protocol (FTP) access, allowing you to upload and manage files on their server efficiently. Users can also regularly back up their websites or databases for added security.
Advanced monitoring and reporting tools help keep track of important metrics such as server uptime and resource usage. These features add value by offering flexibility and convenience while ensuring efficient management of web hosting services.
7. Website management
Hosting control panels offer streamlined site management features. With a user-friendly interface and intuitive tools, these control panels simplify tasks such as creating and managing domains, sub-domains, and data management.
Some of the site management tasks include:
Domain and subdomain management
DNS configuration
SSL certificate installation
Viewing server status
Creating custom error pages
Website file and database management
FTP account setup
Error logging and troubleshooting
Resource allocation and monitoring
Firewall configuration
Content management system installation
Website statistics and analytics tracking
Collaboration tools and user access management
Server and site migration
8. Centralized control
Hosting control panels offer centralized control over various aspects of your web hosting services. A control panel lets you easily manage and configure your website, user accounts, databases, and more from one central location.
It eliminates the need to navigate multiple interfaces or use complex command-line tools. It also offers better oversight, enabling you to monitor, track, and maintain all website functionalities from one place.
9. Backup management

Web hosting control panels offer convenient backup management features. Users can create and schedule backups of their website files, databases, and server configurations.
Backups are essential for protecting against data loss or website errors caused by updates or changes. With control panels, users can set up automated backups at regular intervals, ensuring they have saved the most recent version of their website.
These regular backups can be stored locally on the server or sent to remote storage locations for added security. Users can restore their websites from these backups with just a few clicks in case of any issues or mistakes. It minimizes downtime and potential disruptions to their online presence.
10. Database management
Hosting control panels let you easily create and manage their databases without extensive technical knowledge. It offers user-friendly interfaces that simplify setting up databases and database users.
It can simplify tasks such as creating tables, importing/exporting data, managing user permissions, and running queries. The panel allows users to organize and store their website data effectively.
Additionally, web hosting control panels often support popular database management systems like MySQL and PostgreSQL. It ensures compatibility with various applications and allows users to integrate their websites seamlessly with their chosen database software.
11. Security features

Hosting control panels offer robust security features to protect your website and server. They offer various tools and functionalities designed to enhance the security of your online presence.
These features include SSL certificates for secure data transmission, firewall settings to block malicious attacks, and password protection for sensitive areas of your website. Control panels often have built-in antivirus software and spam filters to safeguard against harmful viruses.
CloudPanel enables IP and bot blocking, providing an additional layer of security. It prevents unauthorized access or automated malicious activities on your website.
You can easily manage user access permissions, granting specific privileges to individuals or roles. This helps control access and ensures only authorized personnel can change or update your website or server.
With granular control over user permissions, you can minimize the risk of security breaches caused by human error. Security features in control panels are vital to offer robust website protection against various threats. Overall, it ensures safe and reliable online operations.
12. Server Monitoring and Reporting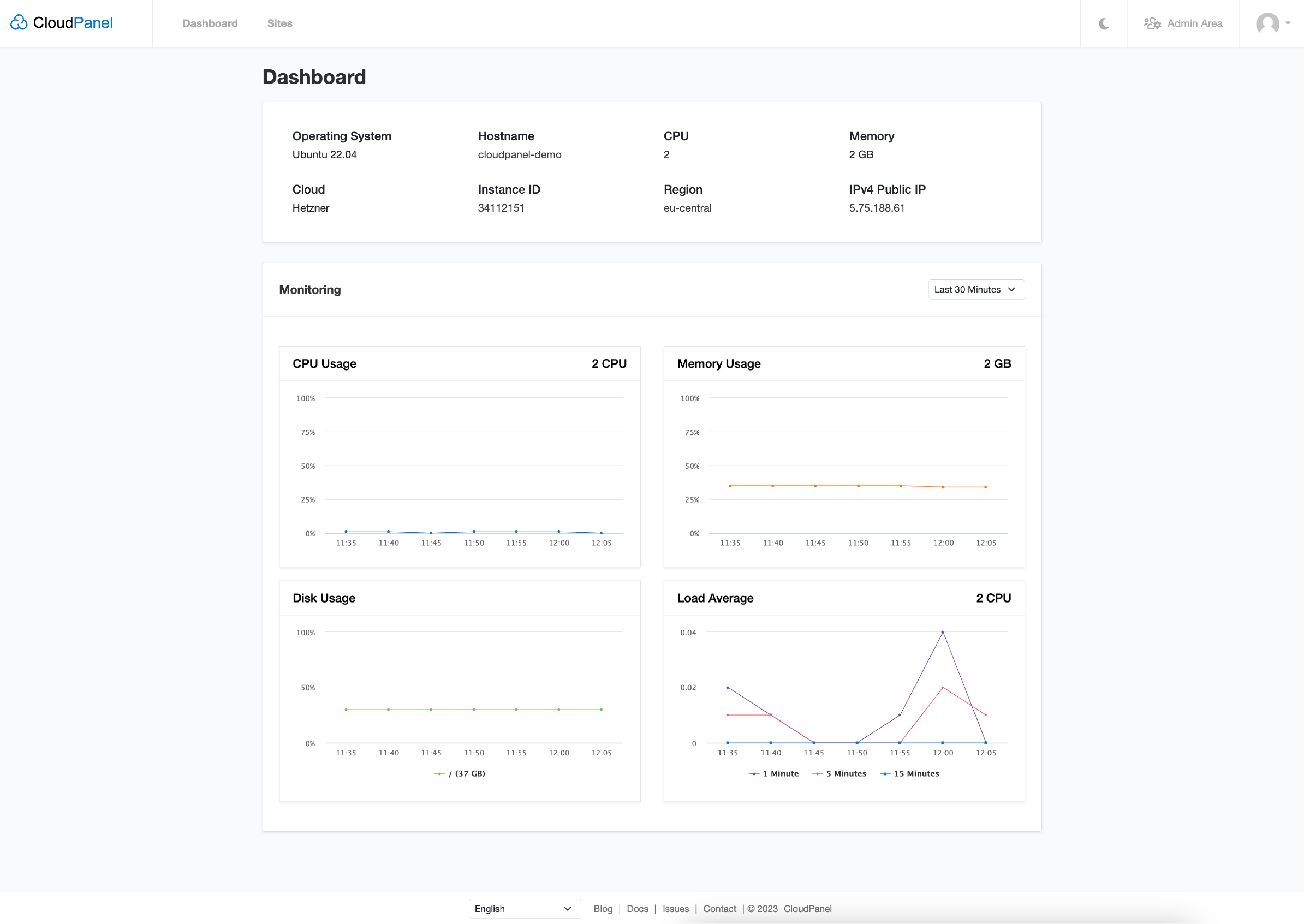 The web hosting panels provide enhanced monitoring and reporting capabilities. Users can track their website's performance and security. These features help users identify any issues or vulnerabilities and take appropriate action.
Monitoring tools allow users to monitor server resources such as CPU usage, memory usage, and disk space to ensure optimal performance. CloudPanel also shows instance information, instance ID, region, operating system, etc.
The information can be used to make data-driven decisions for improving website performance and marketing strategies. Reporting features provide detailed insights into website traffic. It includes the number of visitors, page views, and referral sources. Some control panels support third-party monitoring services like Google Analytics for more advanced analytics functionality.
13. Supports Multiple Users and Roles

Hosting control panels, like CloudPanel, offer support for multiple users and roles. It means you can give different people access to your hosting account with specific permissions and restrictions.
For example, you can create separate accounts for your team members or clients. It allows them to manage their websites without giving them full control over the server.
With this feature, you can assign different roles to each user based on their responsibilities. For instance, you can have an administrator with complete control over the server settings and a developer who can manage website files and databases.
CloudPanel offers the flexibility to add users with limited access. Each role's distinct permissions are detailed below.
Admin: Admins have complete rights, unrestricted to any specific area or site.

Site Manager: Site Managers can fully manage all sites but don't have access to the admin area.

User: Users are only assigned to specific sites, limiting their visibility and management to those sites only.
The capability of managing multiple users enhances security by ensuring that sensitive server configurations are not accessible to everyone. It also allows team members to collaborate while maintaining proper control and accountability over various aspects of your web hosting environment.
14. DNS Management
You can simplify DNS management, making it easier for users to manage their domain names and DNS settings. With a hosting control panel, you can easily add, edit, or delete DNS records. It includes A, CNAME, MX, and TXT.
This allows users to connect their website to a specific IP address or domain name. You can configure other important settings related to their domain.
Cons of Using Web Hosting Control Panels
Web hosting control panels have some drawbacks that users should consider.
1. Limited customization options
Hosting control panels provide convenience and ease of use, but one drawback is that they may offer limited customization options. It means that users may not have full control over their server configurations or be able to make advanced customizations.
While basic settings can be adjusted, more complex modifications to the server environment may not be possible through the control panel alone. Users should consider their technical requirements before relying solely on a hosting panel for customization.
2. Dependency on the hosting control panel provider
One potential limit is the dependency on the control panel provider. Users rely on the provider to maintain and update the control panel software.
The optimal solution is to choose a reliable and reputable cloud panel provider committed to regular updates. Check if they're using advanced technology and allowing a supportive community. It reduces dependency and boosts user ease.
3. Potential security vulnerabilities
Web hosting control panels can have potential security vulnerabilities. These vulnerabilities may arise from outdated software or plugins in the control panel, making it susceptible to attacks.
It is crucial for users to regularly update their control panel and associated software to ensure optimal security. Also, strong passwords and other security measures can help mitigate these risks.
Users should also know common server security practices. Stay informed about any reported vulnerabilities to protect their websites and data effectively.
4. The learning curve for beginners
Web hosting control panels can have a learning curve for beginners. They are designed to provide advanced features and tools for managing web hosting services, which can be overwhelming for someone new to the platform.
Beginners may need time to familiarize themselves with the interface and understand how to use different settings and options. However, many control panels offer intuitive interfaces and provide helpful documentation or tutorials to assist beginners in getting started.
Opt for a hosting control panel that has a clean and intuitive interface. With practice, beginners can overcome the learning curve and proficiently use the hosting control panels efficiently.
5. Cost
Using hosting control panels can have cost implications for users. While some control panels may come bundled with hosting plans, others may require additional licensing fees. Considering the costs associated with control panel usage when choosing a hosting provider or plan is important.
Additionally, certain advanced features and tools offered by control panels may only be available in premium versions, which could further increase costs.
You can opt for free hosting control panels, such as CloudPanel. It offers powerful features, community support, and a free, high-performance stack.
FAQs
1. What is a hosting control panel, and what are some popular web hosting control panels?
A web hosting control panel is a web-based interface that allows you to manage your server and hosting platform. It's popular as it simplifies server management and offers a range of features like FTP accounts, email management, and website hosting.
Popular web hosting control panels include CloudPanel, Plesk, cPanel, Webmin, DirectAdmin, and Virtualmin. They're designed for operating systems like Linux, Windows OS, CentOS, and Ubuntu. It provides the best solutions for VPS hosting and shared hosting.
2. How does using a hosting control panel benefit me?
Using a control panel makes managing multiple servers, like VPS or dedicated servers, easy. It also lets you handle tasks on other popular control panels like Apache, Nginx, and PHP via the user interface.
3. Can I use any operating system with these Control Panels?
Yes. Many of the best web hosting control panels work with Linux distributions. Others are designed for Windows Server, too.
4. Is there an easy way to transfer files using these Control Panels?
Hosting panels often include File Transfer Protocol (FTP) capability and Secure Shell (SSH). It offers file transfers and system administrators' needs.
5. What key features should I consider in an easy hosting control panel?
The features of a web hosting control panel can vary depending on the dashboard design. These include an easy hosting control panel layout, a file manager for easy server control, and an integrated web panel for quick access to all tools.
Look for a system for managing domain hosting and other administration tasks. It's also crucial that the control panel is a web-based interface accessed from any web browser.
6. Why do I need a control panel for my web server?
A control panel is a key management tool for your web server, offering streamlined access to many complex server administration tasks. It can simplify server management through an intuitive, user-friendly dashboard.
The hosting panel is tailored for operating systems like CentOS, BSD, and Ubuntu. Features like file manager, FTP accounts, and firewall updates can be easily accessed and managed through the admin panel of control panels. It makes them an essential component of VPS hosting, shared hosting, dedicated servers, and virtually every hosting type.
Summary
This article explored the benefits and drawbacks of web hosting control panels. It offers streamlined website management, easy software installations, and advanced security. Some potential limitations include restricted customization. Consider CloudPanel, a free, user-friendly, and efficient platform for an optimal server administration solution.