Top 5 Free WordPress Hosting Control Panels
A WordPress hosting control panel is a tool to manage and maintain your WordPress site. It simplifies WordPress website and server management.
Functions of a hosting control panel for WordPress should include:
Website and domain management
Access to branded email accounts
Reporting for key metrics
Some security features
Database setup and management
Software and app installation
In this article, we look at the top 5 WordPress hosting control panels.
1. CloudPanel
CloudPanel is a free server control panel for PHP applications. It comes with a clean and simple to use interface.
CloudPanel supports a wide range of PHP applications, including WordPress. You can install the applications via the panel for free.
It is easy to use and up and running within 60 seconds. You can get the steps of installing WordPress in the CloudPanel documentation.
CloudPanel uses lightweight components for maximum performance. Its technology stack includes:
NGINX
Debian
PHP-FPM
MySQL
Redis
Node.js
ProFTPD
WordPress website owners can get free SSL Certificates for their domains with one click. The certificates are renewed automatically.
CloudPanel brings advanced cloud functionalities to WordPress websites. It supports AWS, Microsoft Azure, Google Cloud, Vultr, and Digital Ocean.
For security, Cloudpanel includes a highly effective IP, Bot Blocker, and Two-Factor verification login.
The only requirement for running CloudPanel is to use Debian 10 (Buster).
The Top Features of CloudPanel include:
Easy to Use Interface
Up and running within 60 seconds
Supports all common PHP Apps & PHP versions
One-Click Let's Encrypt Certificates
Multiple PHP Versions
NGINX Support
Support for all big clouds
Cloud Functionalities
Supports more than ten languages
2. Ajenti
Ajenti is an open-source web hosting control panel. It is managed by a team of web developers and server admins.
The hosting panel has an intuitive & responsive interface for WordPress server management. It is designed to be light, user-friendly, and supportive.
Ajenti V is the add-on package offered by Ajenti. It lets you manage multiple WordPress websites from a single dashboard. This package makes it easy to set up email accounts for all your WordPress domains.
Ajenti ensures maximum security. It provides a secure way to work with Linux via file managers, web terminals, text editors, etc. A firewall is configured from within the panel.
According to its creators, Ajenti does not harm your system. Its changes will not harm or replace the files or comments on your WordPress blog or site.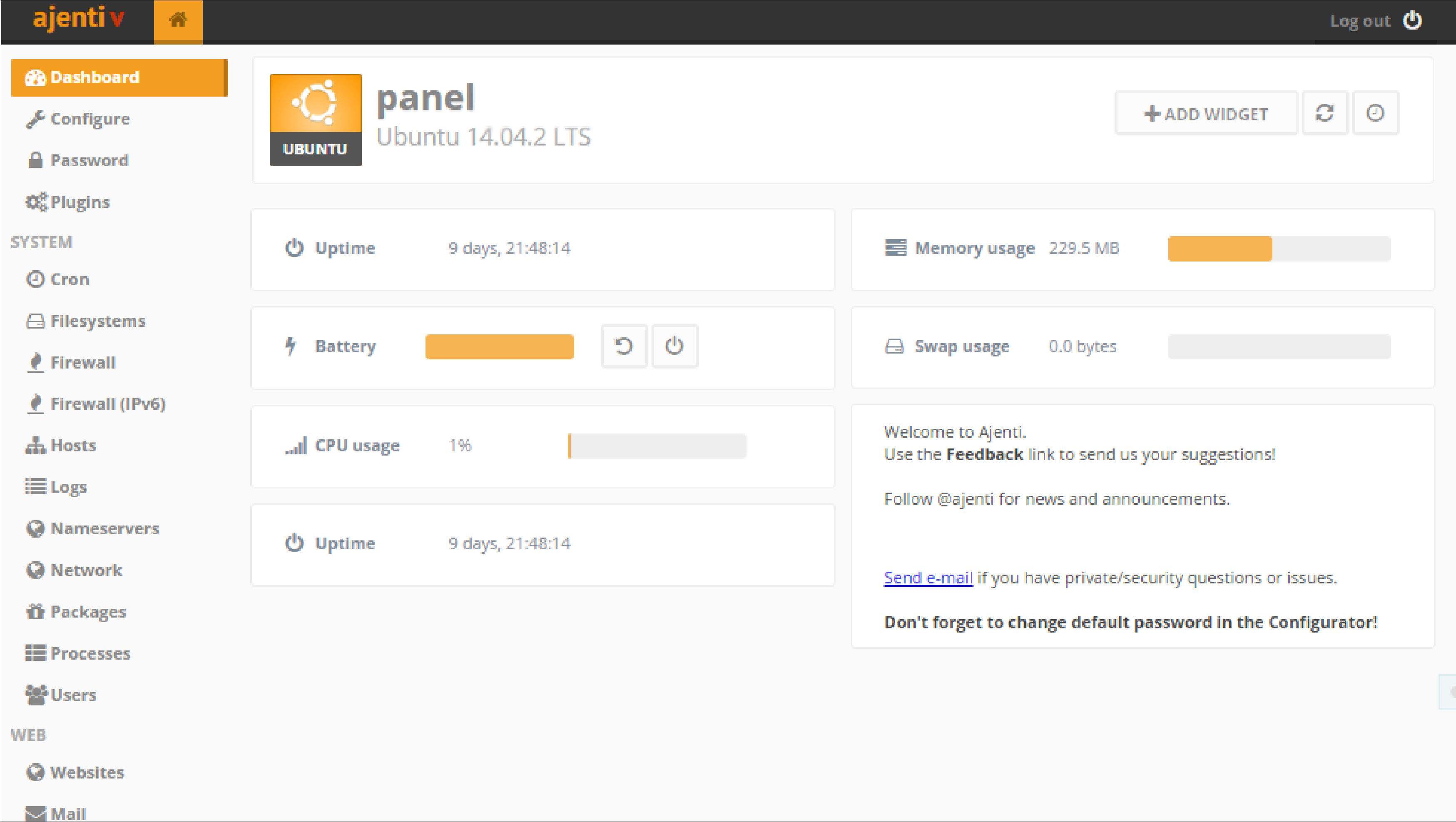 Top Features for Ajenti include:
Responsive interface & layout. GUI based on AngularJS
Mail: Automatic configuration of Exim 4 and Courier IMAP.
CLI interface
Embedded web-based server
Highly modular Python API
SSL certificate support
3. ISPConfig
ISPConfig is a control panel tool for Linux hosting. It is an excellent choice if you plan to use Linux servers for your WordPress site.
You can manage multiple servers from the panel. It also allows resellers to manage multiple accounts on multiple physical or virtual servers.
ISPConfig is free, open-source, and highly reliable software available under the BSD public license. It supports operating systems such as Debian, Ubuntu, and CentOS.
ISPConfig allows the creation of web statistics using tools like Piwik. Piwik's reports are similar to the ones created by Google Analytics.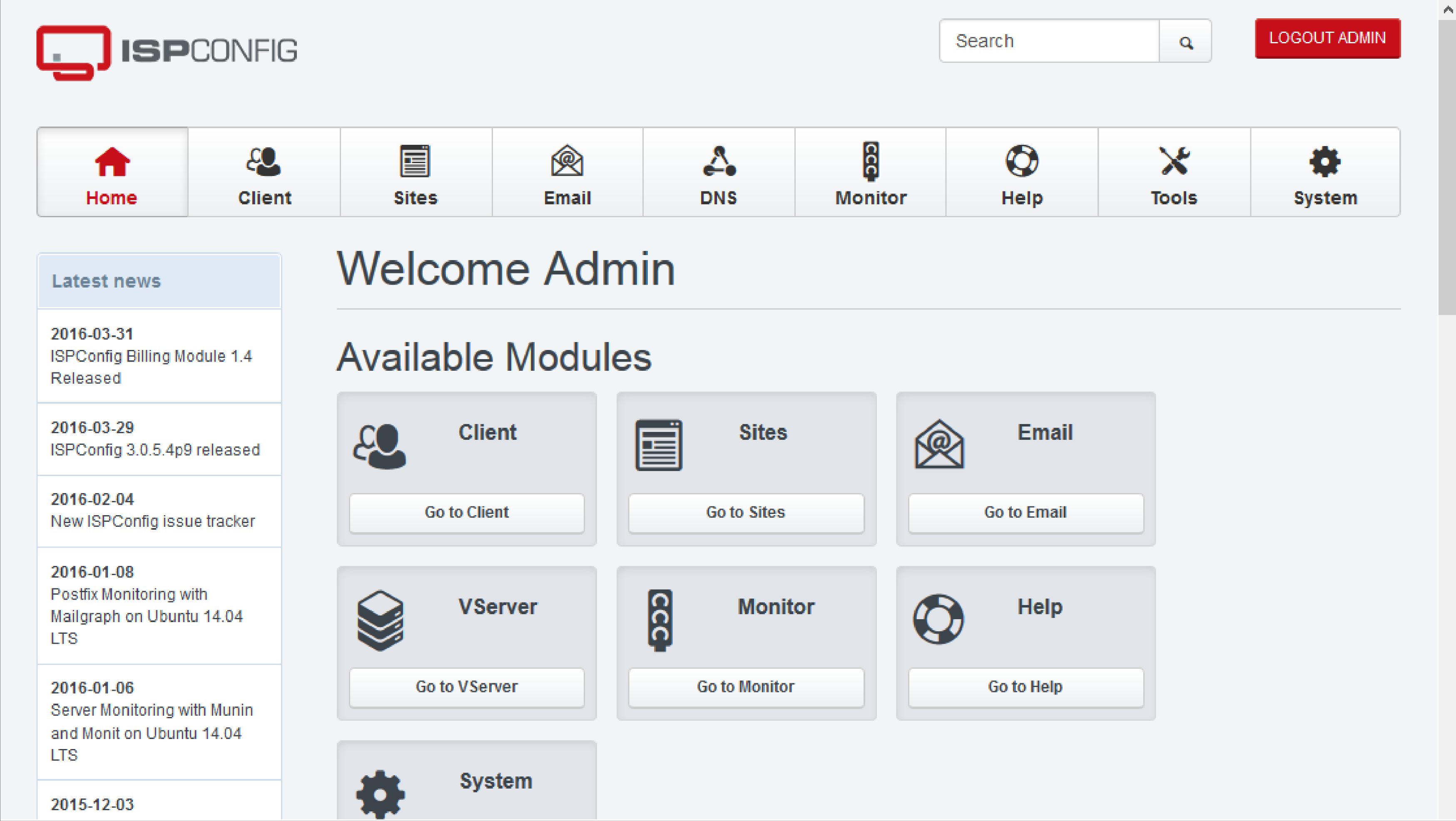 Top features of ISPConfig include:
Supports many Linux distributions
Four Access Levels
Supports more than twenty languages
FTP, MySQL, and Cron jobs
Apache2 and NGINX
DNS: Bind, PowerDNS
Database: MariaDB and MySQL
4. VestaCP
Vesta control panel (VestaCP) has a simple and lightweight control panel. It offers all core functions for free. The premium version can activate SFTP chroot and commercial plugins support.
VestaCP works with CentOS, Debian & Ubuntu OS. It has a clean interface that simplifies server monitoring with easy-to-read graphs.
VestaCP Dashboard Widget is a useful WordPress plugin. It shows stats and usage reports from the admin account.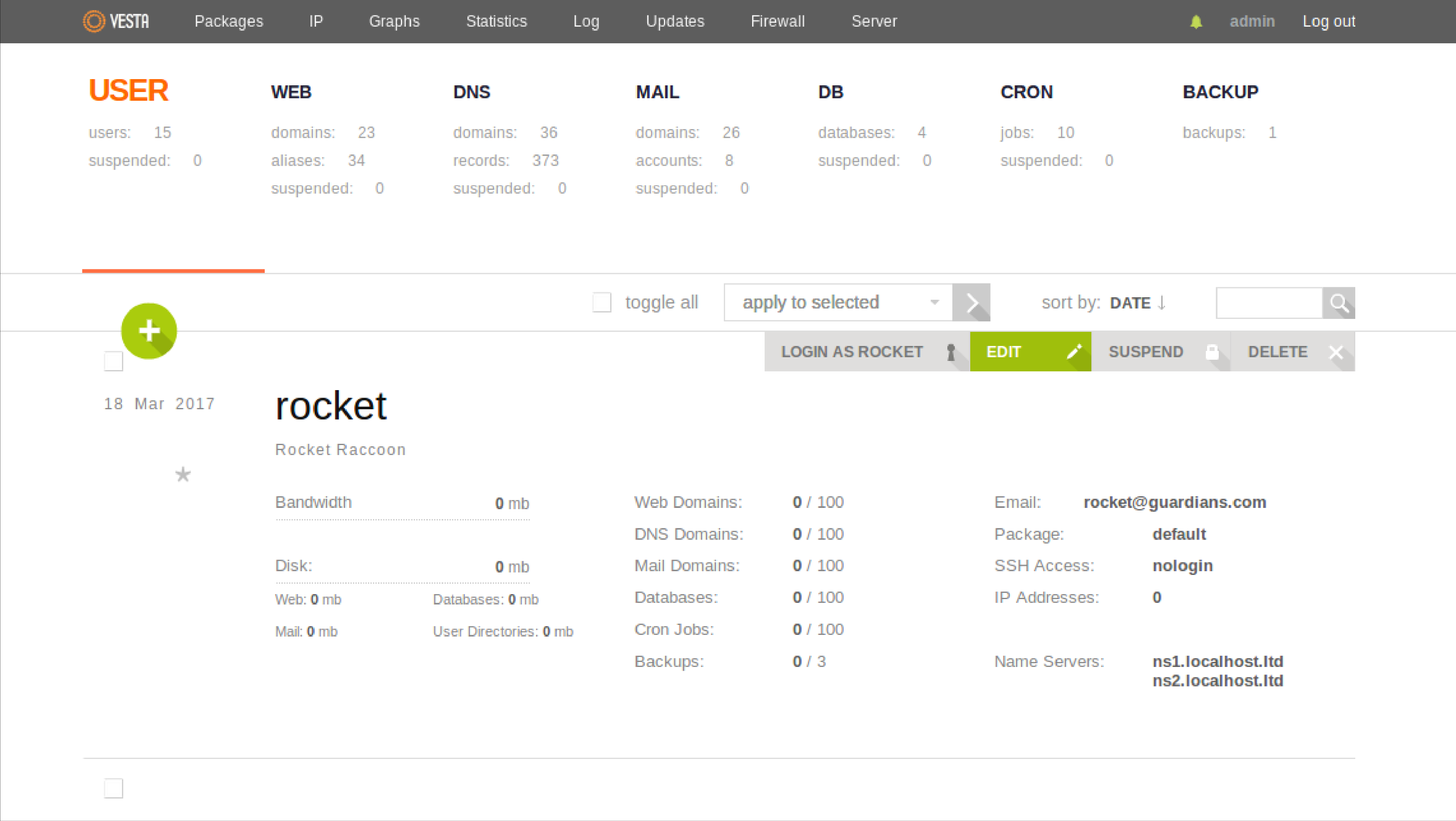 Top Features for VestaCP include:
Auto Application Installer
GPL v3 License
Auto updates
Antivirus/ Anti-spam
Auto Installer
FTP manager
GPL v3 License
CLI & API: Uses 381 Vesta CLI calls.
SSL Certificates
5. Webmin
Webmin is a self-hosted open-source control panel. It is built for Linux/Unix servers.
The panel is intuitive and responsive. It is designed for experienced system admins.
Webmin provides advanced functionality & high flexibility to users. It is based on Perl, runs as its own process and the webserver.
Webmin can host WordPress sites with a powerful plugin called Virtualmin. It is a module that sits on top of Webmin.
Virtualmin provides functions for non-root users to manage their shared hosting accounts.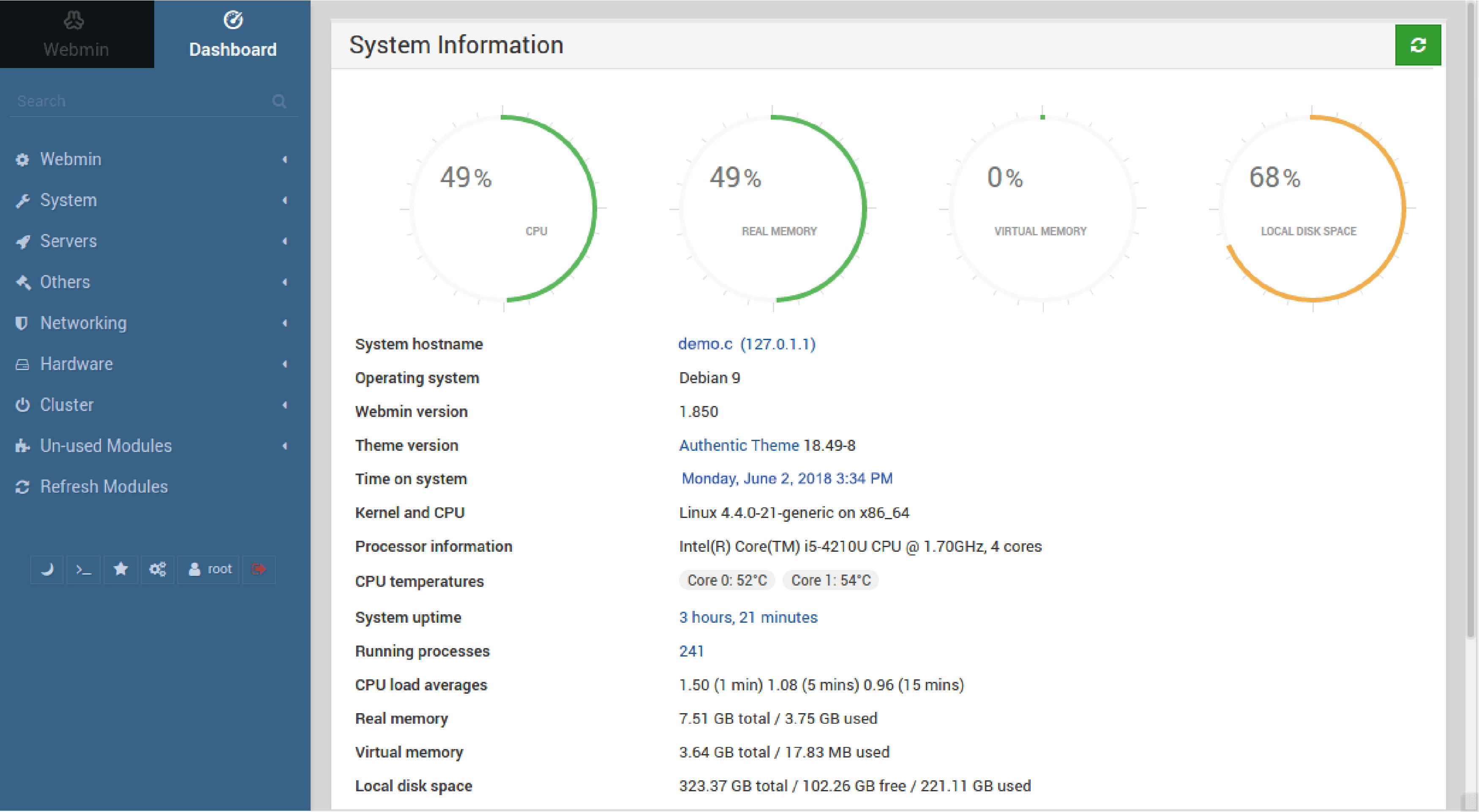 Top Features for Webmin include:
Free and Open source
Easy to Use Interface
Supports many Linux distributions
Supports more than twenty languages
SSL Certificates
Apache web server support
Conclusion
Before you choose a control panel, consider your specific WordPress hosting plans requirements.
You can manage your server faster & efficiently without investing in the paid control panels.
In this article, we covered the 5 free control panels for managed WordPress hosting.
Choose ISPConfig if you need to manage multiple servers. VestaCP is better suited for beginners with small servers such as blogging platforms.
CloudPanel delivers maximum performance. Install CloudPanel to get started with efficient WordPress server management.
To learn more about Control panels, check out the CloudPanel blog.