8 Free cPanel Alternatives for Server Management
cPanel is a popular control panel for website and server management. It enables you to manage your web server on a single dashboard.
Over the years, almost every website owner and shared hosting user has relied on cPanel.
However, its price rise has shaken the web hosting community. cPanel's pricing policy is now account-based, which makes it very expensive.
So here is a list of alternatives to cPanel. The list contains top tools that provide a similar level of service & features.
We haven't included Plesk in our top pick of cPanel alternatives because it belongs to the same company – Oakley Capital.
1. CloudPanel
CloudPanel is a modern server control panel for PHP apps. It has a clean and simple interface.
It is the only control panel that has cloud features. CloudPanel supports all big clouds such as AWS, Digital Ocean, and Google Cloud. It comes with advanced cloud functionalities.
For example, you can see AWS Instance information directly on CloudPanel. AWS Security Groups rules are directly managed from CloudPanel without visiting AWS Management Console.
The same is applicable for Digital Ocean and Google Cloud. You can manage Droplets, Firewall Rules, DNS, and Snapshots directly from your control panel.
Cloud Panel delivers maximum performance with ultra-fast lightweight components such as MySQL, NGINX, PHP-FPM, and Redis.
For security, Cloudpanel includes a highly effective IP, Bot Blocker, and Two-Factor verification login.
The only requirement for running CloudPanel is to use Debian 10 (Buster).
CloudPanel is capable of virtually everything that cPanel has to offer. It also integrates well with popular CMS.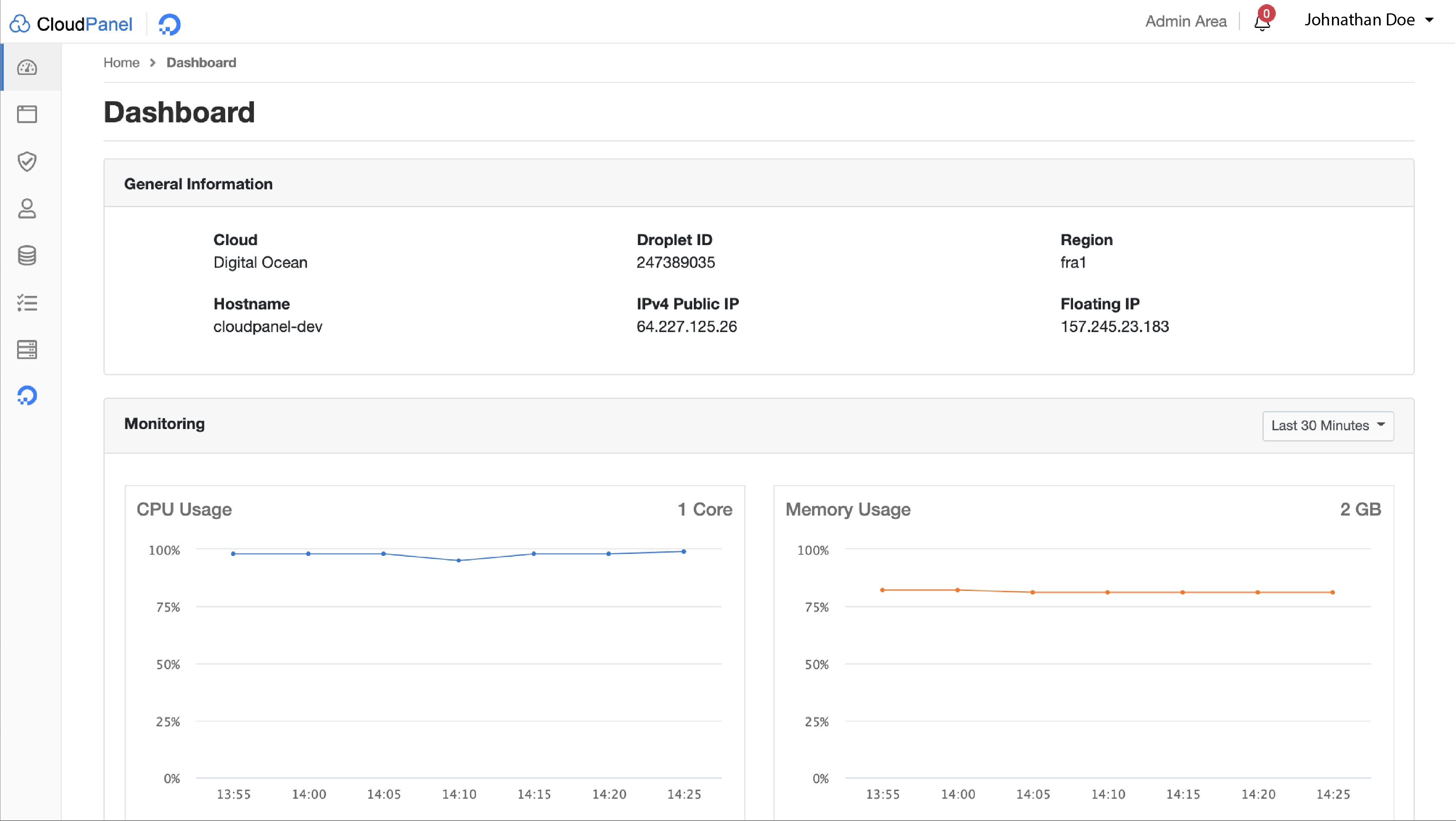 Pros
Free (No contract or hidden costs)
Easy to use interface
Up and running within 60 seconds
Maximum performance & security
Advanced cloud functionalities
Supports Multiple PHP Versions & all PHP Apps
Specific PHP configuration for each domain
NGINX Support
Free SSL Certificates
No restrictions
Supports > 10 languages
Cons
2. Ajenti
Ajenti is a free control panel built and maintained by a team of web developers and server admins.
It has a simple interface to manage your server remotely. It is focused on being lightweight and supportive.
Ajenti provides a secure way to manage Linux through file managers, web terminals, text editors, etc. It provides a firewall that is configured from within the panel.
It serves as an excellent cPanel alternative for sites that aren't looking for advanced functionalities.
This tool works with the current configurations and makes the necessary adjustments in server management.
The developers claim that Ajenti leaves your system intact. Therefore, its changes won't harm or overwrite your files or comments.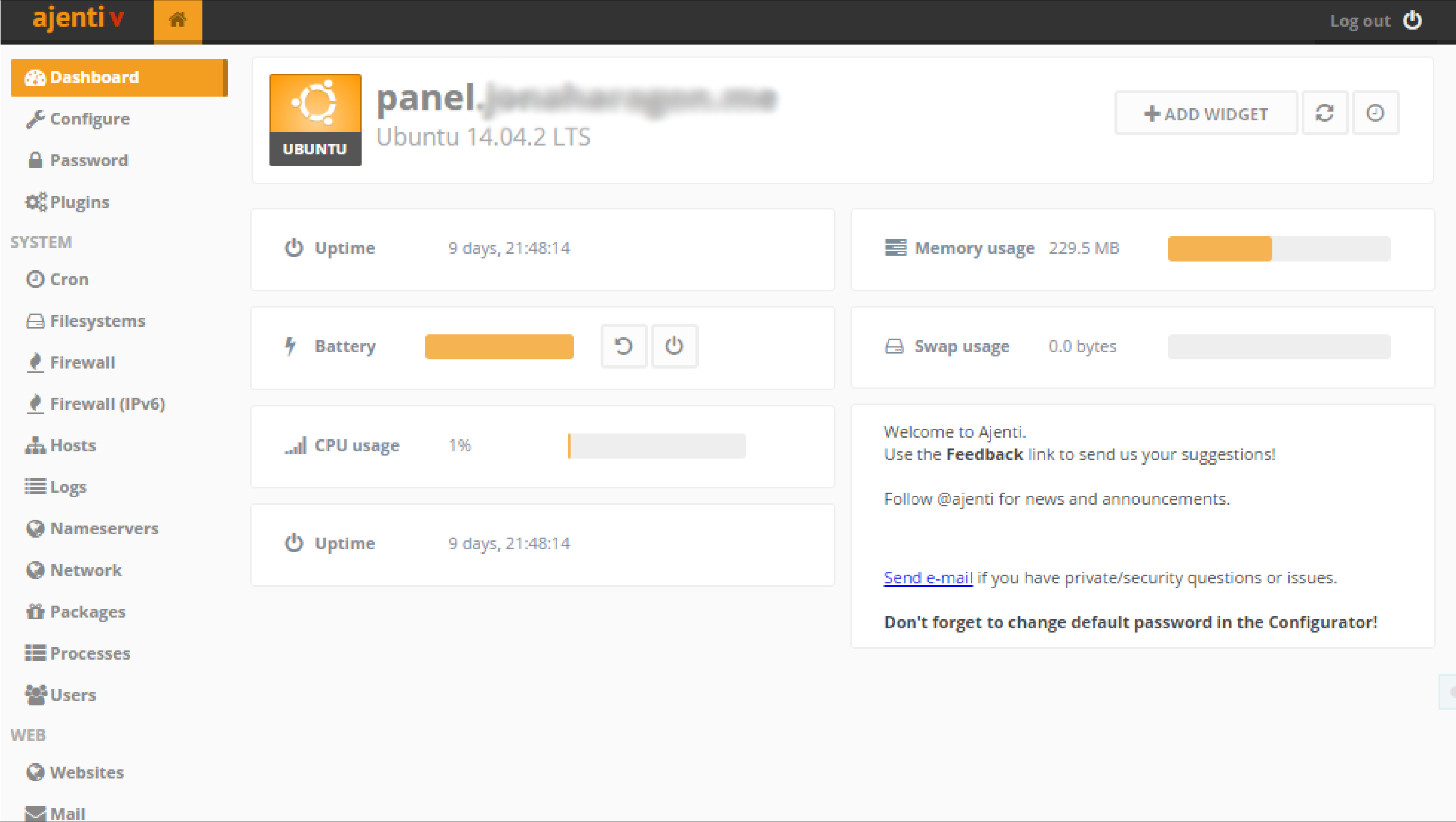 Pros
Free, except for the plugins
Intuitive and responsive interface
Python and JavaScript extensible
Friendly for users with fewer needs
Efficient for users who do not have advanced knowledge of Linux distributions
Consumes fewer hardware resources in a long term
Access to Linux terminal from the panel
Embedded web-hosted server
Notifications, modals, and live updates
Cons
Only works with Linux servers
Must reset Ajenti after making a fundamental change in the system
Does not support advanced functions for Sysadmins
Technical support isn't free
3. ISPConfig
ISPConfig is currently experiencing user growth. Mainly because it lets you manage multiple servers from a single control panel.
It can Configure Apache2, Nginx, mail server, DNS, mirroring, and much more.
ISPConfig supports a range of Linux distributions, including Debian, Ubuntu, and CentOS web panels. It also offers several integrations, such as the malware scanner.
It offers four user levels: administrator, user, reseller, and client, making it ideal for domain sales.
User-level: Access only what is specified by the administrator.
Reseller level: Resell a set amount of resources assigned to them by the administrator.
Client-level: Use and customize everything assigned by the administrator.
ISPConfig is recommended to VPS hosting users. It has all the features you will need from a web hosting control panel.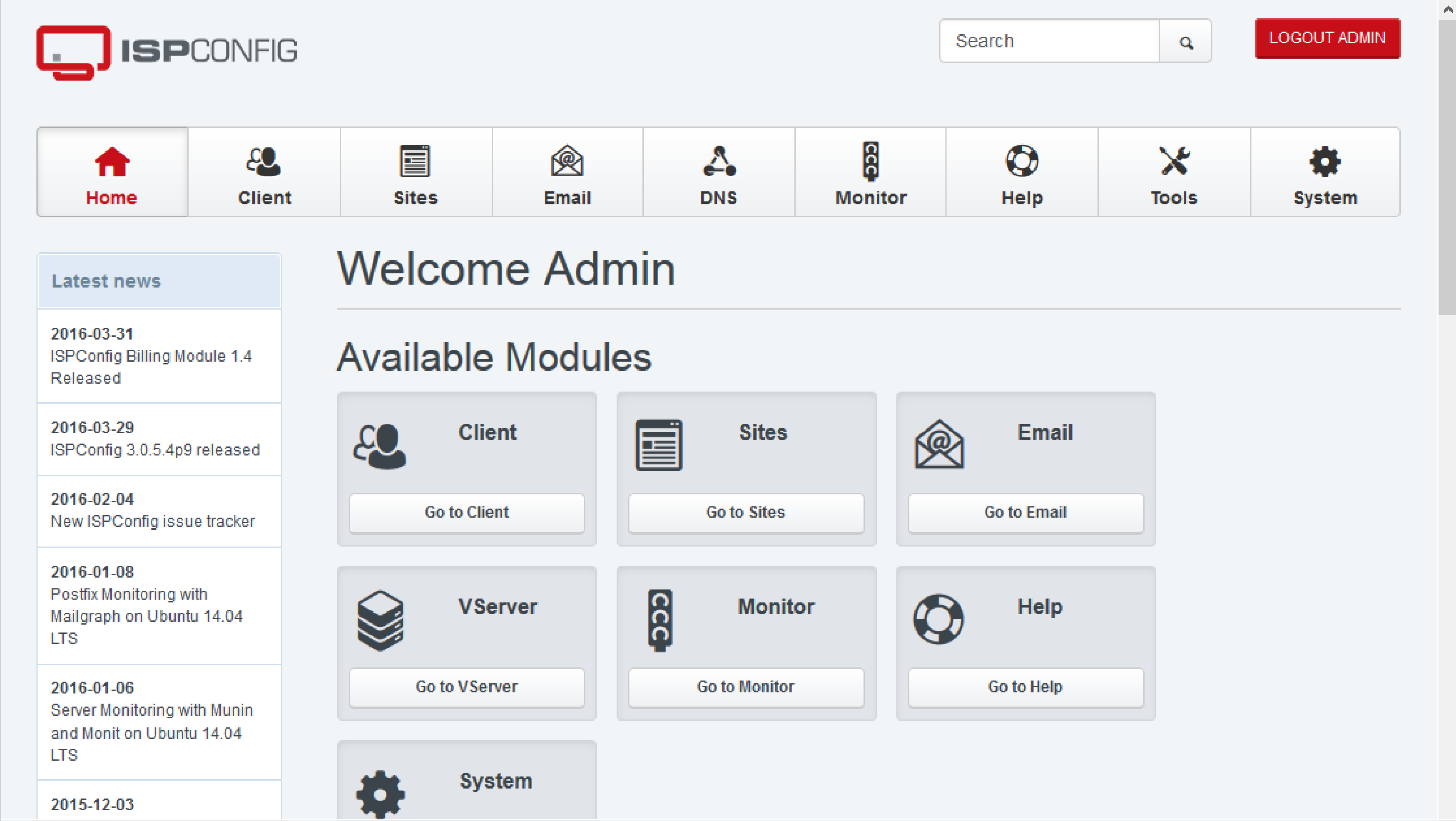 Pros
Free & Open source
Control multiple servers from one panel
ISPConfig is used with a wide range of Linux server configurations
Low server resource needs
Simplified management of admin account and resellers
Cons
Complex to use
Difficult to set up
Installation blocked in automatic mode
No tech support
4. Aapanel
Aapanel is a free hosting control panel that lets you manage web servers. It provides security features and has a GUI-driven interface.
It is easy to use and is similar to the Plesk environment. It is lightweight and can run on most servers.
Installation of Aapanel is easy. It provides a single script to be run on a newly created server. The script varies depending on the OS.
Once set up, it can be used as a single source of deployment, management, and monitoring.
Aapanel was also designed as a LAMP stack which means it's modular. Minimum requirements are a mere 512MB of RAM and 100MB of storage space.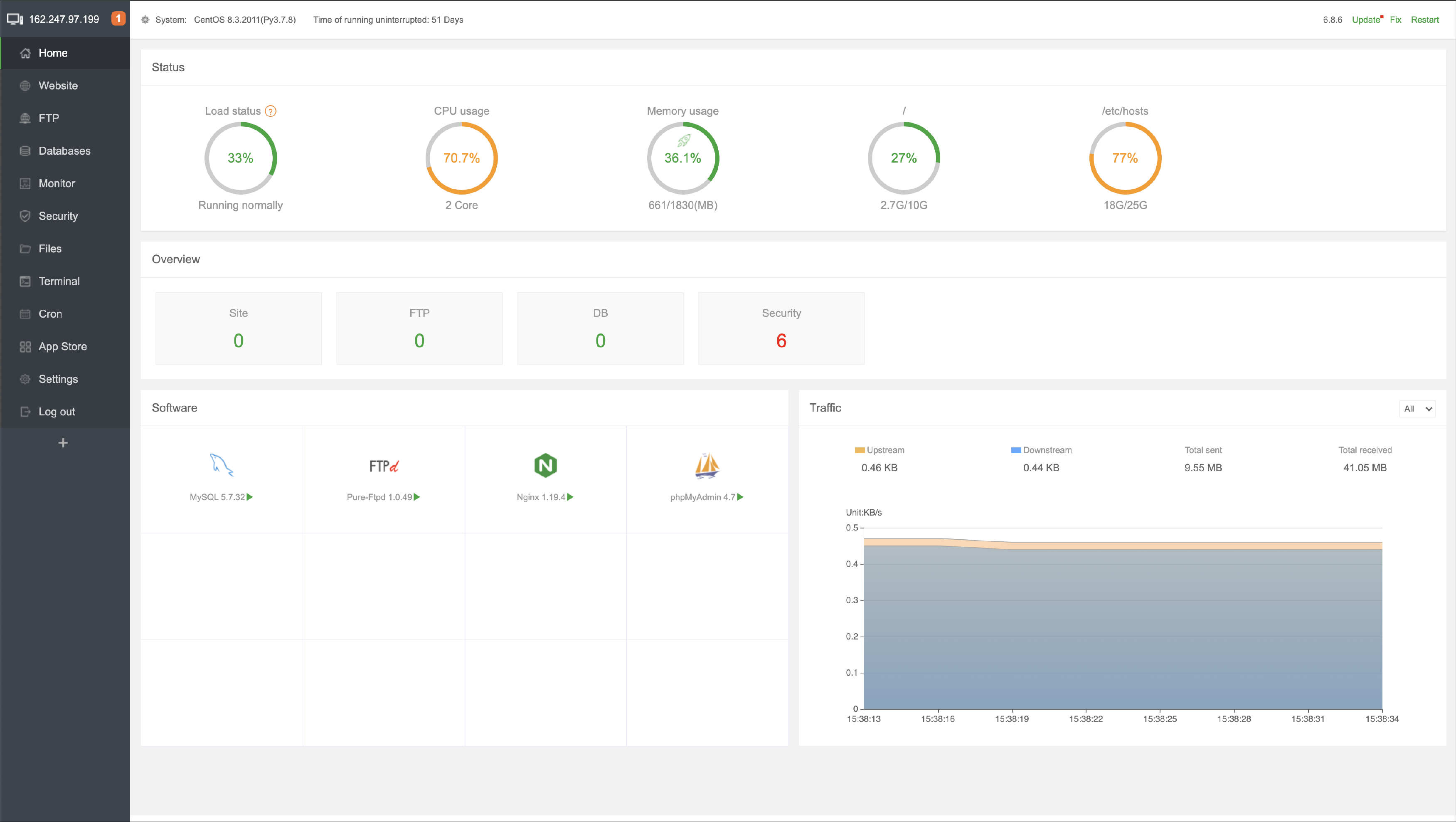 Pros
Free and Open source
Easy to customize & use
Easy Installation
Create and manage Website, FTP, Database & Docker
Manage python projects using an online Aapanel editor
Works on CentOS, Debian, and Ubuntu
Cons
No Reverse Proxy
No tech-support
5. Vesta
Vesta is an open-source control panel for Linux servers.
It has a well-designed interface that simplifies server monitoring with easy-to-read graphs.
Vesta upgraded its security features with a built-in firewall and managed backups. It also provides commands to manage the server from the command line.
The Vesta control panel is a good choice to maintain a small server. It is suitable for first-time users looking for a clean interface.
The free version provides all the core functionality to manage a server. The premium version can activate SFTP chroot and commercial plugins support.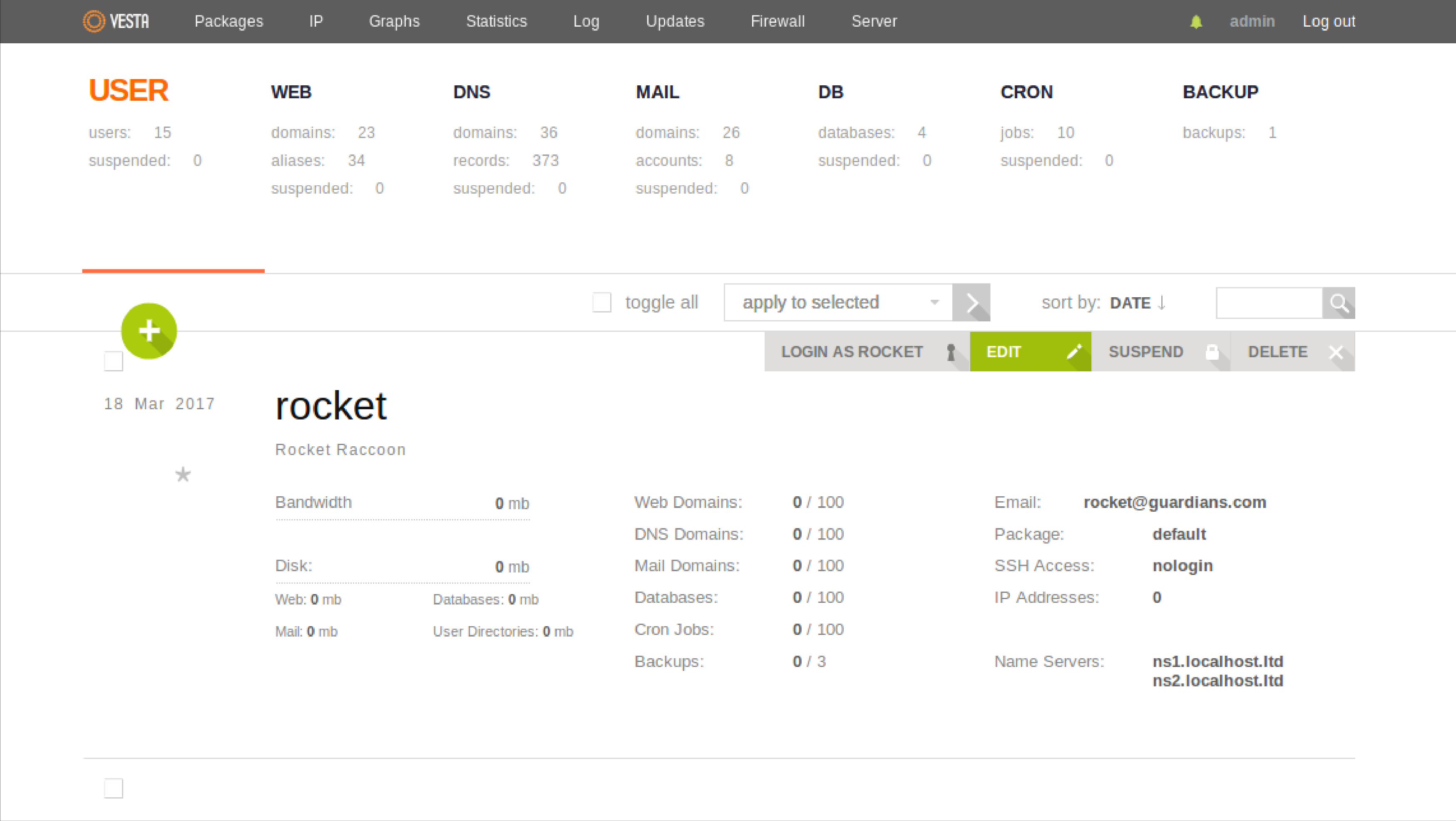 Pros
All core functionality is free
User-friendly interface and analytics
Easy installation
Works with CentOS, Debian, and Ubuntu
Cons
Customer support is fee-based - 60 € / h
Low security
SLL domains
FTP: no quota or limit
Complicated PHP
Features suitable for agency, not resellers
6. Froxlor
Froxlor was built by a team of server administrators. The aim was to simplify the managing of hosting servers.
It showcases itself as a lightweight alternative to cPanel. Froxlor provides users with similar admin features as cPanel, but for free. It also matches cPanel's WHM counterpart by including customer management.
Froxlor can run on any version of Linux. It has an easy-to-customize interface and delivers fast performance.
Features include SQL database management, PHP configuration, and security through SSL.
Froxlor is recommended to domain resellers. Its ticketing system also makes it an optimal choice for web developers.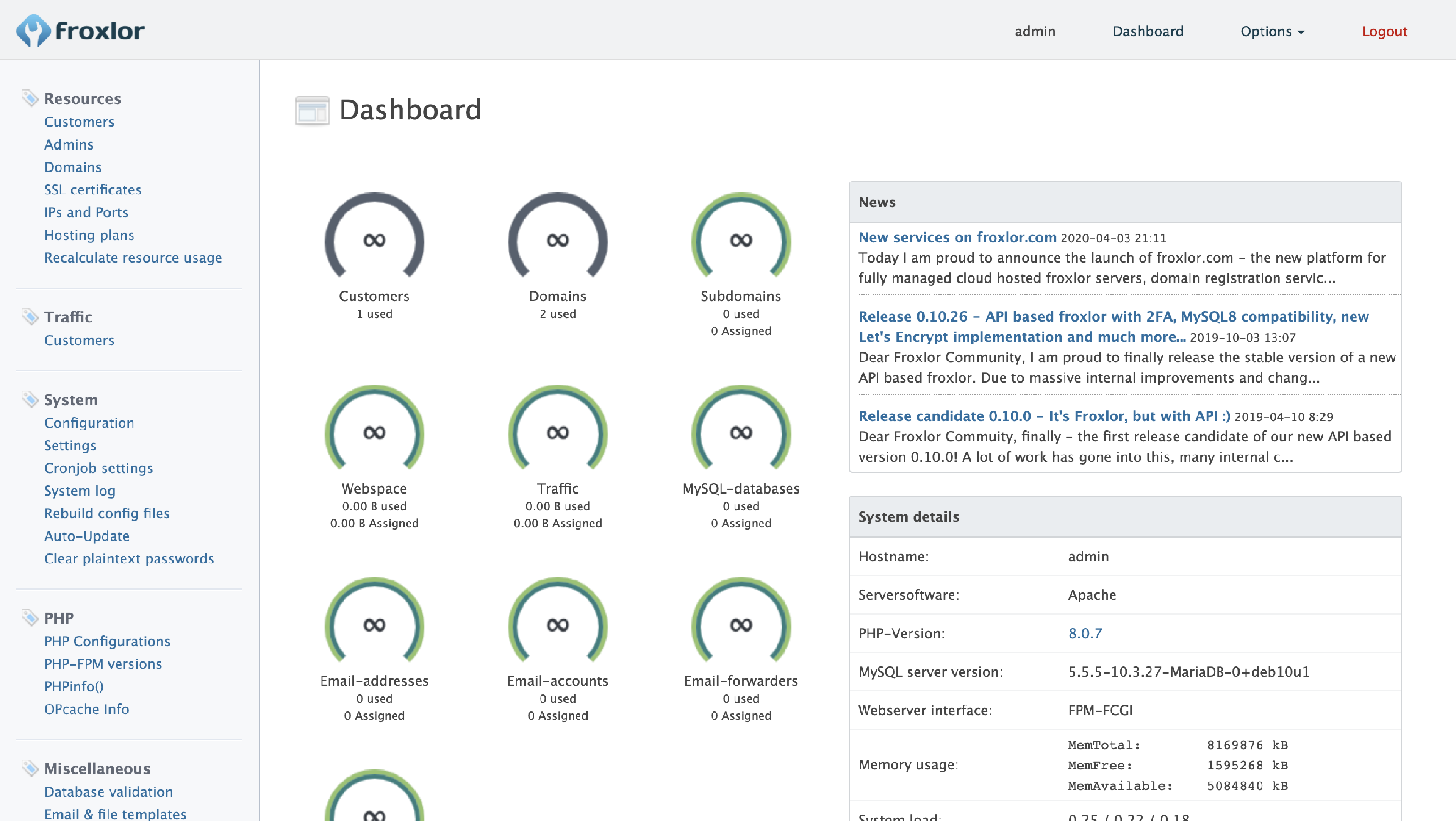 Pros
Free for personal as well as commercial use (GPL licensed)
User-friendly, themeable interface
Specific PHP configuration for each domain
Customer ticket system integrated into the interface.
Cons
Difficult to install and setup
No file manager
Only works on Debian servers
Bugs take longer to resolve
7 Virtualmin
Virtualmin is an open-source control panel with a free version available on the Public Licence.
Just like cPanel, it is written in Perl and runs on the latest version of the internet protocol (Ipv6).
Virtualmin offers flexibly managed domain accounts, domain name servers, databases, and web apps all in a single interface.
It provides efficient mailboxes that include forwarders, autoresponders.
While cPanel cannot back up directly to the Amazon S3 bucket, Virtualmin can.
It also has effective antivirus scanning, backup encryption keys, brute force protection.
Virtualmin has a well-designed interface but is not recommended for beginners.
Pros
Free in an Open Source community-supported version
Easy Setup
Built-in website builder
Linux knowledge not required
Advanced functionalities for both server-side and client-side
Separation of server admin and domain management
Advanced backup scripts
Android and iOS support
Cons
UI isn't user friendly
Bugs on a fresh install
E-mail is configurable but not usable as webmail
Paid Professional version
Support is not free
8. Zpanel
Zpanel is a free open source control panel that clones cPanel features.
It has e-mail hosting, file and database management.
Zpanel can be used on all operating systems, so it allows great flexibility.
It also lets you host multiple domains on one server.
Zpanel aims to provide secure web hosting systems to its end users. However, it does not encrypt information.
Therefore it is not recommended for e-commerce or projects which need high security.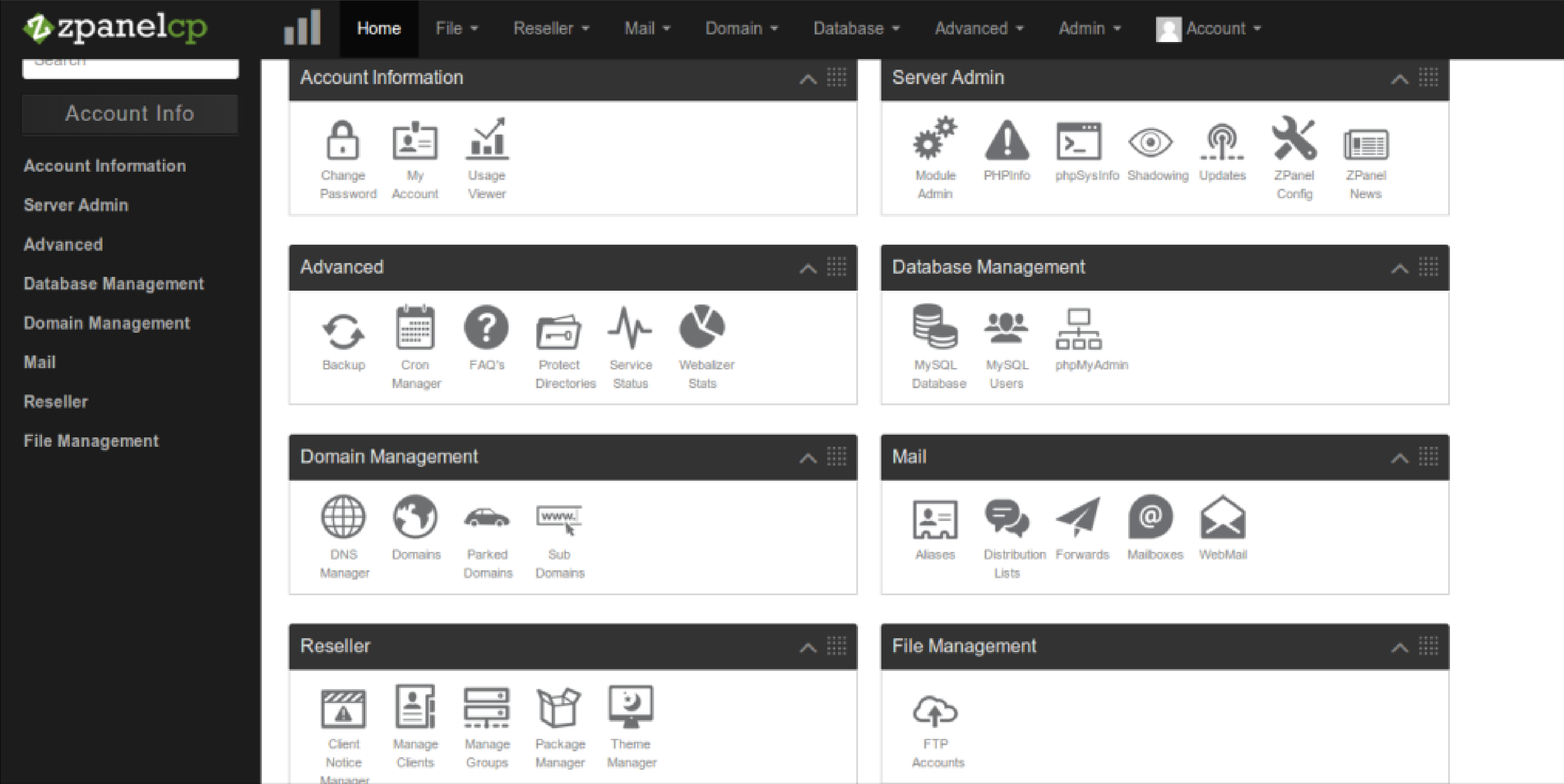 Pros
Free of cost
Works on a more flexible range of servers
Interface based directly on cPanel's
Zpanel can be used for both Windows and Linux
NGINX Support
Reliable support
Cons
Low security
Not user friendly
Difficult to manage
Paid support
Choosing the right control panel
Before you pick a cPanel alternative, you need to consider your requirements.
If you're looking for a modern panel like Plesk, then we recommend you opt for CloudPanel.
For non-technical users, managed hosting is an excellent cPanel alternative.
Beginners looking for a user-friendly interface can opt for CloudPanel, Vesta, Ajenti, and Froxlor.
| | User friendly | Supports Multiple PHP Versions | Free SSL Certificates | Cloud Features | Supports NGINX | Two-factor verification |
| --- | --- | --- | --- | --- | --- | --- |
| CloudPanel | Yes | Yes | Yes | Yes | Yes | Yes |
| Ajenti | Yes | No | Yes | Not Included | No | No |
| ISPConfig | No | No | Yes | Not Included | Yes | No |
| Aapanel | Yes | No | No | Not Included | No | No |
| Vesta | Yes | No | No | Not Included | No | No |
| Froxlor | Yes | No | Yes | Not Included | Yes | No |
| Virtualmin | No | No | Yes | Not Included | No | Yes |
| Zpanel | No | No | Yes | Not Included | Yes | No |
Conclusion
Finding the suitable cPanel alternative is easy. There are numerous options available, each with excellent features.
In this article, we covered the essential features of the best free control panels. All of the panels mentioned above have their unique footprint.
Ultimately the best panel is the one that fulfills your requirements.
However, these free cPanel alternatives have one common feature:they make managing servers faster and easier.