Top 11 Features of High-Performance Web Hosting Panel
High-performance web hosting panels are crucial in managing your servers. It provides a user-friendly interface that enables website owners to control various aspects of their website, including managing databases, security, and file storage.
With numerous web hosting companies offering different hosting plans, choosing the right panel that meets your website's requirements is essential. The article explores the key features of a high-performance web hosting panel and takes a closer look at CloudPanel as an example of such a platform.
Key Takeaways
Understanding the key features of a high-performance web hosting panel
The benefits of a user-friendly interface, scalability, and advanced security
Exploring tools for efficient file and database management and domain management
Importance of advanced caching, network monitoring, and analytics for website optimisation
Insights on developer-friendly features, backup, recovery, and customizability options.
What makes a high performance web hosting control panel?
1. User-friendly interface
A key aspect of a high-performance web hosting panel is the user experience. The dashboard has to be simple, easy to navigate, and allow users to access all essential features quickly. Concise menus help improve usability, and users can get their website up and running without spending too much time on setup.
2. Scalability
Reliable web hosting panels enable users to scale their resources easily. It includes adding disk space, bandwidth, and processing power to accommodate the growing traffic and content of the website. A scalable web hosting plan ensures that the hosting platform can cater to its needs as your website grows.
3. Security features
A high-quality web hosting panel should prioritise security. It should offer SSL certificates, malware scanning, DDoS attack security, firewalls, regular backups, and secure FTP access, ensuring your site's safety and data protection.
4. One-click application installer
An efficient web hosting panel should provide an easy-to-use application installer to streamline the setup process. For instance, a one-click WordPress installation feature allows users to get their WordPress site up and running with minimal hassle.
5. File and Database Management
A user-friendly file manager enables users to manage their files directly without additional FTP clients. A high-performance panel should also provide an accessible database management system, allowing users to create and manage their databases efficiently.
File Manager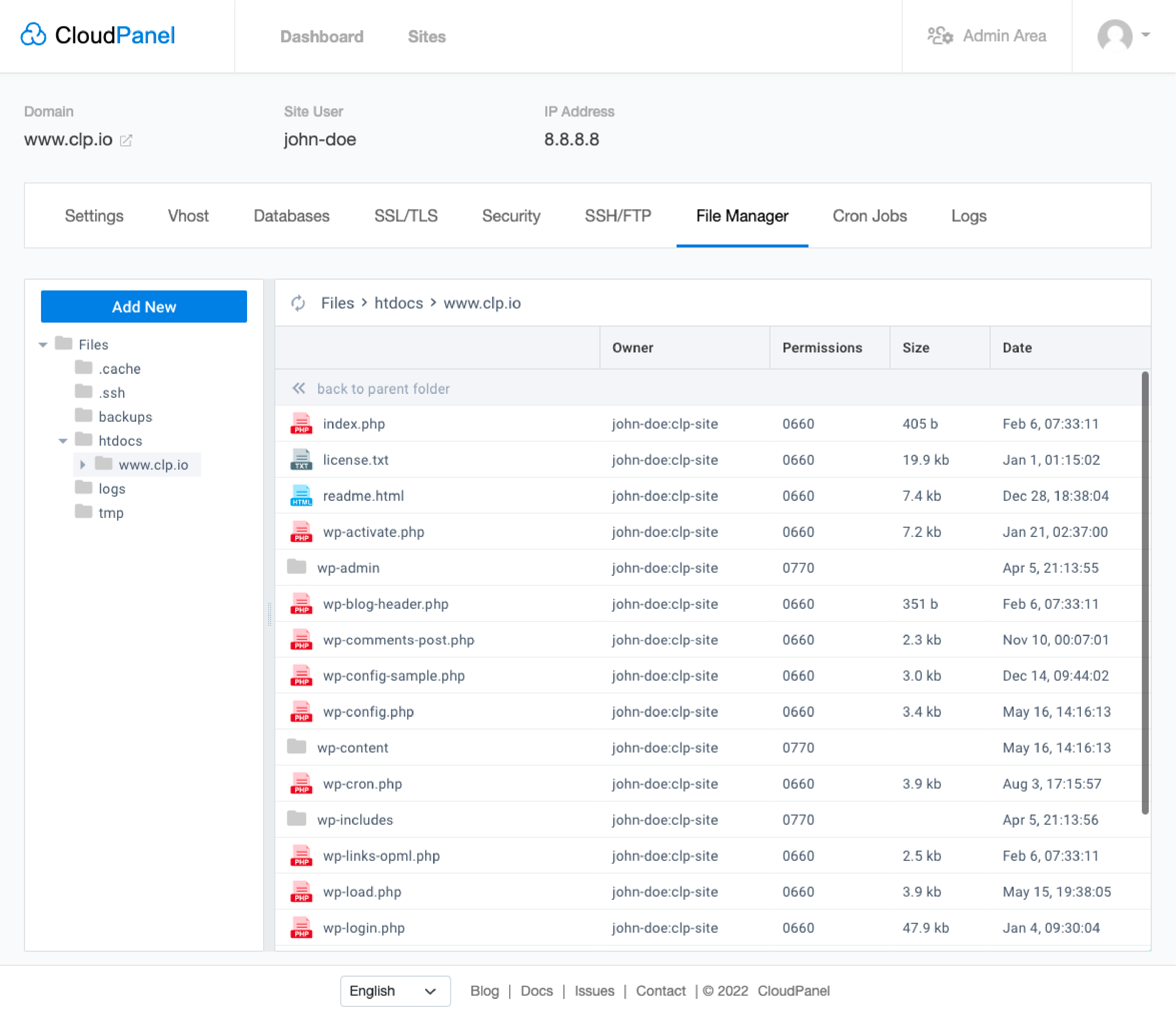 An intuitive file manager allows users to manage their website files directly from the control panel. With Cloudpanel's file manager, users can:
Upload, download, and edit files using the web-based interface
Create, rename, move, copy, and delete files and folders with ease
Search for files within the file manager, enabling users to find and access the files they're looking for quickly
Database Management
Database management offers a user-friendly interface that facilitates easy creation, management, and optimisation of databases. Cloudpanel offers compatibility with MySQL and MariaDB databases. Integration with phpMyAdmin is also available, allowing users to manage their databases via a web-based interface.
As a result, database management tasks such as creating and managing databases, optimising database performance, and managing database backups are possible. You can use a combination of Cloudpanel CLI and phpMyAdmin integration.
6. Domain management
Domain management is another essential feature that top web hosting services offer. Users should be able to easily add, remove, and manage their domain names and associated DNS records from one central hub.
For example, Cloudpanel enables users to add new domains and subdomains to their servers easily. The platform supports Nginx, which allows users to configure multiple vhosts for their domains and applications, ensuring better scalability and performance.
7. Advanced caching and performance tools
High-quality web hosting control panels often provide advanced caching tools and server-side optimisations to enhance website performance. Support for caching mechanisms like Memcached or Redis and server-side caching (e.g., Varnish cache, Nginx) helps improve website performance and reduce server load.
8. Network monitoring and analytics tools
Monitoring tools, server status information, and analytical features within a web hosting panel help users keep track of their website's performance. It enables them to optimise their website for better user experience and search engine rankings.
9. Developer-friendly features
A high-performance hosting control panel should support multiple programming languages and frameworks, version control systems (e.g., Git), and deployment tools to enhance developers' productivity.
10. Backup and recovery options
Advanced backup and recovery features ensure that your website's data can be restored in case of unforeseen events such as hardware failure or data breaches.
11. Resource usage monitoring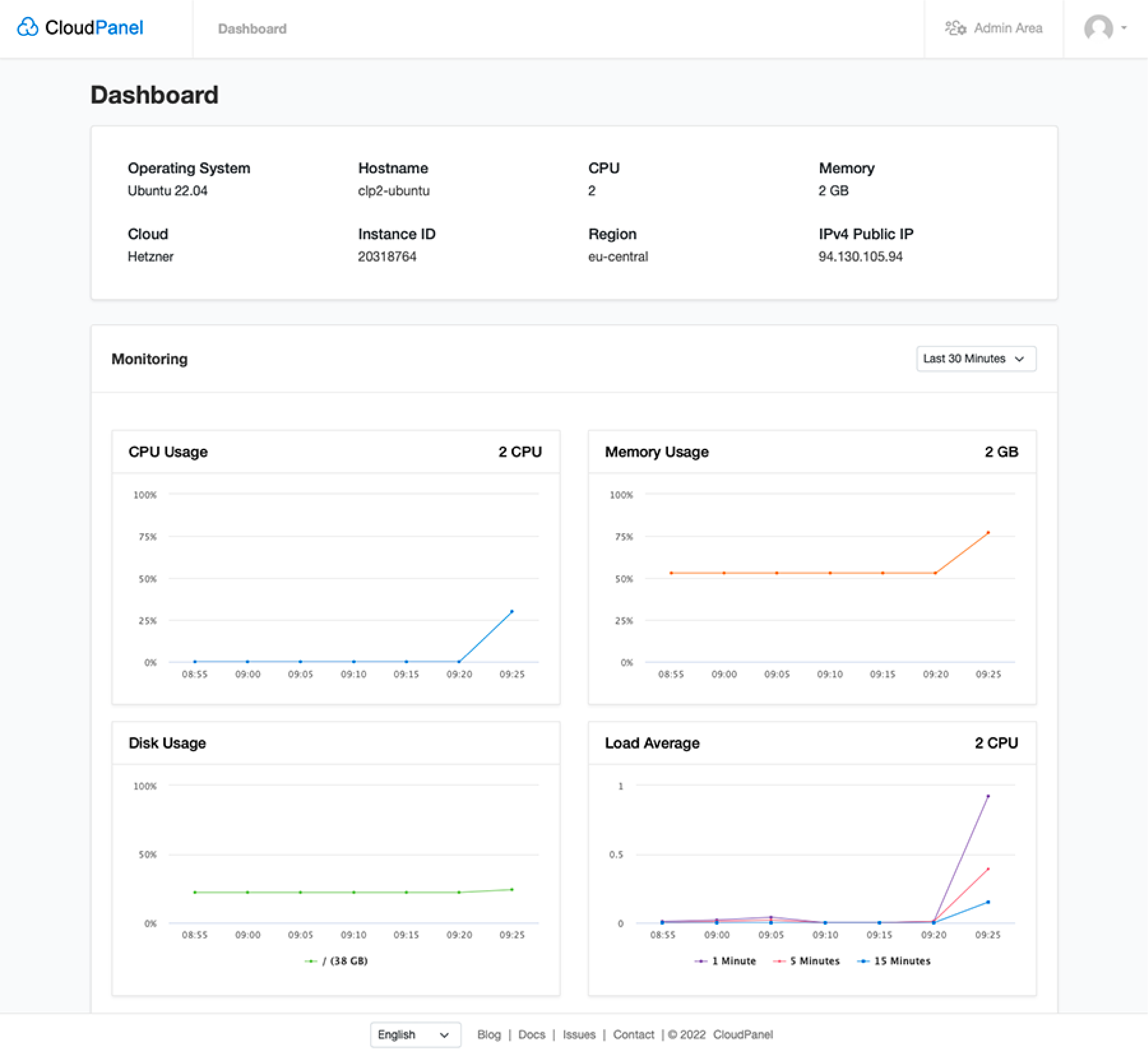 Monitoring resource usages, such as disk space, bandwidth, and CPU usage, allows users to optimise their website and identify necessary upgrades for improved performance.
Technology components for high-performance web hosting panel
1. User Interface (UI)
A high-performance web hosting panel should feature a simple, clean interface that makes it easy for users to navigate and manage their services without getting lost in complex menus.
2. Support for Multiple Frameworks
Supporting a wide range of programming languages and frameworks is essential to cater to various types of web hosting, from managed WordPress hosting to custom applications.
3. Security and Authentication
Advanced security features such as two-factor authentication, SSL certificate management, and robust firewall configurations are necessary to ensure your website data's safety and privacy.
4. Database connectivity and management
An efficient panel should offer easy database management, enabling users to create, modify and optimise their databases using tools like PHPMyAdmin.
5. DNS management
A high-performance panel should streamline DNS management, providing a simple and efficient way to manage all your email accounts and DNS records.
6. Application installation and management
Offering easy installation ans support popular applications like WordPress, Joomla, and Drupal simplifies setting up websites and ensures a smooth user experience.
7. Performance optimisation and caching
Integration with powerful caching solutions like Varnish and Nginx can significantly improve website performance and loading speed.
8. Monitoring and analytics
Built-in analytics and monitoring tools help users track their website's performance, traffic, and resource usage, offering insights for optimisation and growth.
9. Support and documentation
Comprehensive documentation and active customer support are vital for resolving issues and ensuring a seamless experience for users as they navigate and use the web hosting panel.
10. Types of web hosting
A high-performing panel should cater to various types of web hosting, such as shared hosting, VPS hosting, dedicated hosting, and cloud hosting solutions like AWS and Google Cloud.
FAQs: High Performance Web Hosting Control Panel
1. What is a web hosting control panel?
A web hosting control panel is a software-driven interface that allows users to manage and control their server. This includes managing email accounts, databases, and files, among other features.
2. Why do I need a web hosting control panel?
A control panel streamlines website management and makes accessing hosting features easier, monitoring your website's performance, and managing resources efficiently.
3. What technology components does Cloudpanel have for high performance?
Cloudpanel features a lightweight and streamlined architecture, powerful caching solutions, modern programming languages and frameworks support, advanced security features and tools, and built-in server analytics.
4. How do high-performance web hosting panels benefit WordPress websites?
High-performance web hosting panels streamline setting up, managing, and optimising WordPress websites.
They provide a user-friendly interface, one-click installation, built-in security features, and support for various plugins and themes, making it easier for website owners to maintain their WordPress sites.
5. What should I consider when choosing a web host for my website?
When choosing a web host, consider the key features of a high-performance web hosting panel, such as a user-friendly interface, scalability, and advanced security features.
It also includes file and database management tools, domain management, advanced caching, network monitoring, analytics, developer-friendly features, backup and recovery. Ensure the web hosting service you choose meets your website's requirements.
6. How do web hosting services differ in terms of features and performance?
Web hosting services differ in their features and performance, such as server speed, uptime, storage capacity, and security measures. High-performance web hosting control panels provide a comprehensive set of features, including scalability, domain management, advanced caching, and developer tools - all of which contribute to offering an optimised website experience.
Summary
A high-performance web hosting panel is essential for managing your websites effectively. This article covered key features like user-friendly interfaces, scalability, security, one-click application installers, and advanced caching tools.
When selecting a web hosting panel, consider the technology components and features that suit your business needs. By understanding these aspects and utilising platforms such as Cloudpanel, you'll be well on your way to creating and maintaining a successful online presence. For more insights on web hosting panels, check our the CloudPanel blog.