CloudPanel Version 2.1 with Varnish Cache!
With the CloudPanel 2.1 Version, we are introducing an integrated Varnish Cache solution as the first panel in the world!
Boost the website performance and reduce server costs by activating the Varnish Cache.
Overview of Varnish Cache and How it works
Varnish Cache is a web accelerator and caching HTTP reverse proxy. It speeds up the sites by a factor of up to 250 times!
It acts as a middleman between the client (user) and the web server. Varnish stores a copy of the page the first time a user visits into the memory of the server.
All future page requests are handled by Varnish, reducing the load on the origin server.
If the request is not cached, Varnish forwards the request to the web server's backend and caches the result. The cached requests are stored in the memory and delivered to clients at a faster speed.
The websites stay fast and online even during high traffic. Varnish provides an excellent web experience to visitors at all times.
Benefits of Varnish Cache
High Performance - Get blazing-fast page loads up to 250 times faster

Optimize Costs - Up to 80% savings in Infrastructure

Improved User Experience

Better Search Ranking - High-speed websites rank higher on search engines.
CloudPanel 2.1 support for Varnish Cache

Varnish Cache is integrated into CloudPanel 2.1 as a turn-key solution. It means it is a pre-configured service, ready to go as you update to the new version.
Enable Varnish Cache with one click and configure the Cache Lifetime, Excluded Params, and Excludes based on your requirements.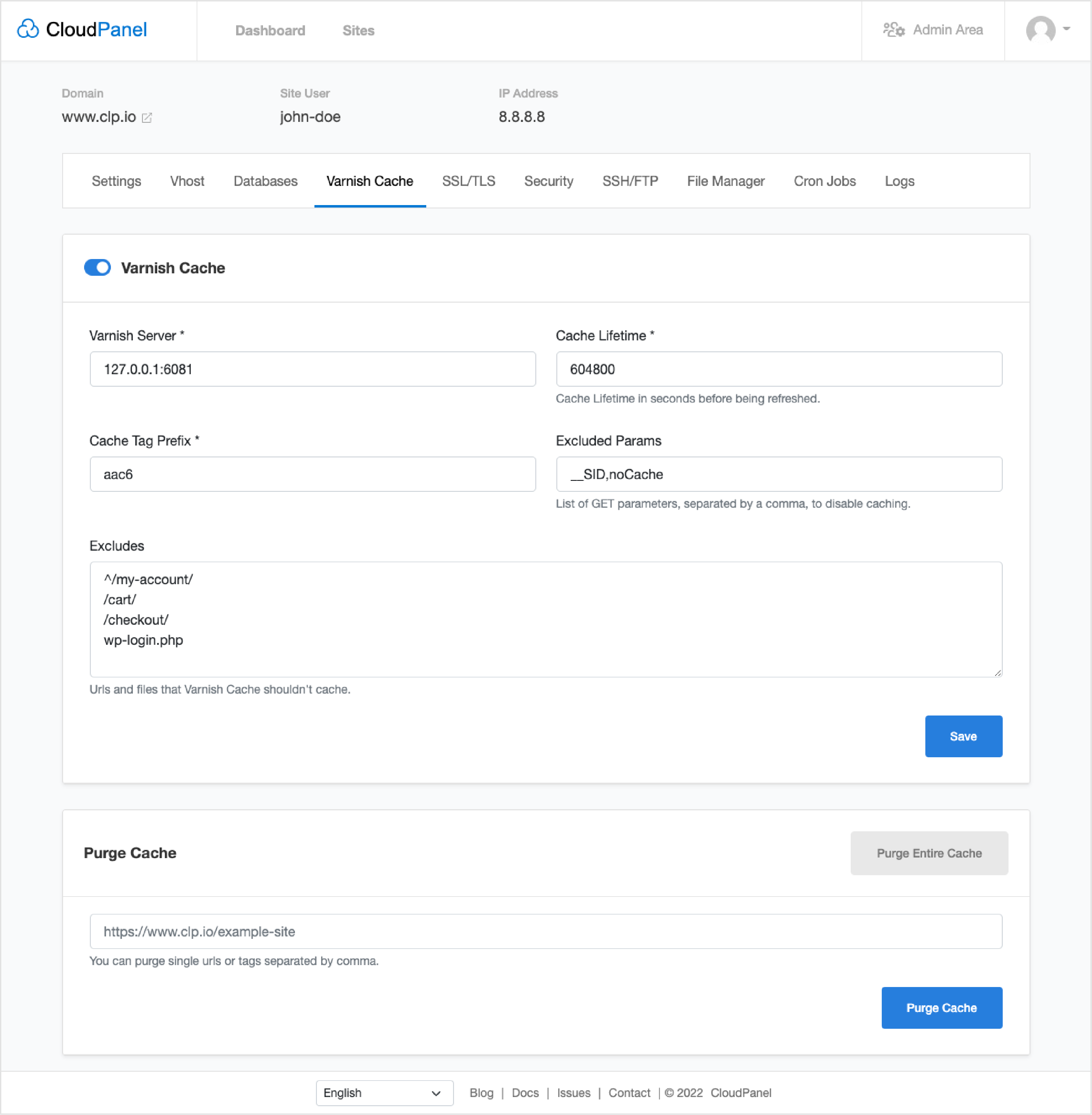 CloudPanel 2.1 Applications supported for Varnish Cache

The following PHP Applications have support for Varnish Cache -
WordPress
WooCommerce
Codeigniter
Laravel
Symfony
Generic
Slim
For more details on the release updates, check out the Varnish Docs.