9+ Web Hosting Control Panels for WordPress Sites
Navigating the hosting control panel WordPress landscape can be challenging. This article will guide you on choosing the best control panel for managing your WordPress sites effectively and efficiently. Dive in to make an informed decision and optimize your sites with the best WordPress hosting control panels.
Key Takeaways
A good hosting control panel streamlines WordPress website management with features such as server management, email account handling, and domain control.
Common hosting control panels like CloudPanel, Ploi. io, and cPanel offer specialized features for WordPress site management.
Compatibility, user-friendly dashboard, and SSL certification are critical features when choosing a hosting control panel.
Hosting providers such as Vultr, Digital Ocean, and AWS offer powerful infrastructure for control panels.
Addresses common FAQs about hosting control panels. It includes their capability to manage multiple WordPress websites, and the process to install WordPress.
Key Features of WordPress Hosting Control Panels
When choosing a web hosting control panel for your WordPress website, it's essential to consider the key features that will make managing your site easier and more efficient. Here are some essential features to look for in a WordPress hosting control panel:
1. Server Management
A good control panel should provide comprehensive server management tools, allowing you to monitor your server's performance, manage resources, and configure settings as needed. This is crucial for maintaining optimal site performance and ensuring smooth operation.
2. Email Accounts
Managing email accounts is an essential aspect of website administration. A user-friendly control panel should offer a straightforward way to create, edit, and delete email accounts, as well as configure email settings, such as forwarding and autoresponders.
3. SSL Certificate
Security is a top priority for any website, and having an SSL certificate is essential for protecting your site and its users. A good control panel should make it easy to obtain and renew SSL certificates, ensuring that your site remains secure and trusted by visitors.
4. User-Friendly Dashboard
A user-friendly dashboard is critical for enabling you to manage your WordPress site efficiently. The control panel's interface should be intuitive and easy to navigate, with all key features and settings easily accessible.
5. Domain Management
Your control panel should provide robust domain management tools, allowing you to add, remove, and edit domains and subdomains quickly. This is particularly important if you plan to host multiple websites on your server.
6. Compatibility
Lastly, ensure that the control panel is compatible with your chosen technology stack, including Debian, NGINX, PHP, Varnish Cache, Redis, MySQL, Elasticsearch, etc. This will ensure seamless integration and optimal performance for your WordPress site.
Popular Control Panels for WordPress Hosting
When it comes to hosting your advanced WordPress site, choosing the right control panel can make all the difference in managing your site effectively. Among the many options available, three popular choices are cPanel, Plesk, and CloudPanel. Let's take a look at how these control panels compare.
1. CloudPanel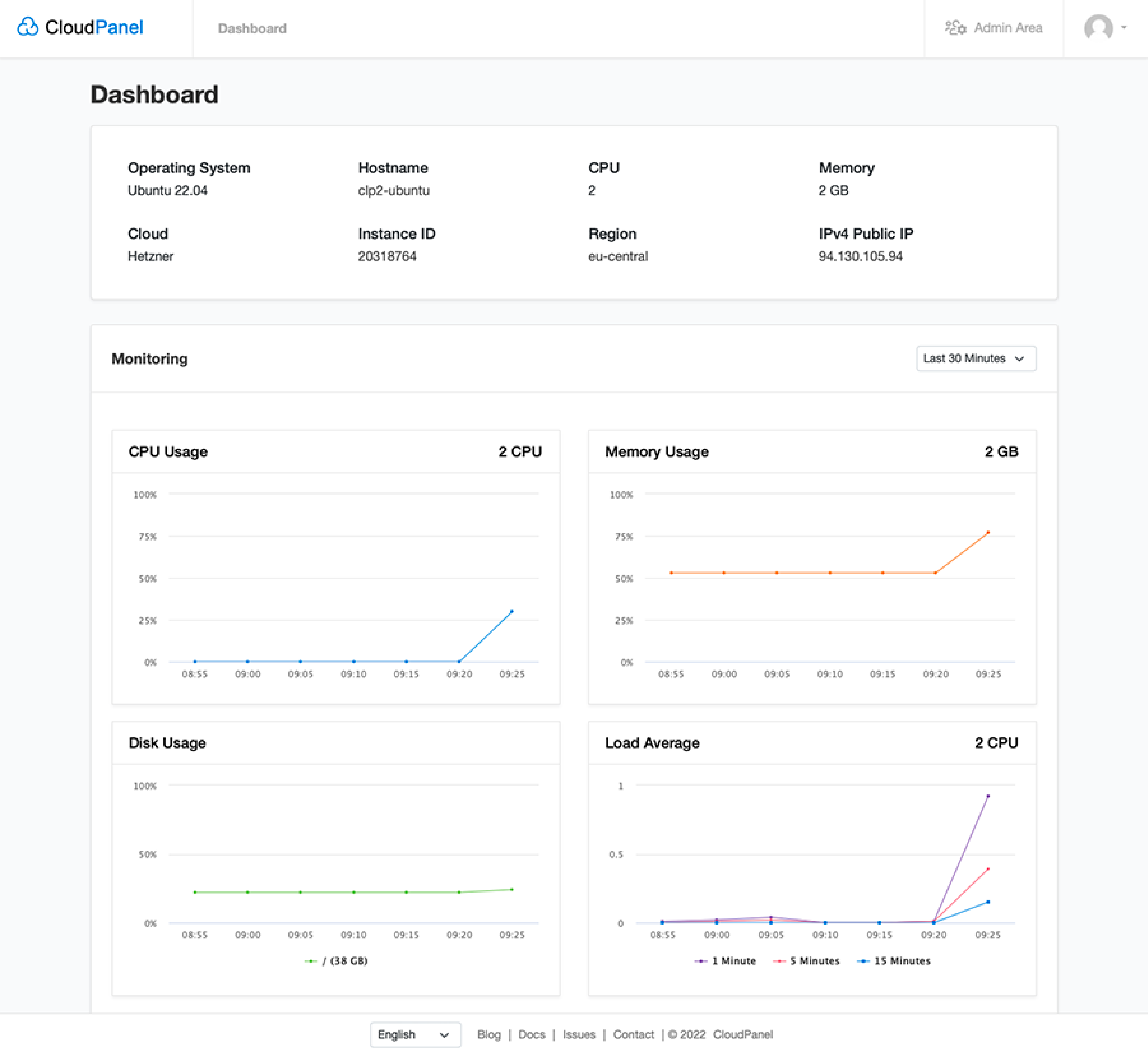 CloudPanel is a free, lightweight, and intuitive control panel designed specifically for cloud hosting environments. It's compatible with PHP and MySQL, the technology stack behind WordPress, making it a fitting choice for managing WordPress sites. Also, utilizing Varnish Cache can significantly increase your WordPress site's load speed.
Key Features:
Offers one-click WordPress installation
Allows easy PHP and MySQL management
Varnish cache improves WordPress site speed
Scalability aids in managing high-traffic WordPress sites
SSL Certificates and IP blocking secure WordPress sites
Capable of handling multiple servers
2. Ploi. io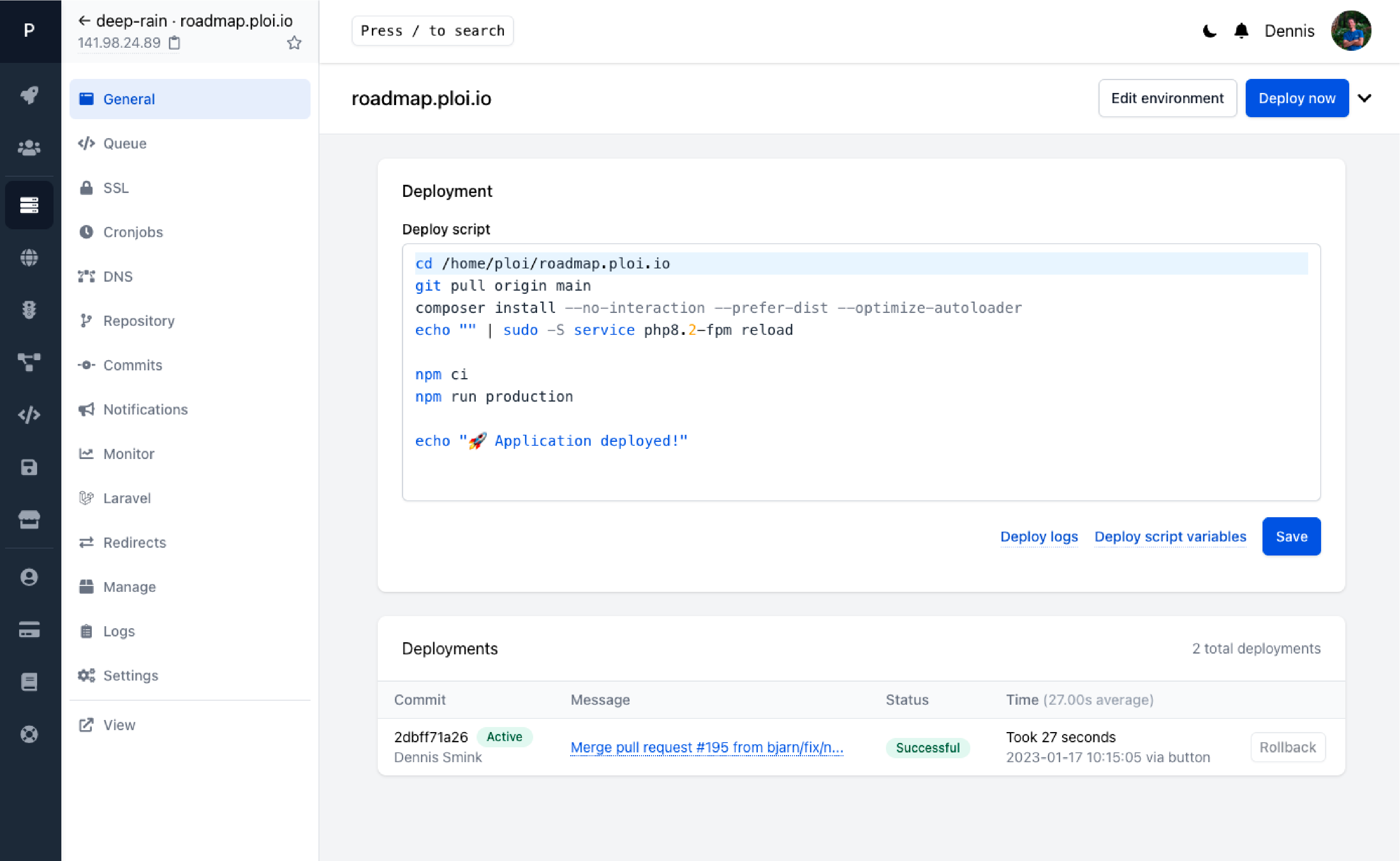 Ploi.io is a server management tool that offers a streamlined and efficient approach to managing WordPress websites. It offers a rapid deployment process for WordPress, allowing developers to concentrate on development rather than server management. Also, its support for free SSL Certificates enhances WordPress site security.
Key Features:
Rapid WordPress site deployment
Free SSL Certificates secure WordPress sites
Built-in server performance monitoring
3. cPanel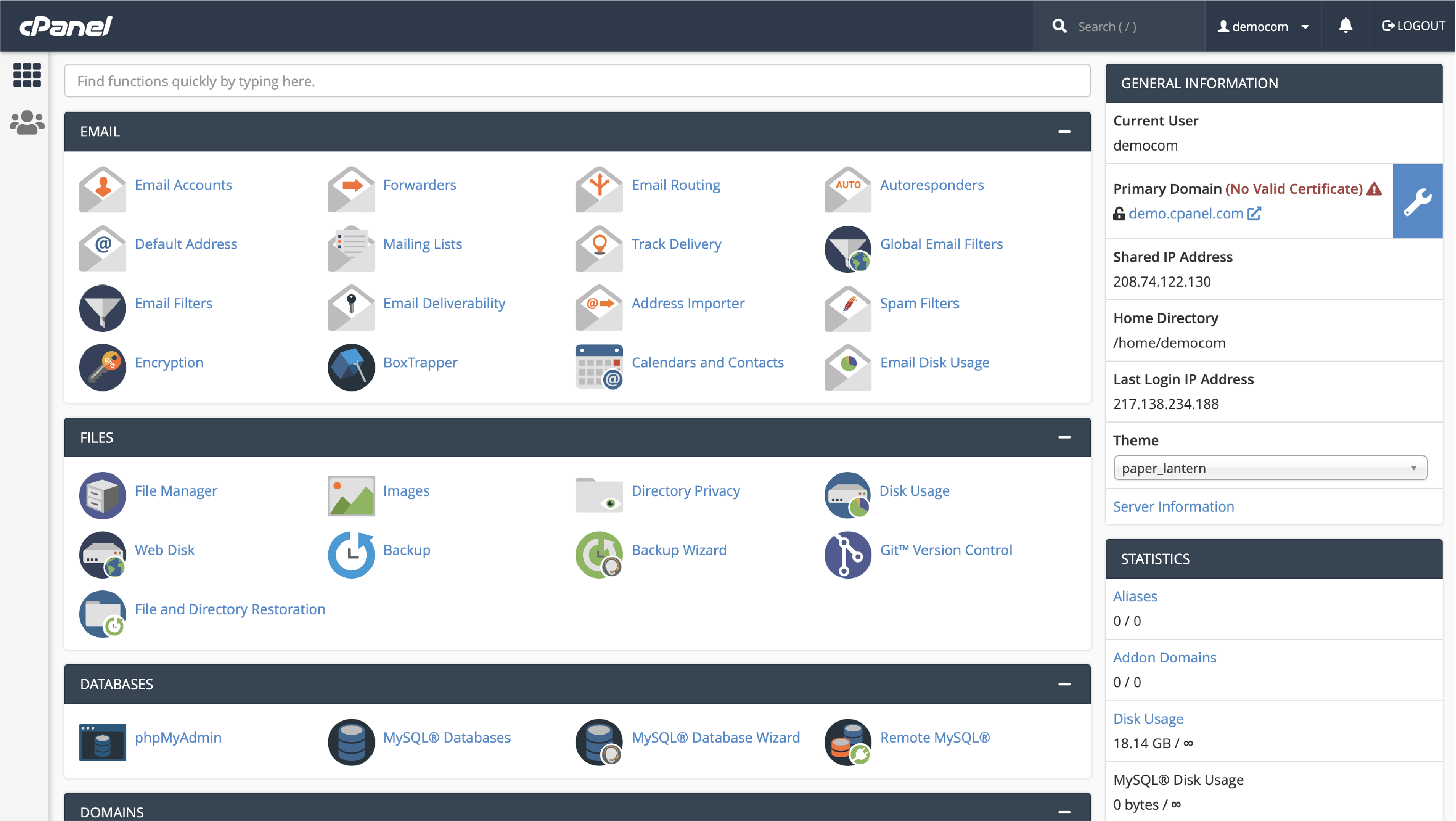 cPanel is a popular and widely-used control panel for website hosting. Its extensive features make WordPress management straightforward. It also supports Linux-based servers which is an excellent choice for WordPress, considering its Linux-based nature. Plus, with cPanel, setting up email accounts, managing backups, or creating databases for WordPress is simple.
Key Features:
User-friendly interface easy to manage WordPress sites
Extensive features support various applications including WordPress
Simplifies creation of databases and email accounts for WordPress
Supports Linux-based servers, compatible with WordPress backend
4. Plesk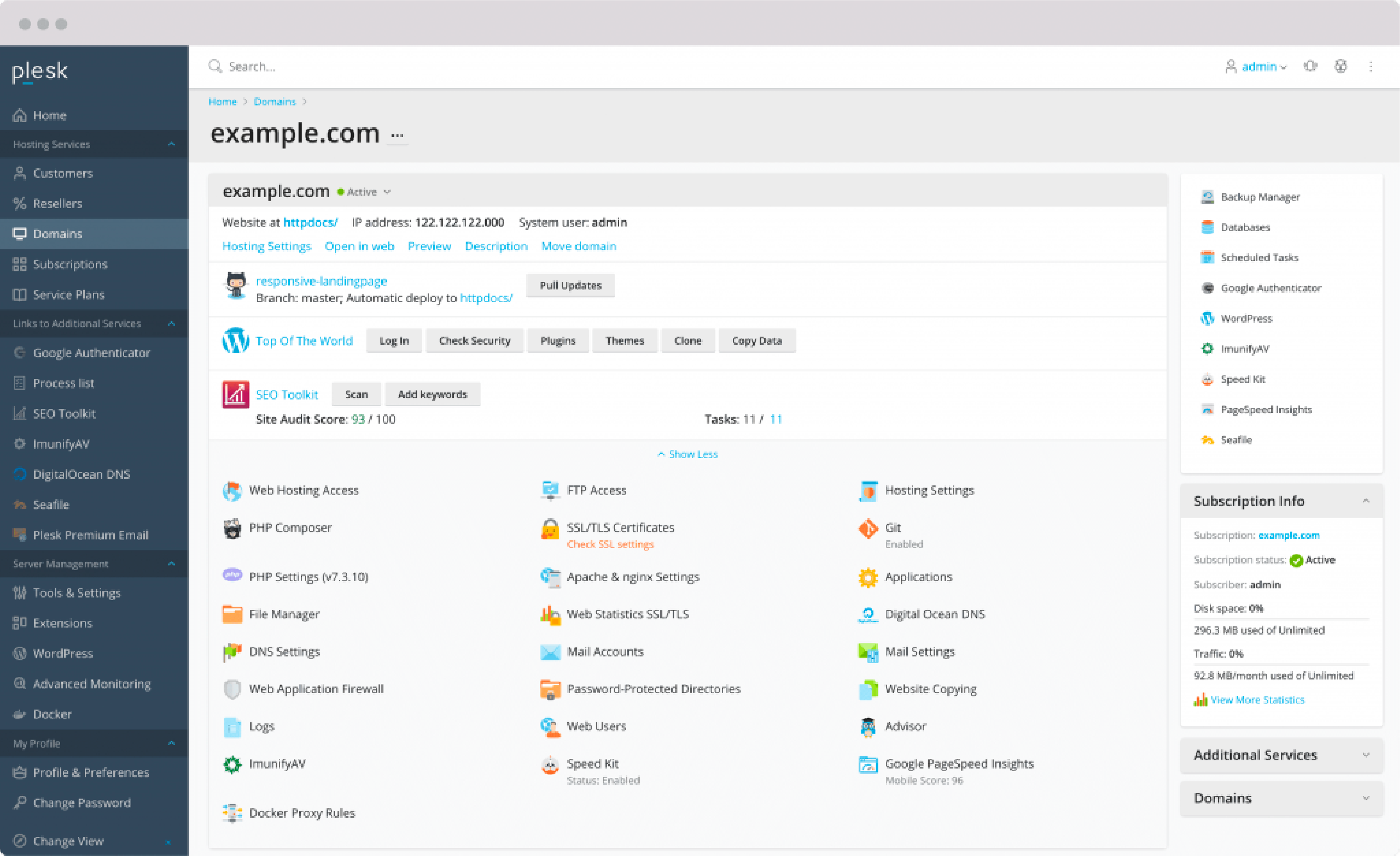 Plesk is another highly favored control panel. It supports both Linux and Windows servers. With its WordPress Toolkit, managing WordPress sites becomes simple and streamlined. Security is also a major feature of Plesk, beneficial for WordPress sites.
Key Features:
Offers WordPress Toolkit for easy WordPress management
Supports security measures like updates, backups, and restores for WordPress sites
Facilitates hosting of multiple WordPress sites on a single server
5. SpinupWP
SpinupWP is a cloud-based WordPress server control panel. Its main goal is to make WordPress server management as easy and fast as possible. With its unique feature of providing a modern cache-first approach, your WordPress site speed will be blazingly fast.
Key Features:
Makes WordPress server management fast and easy.
Ensures high-speed WordPress site performance with modern caching
Offers Git integration for version controlling of WordPress files.
6. CyberPanel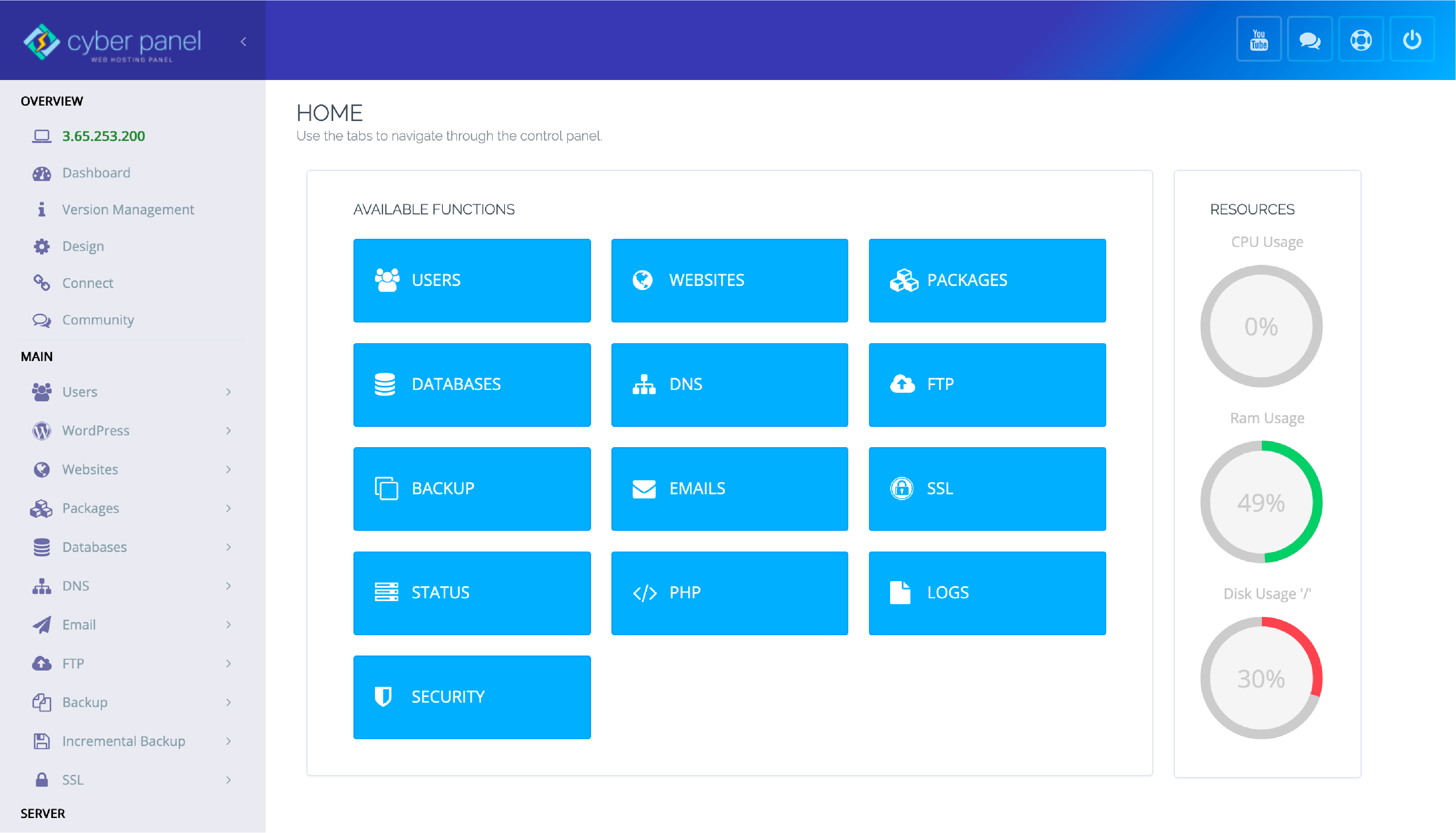 CyberPanel is a web hosting control panel powered by OpenLiteSpeed. Designed with a focus on speed, it benefits WordPress sites seeking excellent performance. It also comes with a WordPress auto-installer for easy setup.
Key Features:
Comes with a WordPress auto-installer
High-speed performance benefits WordPress sites
Includes firewall protection for WordPress security
7. ServerPilot
ServerPilot is a secure and fast hosting control panel often used for hosting WordPress sites. Besides basic PHP hosting, it provides features like free SSL, stats, and more making WordPress hosting hassle-free.
Key Features:
Streamlines the deployment of WordPress on servers
Includes a free SSL certificate for WordPress hosting
Offers real-time analytics and reports for WordPress sites
8. Laravel Forge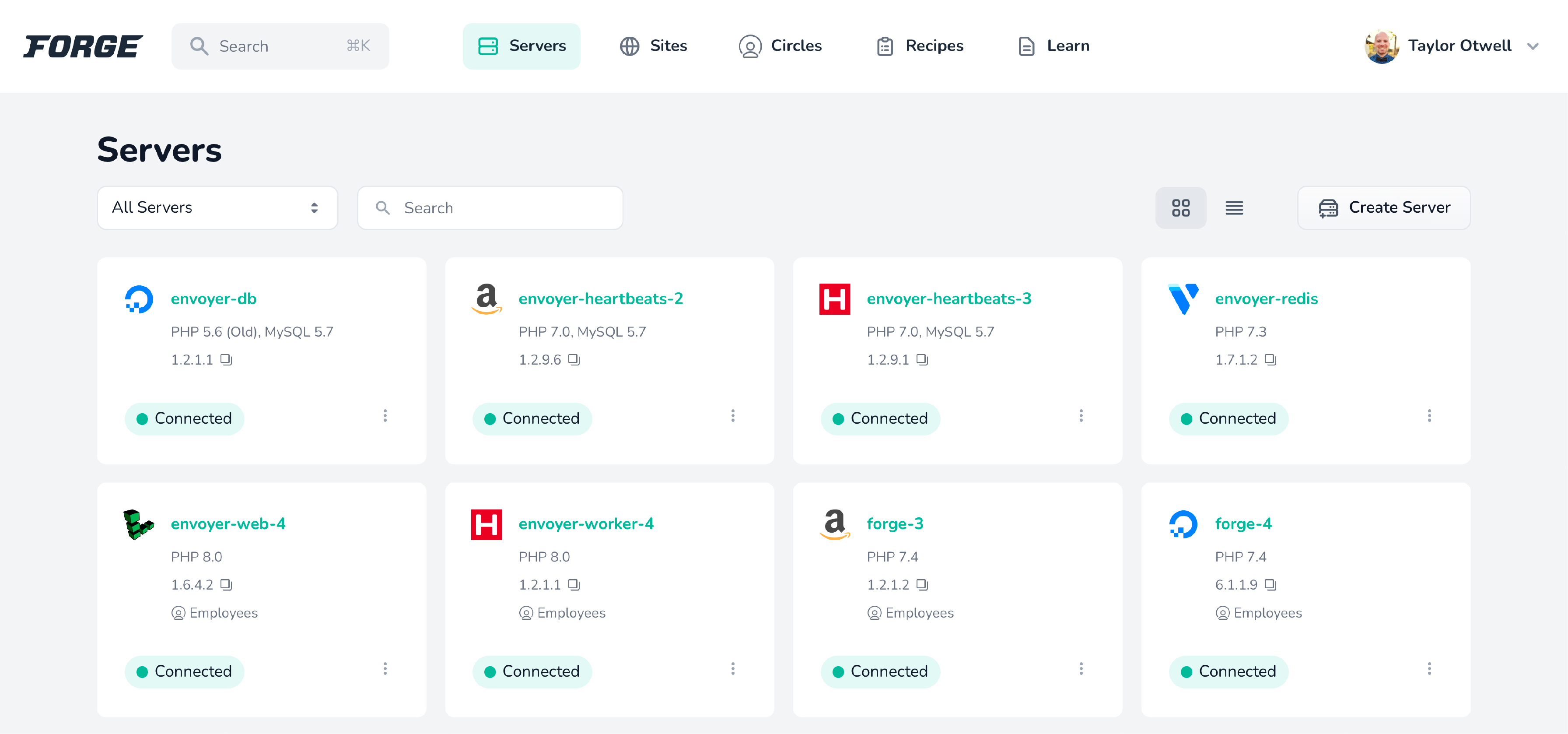 Laravel Forge is not just for Laravel projects. It's excellent for launching and managing WordPress sites too. With its simple user interface, setting up a WordPress site is easy.
Key Features:
Offers one-click WordPress deployments
Can manage WordPress site updates
Supports auto-scaling in line with WordPress site traffic
9. Cloudron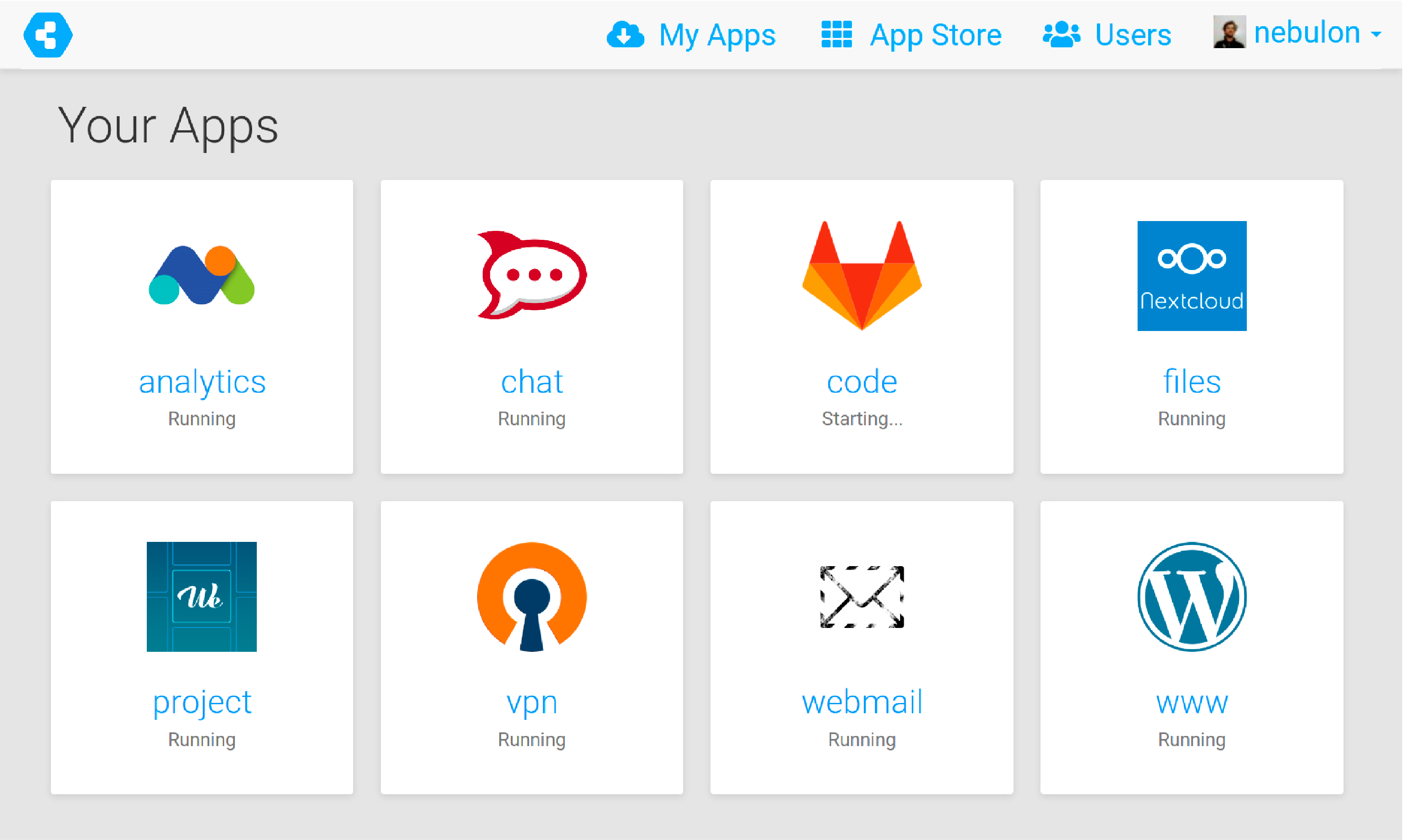 Cloudron is a platform that makes it easy to run web apps like WordPress on your server and keep them up-to-date and secure.
Key Features:
One-click WordPress install feature
Automatic updating of WordPress sites
Automatic backups ensure data integrity on WordPress sites.
Choosing the Best Hosting Provider for your Control Panel
When choosing a hosting provider for your web hosting control panel, it's important to consider various factors. Here, we discuss the various aspects you should consider when deciding on the proper host provider, as well as the top options available, such as Vultr, Digital Ocean, and AWS.
Factors to Consider
Hosting plan: Identify the hosting plan that best suits your needs, whether it's shared hosting, VPS hosting, dedicated hosting, or managed WordPress hosting. Each type of plan has its advantages and drawbacks, so choose the one that aligns with the scale and complexity of your website.

Backup: Ensure that the hosting provider offers reliable backup solutions, which is critical for safeguarding your website data in case of technical issues or security breaches.

Server monitoring: Consider host providers offering server monitoring services, as this ensures your website runs smoothly and potential issues are resolved promptly.
Top Hosting Providers
1. AWS
Amazon Web Services (AWS) is a globally renowned hosting provider, known for its vast range of services and scalable hosting solutions. AWS's Graviton2 processors combined with a tech stack consisting of Debian, NGINX, PHP, Varnish Cache, MySQL, on customers' AWS accounts, makes it an ideal choice for those seeking to host their control panel on a highly secure and reliable platform.
2. Vultr
Vultr is a dependable option, providing high-performance SSD cloud servers globally. They offer a range of hosting plans, including managed WordPress hosting, and are highly regarded for excellent uptime and customer support.
3. Digital Ocean
Digital Ocean is a popular pick among developers and businesses due to its scalable infrastructure and user-friendly control panel. With a myriad of hosting plans and robust backup solutions in their offering, it makes them a reliable choice for hosting your control panel.
FAQs: Web Hosting Control Panel for WordPress
1. Can I host multiple WordPress websites on a single hosting control panel?
Yes, most hosting control panels enable you to manage multiple WordPress websites. Tools like CloudPanel, Plesk, or cPanel provide features specifically created for managing multiple WordPress websites from a single user interface.
2. Can I use the command line to manage my WordPress website through a control panel?
Yes, some control panels like CloudPanel provide command-line access. The command line can be a powerful tool for managing your websites, especially for advanced users.
3. How can I install WordPress through my hosting control panel?
The procedure for installing WordPress varies slightly according to your control panel. However, an option for "WordPress" or "Auto Installer" can usually be found in the control panel's website or software section. From there, follow the guided process to install WordPress. CloudPanel offers a one-click installation procedure for WordPress sites.
4. What are the alternatives to using a web hosting control panel?
While web hosting control panels simplify server management and the deployment process of WordPress websites, they aren't the only tools available. Advanced users can opt to use command line tools like WP-CLI which require more technical knowledge. Other users might use management platforms like ManageWP that focus primarily on content management as opposed to server management.
Summary
This article explored the essentials of a web hosting control panel for WordPress, features to consider, and top panels like CloudPanel, Ploi. io, and cPanel. Finally, we discussed choosing a cloud provider to run your website. Ready to effortlessly manage your WordPress site? Try CloudPanel's one-click WordPress install and advanced features to run your WordPress sites effectively.