What is a Web Hosting Control Panel?
Are you wondering what is a web hosting control panel and its importance for server management? This article covers the workings of a web hosting control panel. Find out how a web hosting control panel can enhance your website's performance, security, and ease of use. We'll also look at the best web hosting control panels and their unique features to streamline administrative tasks.
Key Takeaways
Understand the concept and importance of a web hosting control panel.
Discover how a control panel simplifies server management and enhances website performance.
Learn about a control panel's essential features, such as file management, email management, and security tools.
Explore popular control panel options like CloudPanel, Plesk, DirectAdmin, cPanel, and Webmin.
Get insights into the benefits of using a control panel for efficient website administration.
Find out about CloudPanel, a user-friendly and scalable control panel solution.
What is Web Hosting Control Panel?
A web hosting control panel is a management tool that allows users to easily manage their web server and hosting services through a user-friendly interface.
Definition
A web hosting control panel is a tool that helps users manage their websites and servers. You can see it on your web hosting service's site. It lets you handle tasks for your servers and services hosted on the internet.
Tasks like managing server data, managing users, and changing DNS settings are easy with this tool. The hosting control panel uses a graphical user interface to make daily admin tasks less technical.
Purpose of a Web Hosting Control Panel
A web hosting control panel is key to making server tasks easier. With it, you can do many things, like manage your website's files, databases, monitoring, and emails with ease. You can check how much RAM, CPU, and disk space your websites and applications use.
The tool also helps keep your data safe from threats. You can use it to back up your website data at any time. This ensures you will keep everything if something bad happens to your site. Web hosting control panels help give users more power over their websites without needing complex tech skills.
Key Features of a Hosting Control Panel
A web hosting control panel has many powerful features. These are tools you can use to manage your website and server. Here are some key features:
File Manager lets you upload, delete, and move files on your server.

Database Management: The feature helps you handle your MySQL databases.

DNS Records: You can edit or add DNS records for different services.

FTP Accounts: The control panel lets you set up accounts for file transfer protocol (FTP).

Security: It provides SSL certificates and other security features to protect against spams and potential risks.

Server Resources: Keep an eye on how much space and processing power you use on the server.

Operating Systems Choice: Choose a system that works best with your website's needs, such as Windows or Linux servers.

User Management: The feature lets you control and manage user permissions and access levels.

SSL Certificates/Let's Encrypt: The control panel allows you to manage SSL certificates. Let's Encrypt feature can provide free SSL certificates for your site.

Backups: You can schedule automatic data backups. It ensures that you can recover your site if anything goes wrong.

Domains: The control panel should offer features to manage your domains. You can add or delete domains on your server.

PHP Settings: You can easily modify PHP settings, including memory limit, max execution time, etc.
Why Do you Need a Web Hosting Control Panel?
1. Simplifies Server Management
A web hosting control panel simplifies server management by providing an easy-to-use interface for users to manage their servers and hosted services. With a hosting control panel, you can easily perform tasks like hosting your website, monitoring resources, configuring settings, and backing up your site.
It offers automation tools and user-friendly features, making it accessible to users without technical knowledge.
2. User-friendly Interface
A web hosting control panel has a user-friendly interface that makes it easy for users to manage their servers and website. With its simple design and intuitive navigation, admins can perform technical tasks with a few clicks and navigate the control panel.
The user-friendly interface allows you to access various features, such as cron jobs, file management, security, and domain management, with just a few clicks. You can easily customize your website settings and make updates without the need for coding or complex configurations.
3. Time and resource-saving
A web hosting control panel is a valuable tool that can save you time and resources when managing your website. The automation tools control panels provide streamlined processes, allowing you to focus on other important aspects of your business.
It saves you the hassle of using separate tools or contacting customer support for each task. Overall, having a web hosting control panel helps simplify server management and improves efficiency in managing your websites.
4. Security Features
Many hosting control panels offer security features to protect your server and data. These features include SSL certificates, which encrypt data transmitted between your website and users. Control panels also allow you to set up password-protected directories, securing sensitive files.
You can manage DNS records to prevent unauthorized access or changes. Many control panels provide anti-spam tools to filter unwanted emails and enhance email security. With these security features, you can protect your website from potential threats. It ensures a safe user experience for your visitors.
Popular Web Hosting Control Panels
1. CloudPanel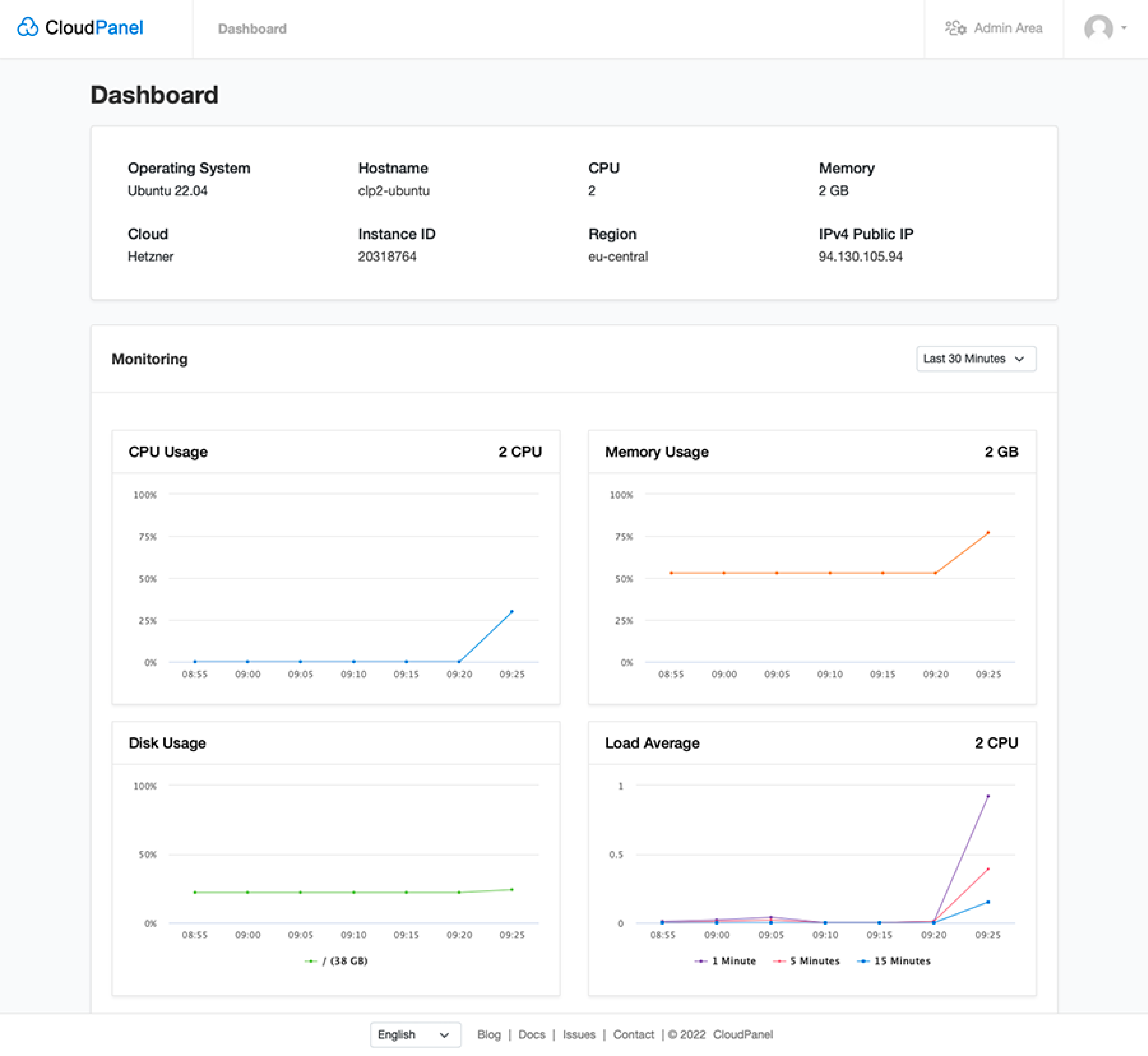 CloudPanel is a powerful and user-friendly control panel designed for efficient server management. It offers a clean layout and modern interface, offering a range of advanced features to manage web hosting parameters. CloudPanel empowers users with efficient server management, scalable performance, and enhanced server security, making it an ideal choice for hosting high-traffic websites.
Key features of CloudPanel:
Compatibility: Supports various Linux distributions and seamlessly integrates with popular cloud services like AWS, DigitalOcean, and Google Cloud.

Lightweight Technology Stack: CloudPanel is built on a lightweight tech stack, using efficient components to optimize server performance and resource usage.

User Management: Provides comprehensive user management capabilities with customizable permissions.

Automatic Backups: Schedule automatic backups to safeguard data and maintain data integrity.

Multi-language Support: Offers support for multiple languages, enhancing accessibility for users worldwide.

Built-in Varnish Cache: Improves website performance with a built-in Varnish cache, resulting in faster loading times.

One-Click WordPress Installation: Simplifies the process of installing WordPress with just a single click.

Easy PHP and MySQL Management: Effortlessly manage PHP and MySQL configurations for optimal website performance.

Enhanced Security: Get features like IPtables firewall, IP and Bot Blocking, site isolation, 2 FA, and Basic authentication.

Multiple Server Management: Seamlessly manage multiple servers within the CloudPanel interface.

Server Monitoring: Keep a close eye on server health and performance with a clean dashboard showing essential server metrics.

One-Click SSL: Simple implementation and management of Let's Encrypt SSL certificates to secure your domains.
2. DirectAdmin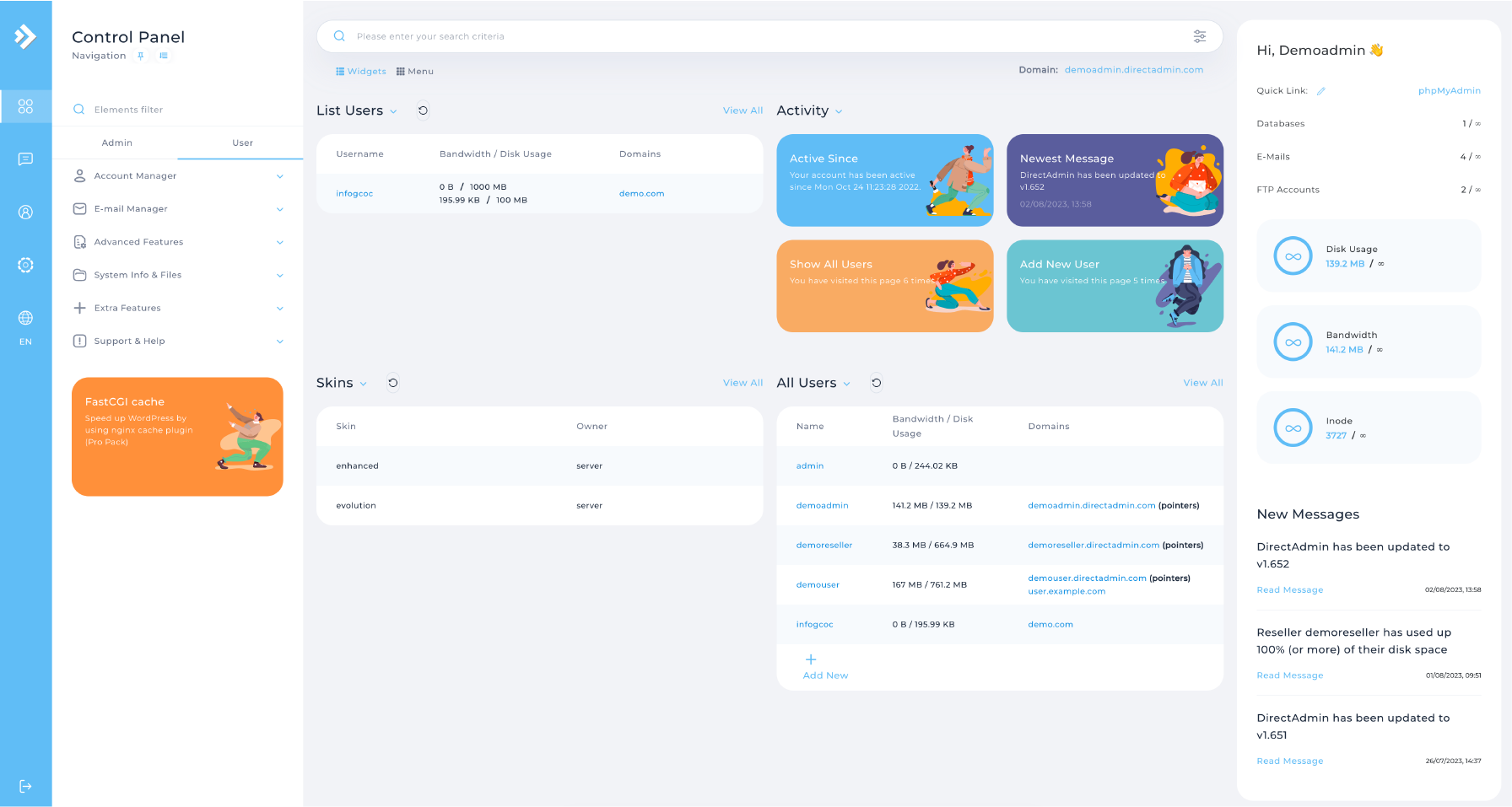 DirectAdmin is a robust and efficient web hosting control panel. It offers an intuitive interface that is easy to navigate, making it ideal for users with varying levels of technical expertise.
DirectAdmin comes with several types of licenses. It includes a free 60-day trial for beginners and Personal, Lite, and Standard options catering to different user needs. The control panel operates seamlessly with various Linux distributions, including Ubuntu, Debian, and RHEL.
Key features of DirectAdmin include:
Comprehensive system usage statistics: It gives an overview of your website's performance and server health.

Multiple access levels: Allows different user roles and permissions for versatile website management.

Automatic SSL: Ensures website security with automated SSL certificate management.

Unlimited customization abilities: Provides a vast array of settings and options you can personalize.

Automated setup: Streamlines selected software packages' installation and configuration process.
3. Virtualmin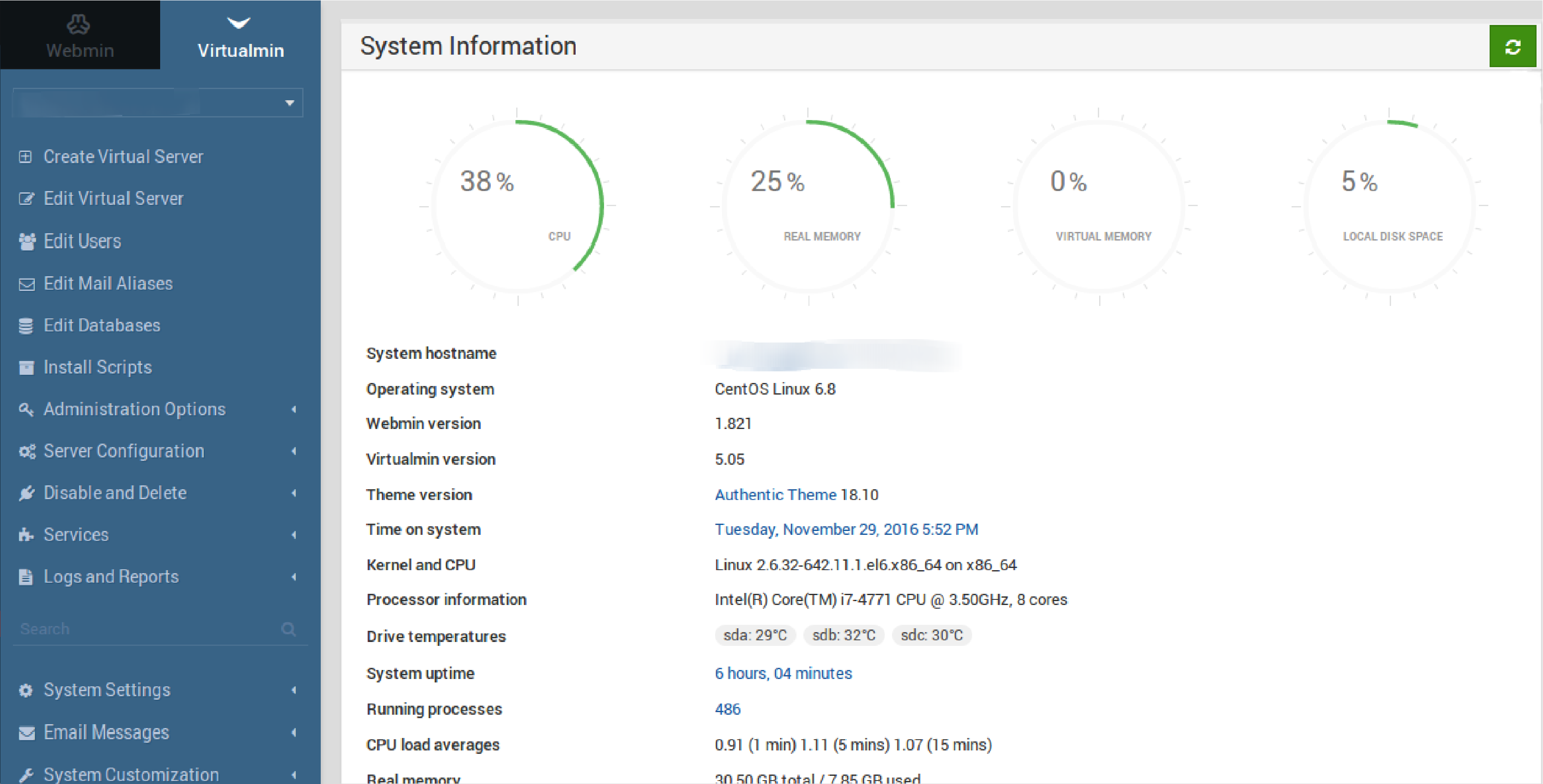 Virtualmin is an open-source domain hosting and website control panel founded on Webmin. It offers two distinct versions:
Virtualmin GPL, a free, open-source version available to all users.
Virtualmin Professional: The premium version is accessible through a monthly or annual subscription.
Designed for Linux and BSD systems, Virtualmin incorporates various features:
Advanced Access Control: It provides enhanced control over user permissions and access levels.

Server Logs Visualization: Virtualmin makes viewing and understanding server logs easy.

Monitoring Tools: It includes tools to monitor your website's performance and server health.

Security Features: Virtualmin has many in-built security features to protect your websites and servers.

Database Management Tools: Virtualmin provides an extensive collection of tools that simplify the management of databases.
4. cPanel
cPanel is a comprehensive web hosting control panel preferred for its extensive features and tools. Its user-friendly interface and ease of navigation make cPanel suitable for experienced admins.
cPanel offers management of website files, databases, email accounts, and domain settings. It provides monitoring capabilities for assessing your website's performance and server health. The control panel streamlines server management by automating tasks like backups and software installations.
cPanel caters to various users, including small to medium-sized businesses, developers, digital agencies, and hosting providers. It offers a free 15-day trial and different paid licenses:
cPanel Solo
Admin
Pro
Premier.
Key cPanel features include:
Automation: Facilitates seamless server management through the automation of tasks.

Control and Flexibility: Provides comprehensive control over settings and the flexibility to customize them.

Add-ons and Third-party Plugins: Supports a range of add-ons and third-party plugins for enhanced functionality.

Custom Database Design: Features tools for designing custom databases.

Secure Backups: Prioritizes data safety with secure backup options.
5. Plesk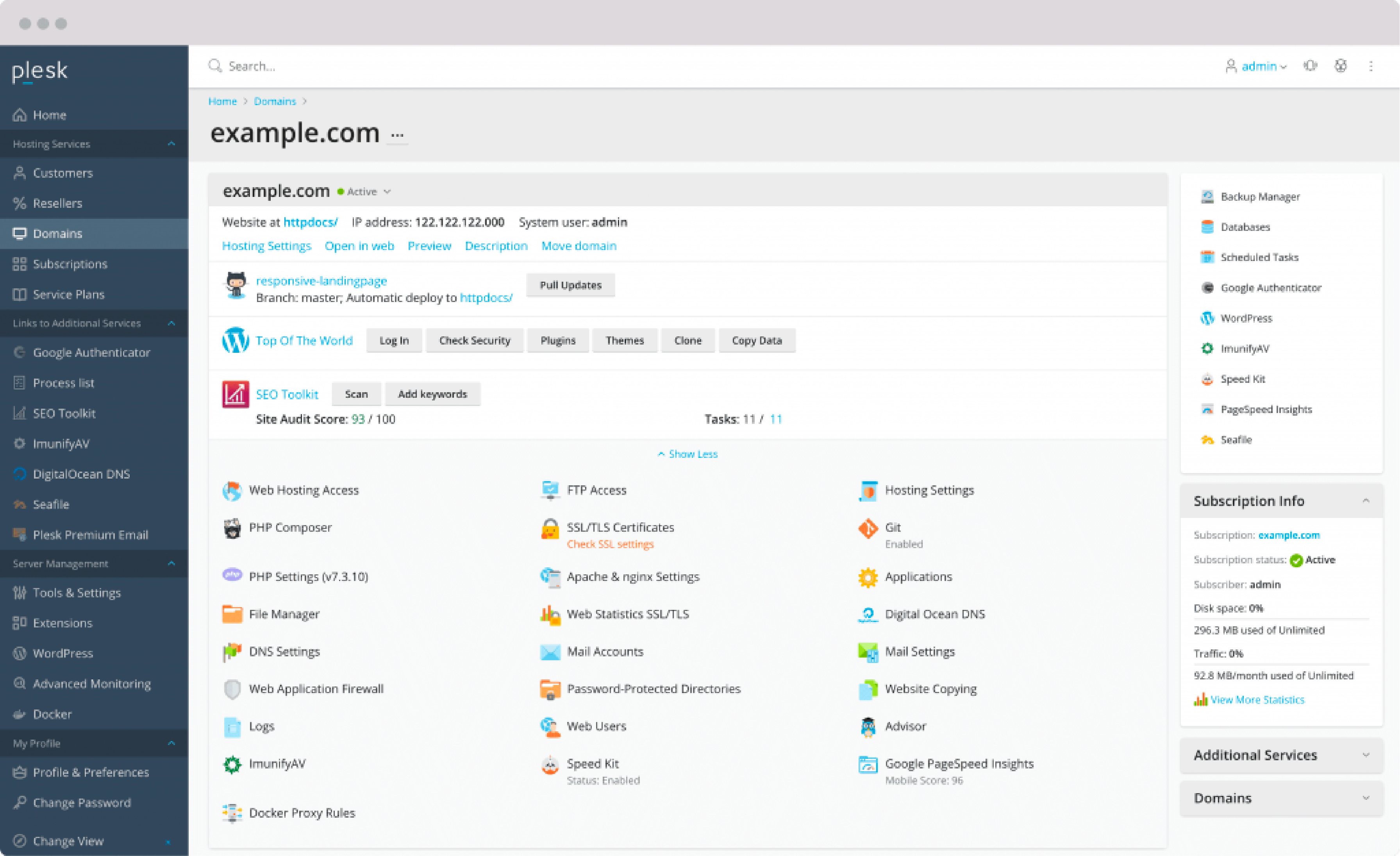 Plesk is a web hosting control panel providing various features in a user-friendly interface. It greatly simplifies tasks, such as creating and managing domains, setting up email accounts, and installing applications like WordPress.
Designed to ensure security, Plesk offers features such as password-protected directories and SSL certificates. It has intuitive navigation, which makes it usable by both beginners and experienced users.
The commercial control panel is tailored for both Linux and Windows operating systems. Plesk offers flexible pricing plans on a monthly and annual basis.
Key Plesk features include:
Full Access via SSH: This allows users to complete server access via Secure Shell.

Enhanced Security: Plesk prioritizes website protection, offering premium security measures.

Advanced Monitoring: This feature helps monitor website performance and hosting server health.

Versatile Extensions: With over 100 extensions, Plesk provides varied functionality.

Complete WordPress Toolkit: The toolkit makes managing WordPress tasks effortless.
6. Webmin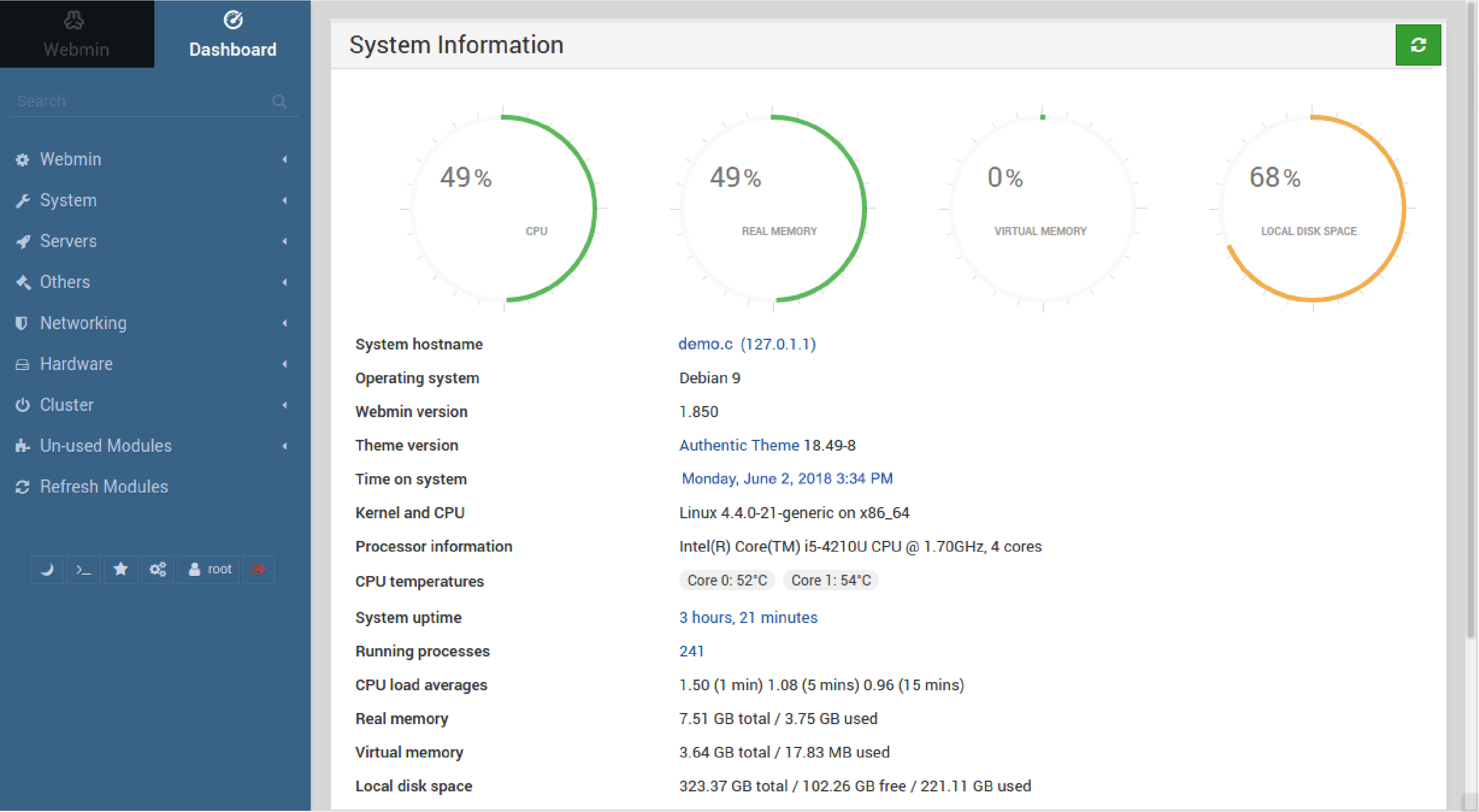 Webmin is a web hosting control panel catering primarily to Linux, FreeBSD, Windows, and other Unix-like operating systems. Serving as a versatile system configuration tool, it can conveniently operate across any web browser. Its primary offerings include file, email, database, and domain management.
Built with accessibility, Webmin makes server management feasible for users without extensive technical skills. It simplifies tasks such as website hosting, configurations, and performance monitoring.
Key features of Webmin:
Built-In Functions: Offers numerous in-built capabilities through modules.
Flexibility: Webmin is a powerful, flexible tool that can be adapted according to user requirements.
SSH Keys Support: Provides support for Secure Shell keys, enhancing accessibility and security.
Third-Party Modules: Supports the use of third-party modules, increasing their functionality and versatility.
Broad System Support: Webmin is compatible with many systems, boasting extensive support.
FAQs
1. What is a web hosting control panel?
A web hosting control panel is a user-friendly graphical interface hosting companies provide. It simplifies tasks related to managing your website, including creating user accounts, installing software, managing databases, and reviewing server resources.
2. Why should I use a web hosting control panel to manage my website?
A control panel is crucial as it makes managing your website effortless without needing to learn technical skills. Whether handling more than one website or just one, tasks such as setting up domains, managing databases, and accessing crucial site information are easy with a control panel.
3. Do hosting companies offer common control panels or any custom control panels they've designed?
Not all web hosting providers offer the same type of control panels. Their offerings might vary, featuring different interfaces and features. Some popular control panels include CloudPanel, DirectAdmin, cPanel, and Plesk. Providers may also offer custom control panels specifically designed for their services. It's essential to choose one that fits your needs.
4. Can web hosting control panels handle more than one website?
Some common web hosting control panels are designed to manage multiple websites efficiently. They provide various tools, such as file management, domain name system configuration, and advanced security features, making them a perfect choice for site owners with multiple websites.
Summary
This article explored what is a web hosting control panel and its importance in managing servers. We discussed how control panels simplify server administration, enhance security, and save time through automation.
Features like a file manager, domain management, database management, and security measures were highlighted. If you're looking for a reliable web hosting control panel, consider exploring CloudPanel.