CloudPanel is Now Available on Donweb Cloud!
We are thrilled to announce Donweb Cloud as a strategic partner of CloudPanel. Donweb's integration with CloudPanel is another milestone for optimized technology, quality services and user experience for end-users. The news article outlines the collaboration, integration processes and the hosting benefits of using CloudPanel on DonWeb Cloud. We'll look at Donweb Cloud's commitment to latest innovations and enhancing cloud resource management.
Donweb Cloud Overview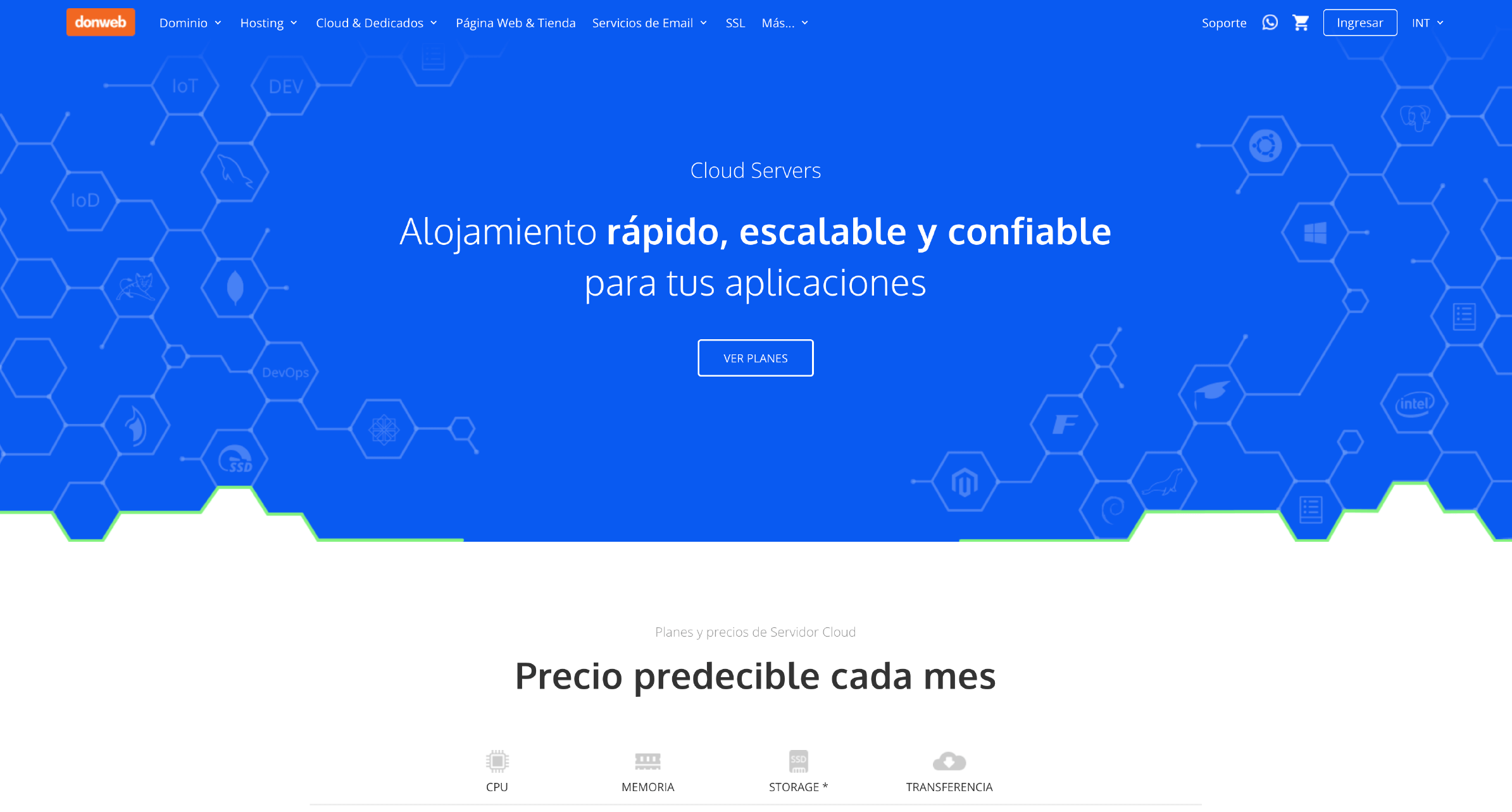 Launched in Argentina and expanded throughout Latin America
With over two decades of leadership in web solutions in Latin America, Donweb has served more than 500,000 active clients. It offers dependable, technology-driven solutions in the web hosting and domain fields. Donweb Cloud provides efficient, scalable cloud hosting and infrastructure services, always keeping the clients at the center.
Donweb Cloud and IaaS
Since the launch of the Donweb Cloud & IaaS unit in 2020, the team has been on a continuous strive for excellence. It involved integrating technologies and software to enable users to manage their servers easily.
As a result, in 2022, a Donweb cloud marketplace was introduced. It eased operating system installation and full-stack creation through Click&GO images.
Click&GO Image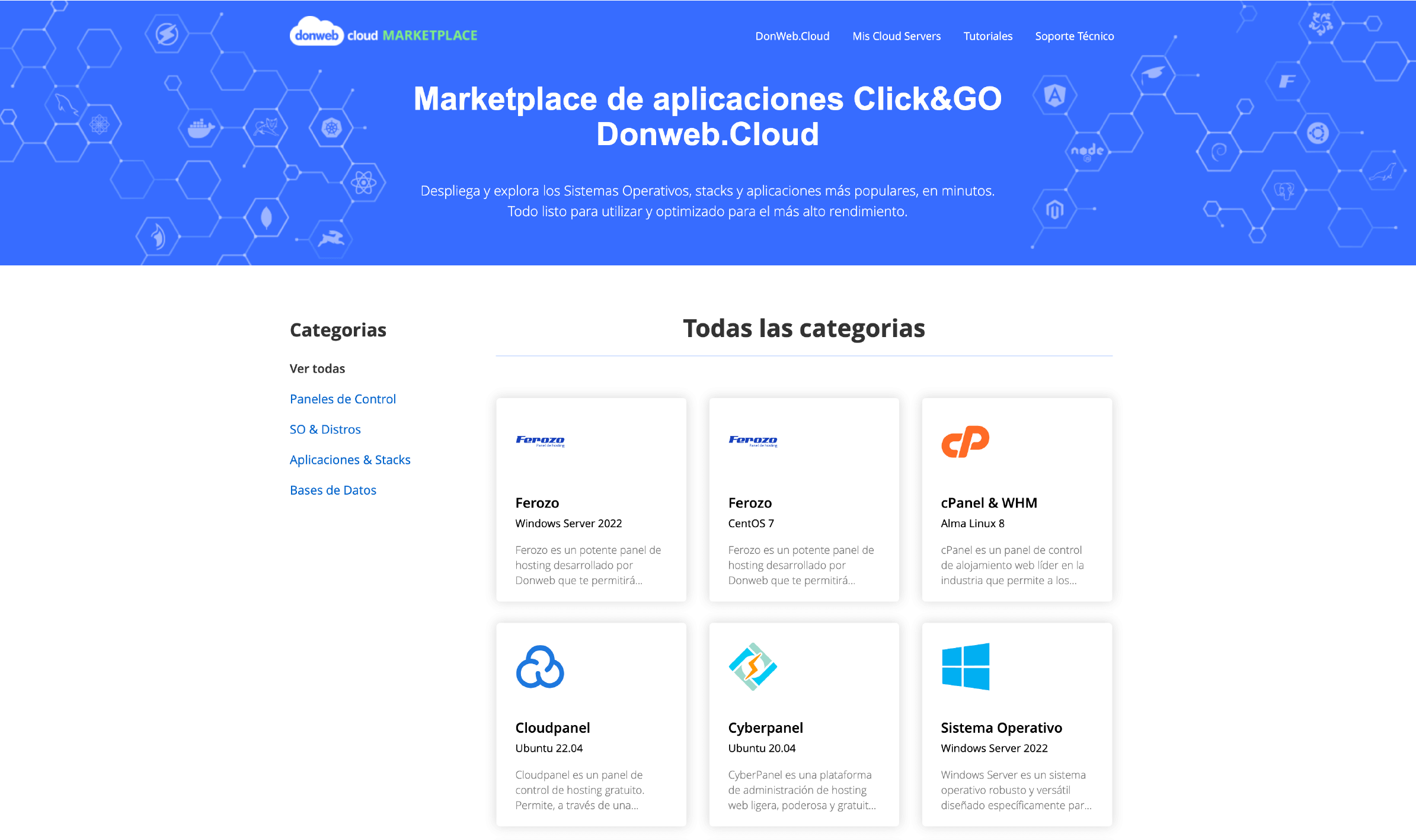 Before its release in the Donweb Cloud marketplace, every Click&GO image undergoes a rigorous validation and testing process. It ensures users can easily install it onto their virtual servers with a single click. The process for publishing a Click&GO image on the Donweb Cloud marketplace includes:
User needs are identified and validated initially.
The infrastructure team thoroughly examines software documentation.
Extensive internal testing is performed to check for the tech stack's stability, performance, and security.
Only after these stages have been passed is the Click&GO image made available in the marketplace.
The process ensures a reliable, optimal experience for users.
CloudPanel Integration with DonWeb Cloud Marketplace
Donweb Cloud's collaboration with CloudPanel was driven by the platform's focus on simplicity, efficiency, and reliable development in hosting services.
The process of integrating CloudPanel posed an exciting challenge. A dedicated IT team navigated through the integration process, facing and resolving complexities to secure an improved user experience.
Diego Vital, PO of Cloud & IaaS, shared his CloudPanel experience:
"The choice of CloudPanel was deliberate and based on its focus on simplicity and efficiency. Its concentration on hosting and its mature and reliable development made it stand out among other options. Its intuitive interface and focus on essential aspects, avoiding additional services that could impact performance, were key factors in our decision."
Lisandro Bastús, Manager of Cloud & IaaS, recounted the CloudPanel integration process:
"The integration of CloudPanel was a meticulous and detailed process. Its comprehensive documentation and the direct support of its team through Discord were fundamental in resolving our doubts.

Each stage of testing and validation was crucial to ensure the software's stability, performance, and security before generating the OneClick image. We're delighted to make it available for all our users in the marketplace."
CloudPanel Integration Benefits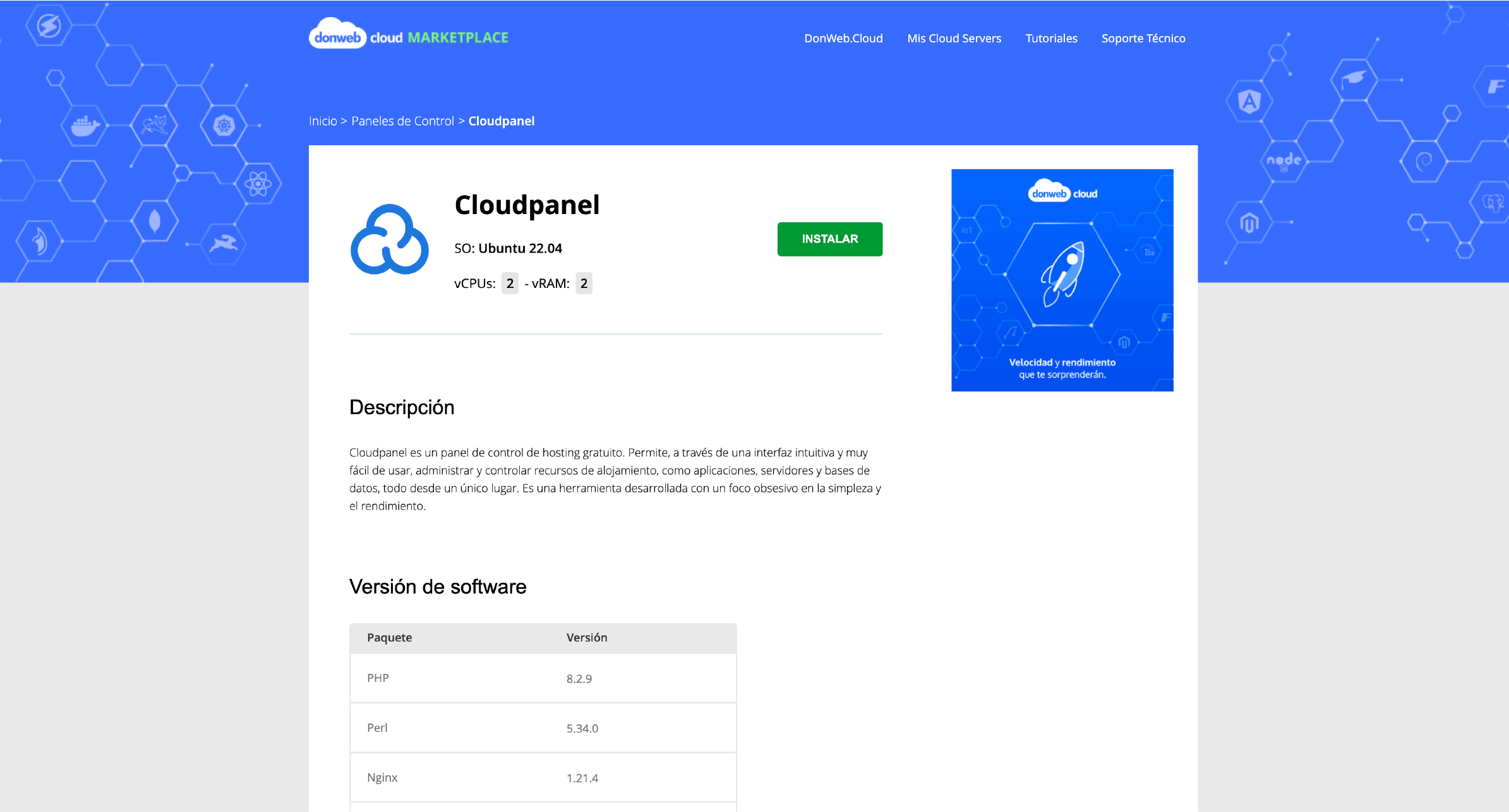 A successful CloudPanel integration has allowed Donweb Cloud to offer a versatile and robust tool that significantly improves cloud resource management. It empowers our users to focus on the development and success of their projects.
"Our journey to integrate CloudPanel has been a voyage of discovery and growth," comments DonWeb's PO.
Some of the key benefits include:
Simplified cloud server management
Efficiency in resource allocation
User-friendly interface
Streamlined project development
Cost-effectiveness
Scalability
Flexibility and versatility.
Exclusive DonWeb Cloud Offers for CloudPanel Users
Explore new possibilities and discover how CloudPanel and Donweb Cloud can elevate your web hosting projects. CloudPanel users have the advantage of a special offer: receive a 20% discount using the coupon code "CLOUDPANEL". During the set-up process on Donweb Cloud, add the coupon code during checkout to enjoy this exclusive benefit.
Donweb consistently aims to deliver solutions for your web projects and applications. The team recognizes the unique requirements of each project and the necessity for top-quality support. Donweb remains relentless in its pursuit to offer the latest technology and customer service.
The integration of CloudPanel on Donweb Cloud offers an easy-to-use and reliable platform that aligns with your project requirements. Discover how we can help you streamline processes, improve server performance, and achieve your business goals. Combine CloudPanel and Donweb's services to take your web projects and applications to the next level.