Cloud Management: Boosts Your Business Success with the right tools!
So you've found the perfect cloud hosting provider, and your business is ready to take off.
Now it's time to focus on "how to" optimize your cloud services and your workflows.
A cloud hosting concept without a clear management structure can lead to problems.
(For more on this, see: The Importance of Cloud Management)
This post will help you understand cloud management and show you why CloudPanel serves as the best free management tool for your cloud experience.
What is Cloud Management exactly?
Cloud management is a concept where one or more administrators have control over cloud applications and software components.
This means:
User access
Data handling
Performance review
There are three service models in cloud computing:
IaaS (Infrastructure as a Service)

PaaS (Platform as a Service)

SaaS (Software as a Service)

IaaS provides your company with a cloud infrastructure which includes:

• Virtual servers
• WAN (Wide Area Network)
• Operating systems
• Data storage

This allows you to:

• Save costs!

• Scale your work environment!

• Plan and survey the growth of your business!
With a PaaS solution the cloud hosting provider offers infrastructure and provides a development interface.

It's an ideal solution for multiple technicians and developers to access a specific project.

This saves time and costs because your technicians don't have to create an API (Application Programming Interface) from scratch.
The SaaS model is a subscription or pay-per-use solution.

It is also cost effective because:

• You only pay for applications you really need.

• The cloud hosting provider handles all necessary software patches.
The Importance of Cloud Management
As we've seen so far, the world of cloud computing offers plenty of solutions, which will make your work life more comfortable.
Nevertheless, these tools and services must be handled by a well-structured and easy to use cloud control panel.
Because only with a cloud management software like the free CloudPanel you are getting an overview of your company's:
Daily work performance
Growth
Progress of your projects
Portfolio
Customer database
Website traffic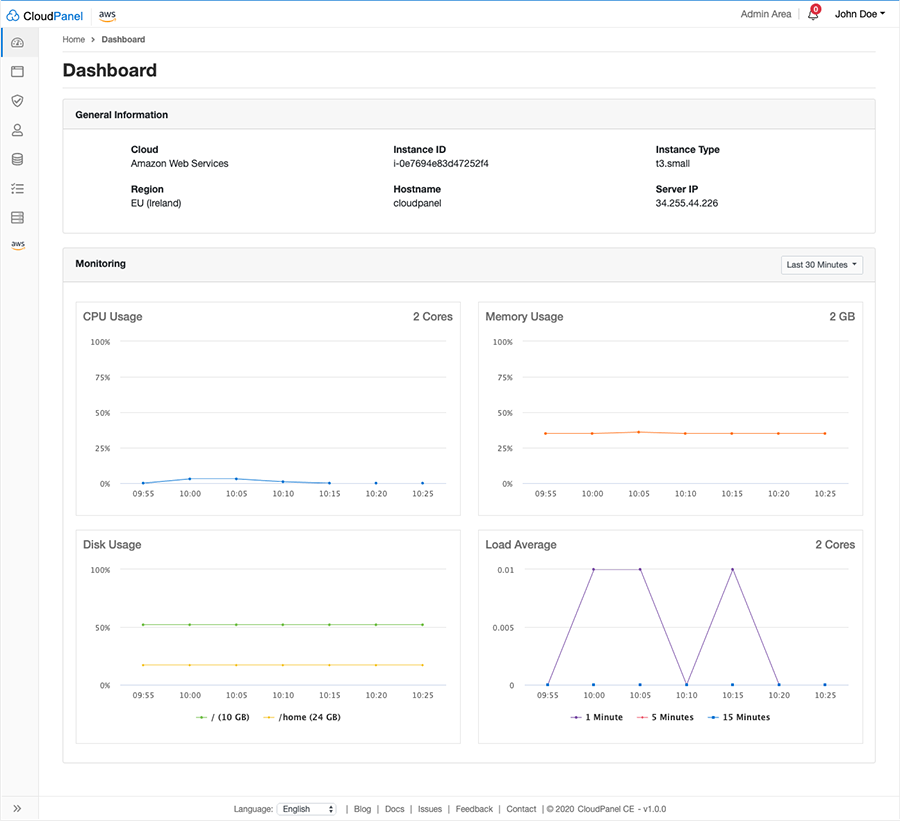 CloudPanel offers an easy to use control panel.
Thanks to these features, cloud management has become a universally established standard as it provides you with a safety net, thanks to various security checks while enhancing your workflow capabilities.
Key Factors in Cloud Management
Cloud management is a complex and interconnected process, but there are a few key elements that will safely guide you:
1. Cloud Security
Security is, of course, one of the essential parts of cloud management.
Your data has to be secured by your cloud hosting provider, who needs to comply with general security standards.
It's crucial to organize and structure backup methods and shield your data from:
Attacks - If hackers try to upload malware data into the cloud.
Loss - Due to human failure or corrupt software.
Theft - Due to a security breach, a hacker attack, or human error.
Any cloud management concept's security features are crucial to your daily cloud business's execution and maintenance.
(For further information, see: Is Cloud Hosting Secure? and CloudPanel Security)
2. Cloud Management Tools
A cloud structure offers you many different applications and services to handle various levels of data.
Among them:
To improve your company's internal communication through email and customer relationships due to automated email responses.
To manage copyrights and access permissions of an audio-visual archive by watermarking your content and keep it secure in a protected area.
To maintain your customers' information and access it online without worrying about security problems or hardware instabilities.
To create a productive framework to develop your software ideas without installing the necessary tools yourself or paying for unwanted licenses.
All these applications and services can be managed with a wide array of features included in the free CloudPanel.
Because CloudPanel:
Is easy to use
Is up and running within 60 seconds
Supports all common PHP Apps
One-Click Let's Encrypt Certificates
Offers multiple PHP versions
Has NGINX support
CloudPanel is supported by all the big cloud service providers (Amazon, Google, Microsoft, Digital Ocean, etc.), and most important of all, it's free!
3. Reduce Costs with Cloud Management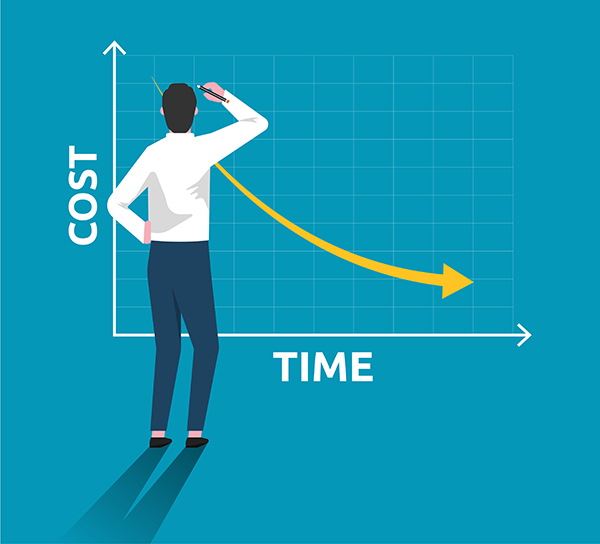 Maximized business success while reducing costs with cloud management.
Due to massive changes in big data capabilities and high-speed internet availability, many companies have shifted from single server concepts to cloud-based solutions.
By optimizing their IT strategy, they have reduced costs and limited their investments to:
Virtual machines
Memory
Network traffic
Web services
Software licenses
To further lower these costs, a free server panel will help your company's structural value.
How to manage a Cloud
There are many cloud types, but for our purposes, we'll focus on the hybrid and the multi-cloud.
1. How to manage a Hybrid Cloud
A hybrid cloud solution connects a private or customized cloud to one or more public cloud servers. It allows you to connect an inhouse cloud at your company's headquarters with a cloud provider's cloud structure such as Google or Amazon.
A hybrid cloud is agile, which lets you change or augment your strategy as your business is growing or needs to stay competitive.
Hybrid cloud is a recommended strategy:
If your workload changes rapidly.
If the IT solution bases on reducing costs.
If you need to use a hybrid because of legal issues.
If your IT infrastructure has not been established or is not agile enough.
Based on these guidelines, your management focus should be:
To overview the various workloads that run in the cloud.
To uphold all necessary security standards.
To interface public and private clouds without any loss of performance.
2. How to manage a Multi-Cloud environment
If a hybrid cloud consists of mixing private and public cloud concepts, a multi-cloud is an either/or solution.
You either have several private or several public clouds interacting with each other.
In both instances, the multi-cloud concept reveals its strengths through:
A more significant return on investment due to cost-effective cloud usage
A higher level of security and risk management
A better protection from hardware mishaps or server outages
Therefore, a multi-cloud makes the most sense if:
Operational downtime causes immediate disruption to your business.
You have a constant flow of business data, which has to be available 24/7.
Your applications and services don't intermingle and need to be distinctly separated.
As is the case with the hybrid cloud the multi-cloud management centers around:
Optimizing the cloud performance
Security concerns
Cost effective cloud usage
Types of Cloud Managed Services
Many applications run within the cloud structure.
1. Documents & Content Management
Cloud services, like Google Drive or Dropbox, allow you to share your documents and images, and it lets authorized users work with them from everywhere.
It's an essential tool to optimize your workflow and keep track of your project's progress.
CloudPanel also offers an FTP and an encrypted SFTP tool to upload files.
2. Inventory Management
As your company, portfolios, and customer databases grow, you need to maintain precise knowledge of:
Stocks
Investments
Trading partners
An inventory service helps:
To access your finance pool in real-time.
To prevent errors.
To keep your clients' trust in your brand.
3. Project Management

Collaboration is the essence of any project.
A cloud-based project management service can, therefore, be of tremendous value to unite all team members.
It also helps you to:
Keep track of the project's progress.
Initiate automated notifications.
Check dependencies and timeline views.
4. Identity Management
It goes without saying: Sensitive data and the access to it has to be protected.
With a cloud identity service, you can:
Manage the user lifecycle.
Monitor user access.
Shield your operation from attacks.
Manage permissions.
A comprehensive identity application makes sure that users are adequately identified and authorized.
This prevents misuse and lets you immediately react if there is any kind of wrongdoing.
It's also at this stage where compliance, as mentioned above, comes into play.
Companies who don't subscribe to established security standards, especially when it comes to protecting their customer's identity or data, will be subject to severe investigations.
Pros & Cons of Cloud Management
The major advantages of cloud management are, of course:
Access from anywhere
A broad spectrum of applications
Security
Reduced costs
Better time management
High flexibility of your IT strategy
The only danger lies in an attack against the cloud hosting provider, leading to malware infections and data breaches. These risks are not limited to cloud management.
Therefore, you must research your cloud hosting provider and make sure that all the necessary security measures are in place.
Platforms & Service Providers for Cloud Management
Some of the most popular cloud hosting providers are:
All of whom are manageable with CloudPanel.
Its features, which are lightweight and ideal for any company, no matter their size.
The Essence of Cloud Management
We've reached the end of our little excursion into the world of cloud management and the diverse benefits it provides.
It should be evident by now that a well-structured cloud management solution improves your company's performance and growth.
As a quick recap here are some of the most important aspects of cloud management:
Efficient workflow of your productive data
Valuable assets
Customer information
Constant update of data shifts
Server performance
The reach of your company and brand
So whether you're planning to set up a new idea or want to optimize your IT strategy, cloud management will help you achieve a more secure and concise overview regarding your company's goals and productivity.
See you in the cloud! Install your free CloudPanel today!