What are Cloud Servers used for and how to make the most of them!
With the advent of big data and high-speed internet, the cloud computing and cloud storage universe has been continuously expanding.
New cloud features and solutions frequently emerge to help you establish your brand and increase your company's growth.
Our latest blog post will dive deeper into the world of cloud computing, what cloud servers are used for, and show you
why the free and easy to use CloudPanel is the best option to manage your company's cloud strategy.
What is a cloud server?
A cloud server or a cloud is a massive structure consisting of several smaller server units ever-present, accessible everywhere.
Cloud computing vs. cloud storage: Not quite the same!
Within the world of cloud computing, you will find a variety of different usages and functions such as:
Sharing data amongst your employees!
Using the cloud server as a development platform!
Organizing all aspects of a project within a cloud server!
Surveying your company's growth and security!
Cloud storage, on the other hand, is used in business areas and for private purposes, and its primary function is data storage in the cloud.
You can use cloud features to plan and execute your IT Strategy and make processes and workflows significantly more efficient.
As soon as you have evaluated your cloud computing or cloud storage needs, you can decide which type of cloud suits you the best and plan how to utilize it.
To do this, we give you an overview of the most crucial cloud application areas, and what types of cloud servers are available.
4 Essential Ways to Use a Cloud Server Successfully!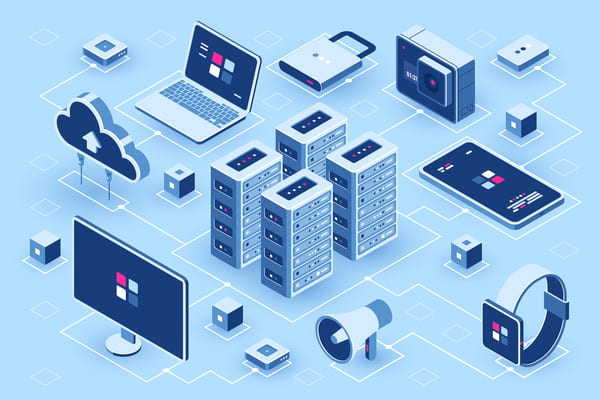 The Cloud and its various connections.
One of the most vital aspects of any cloud strategy is outlining a comprehensive cloud management strategy. It ensures oversight of the various applications and workflows.
To keep it short and sweet we will focus on a few of the most common cloud usages.
1. Cloud Hosting
Once you're freed from the constraints of a single server concept and focus on a tightly structured cloud hosting solution you are able to:
Host your online shop
Host your website or
Host your business database
The virtual framework of cloud servers, is continuously backed up and guarded by a multi-stage security wall.
2. Cloud Document Sharing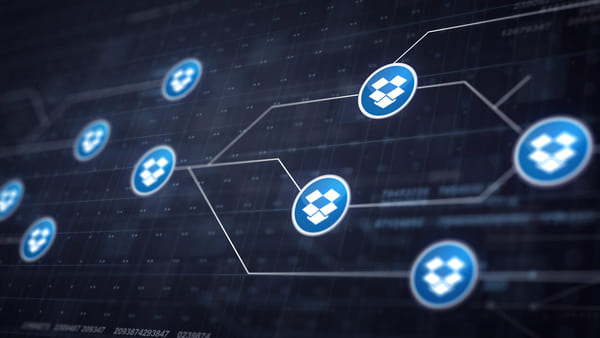 Dropbox is one of the most popular file-sharing services.
File-hosting services such as Dropbox and Google Drive are well known as some of the most prominent players in sharing, storing data, and synchronizing files.
Dropbox offers you to store files, synchronize documents in a personalized cloud and provides you with an easy to use client software.
Google Drive also synchronizes the file you store in the cloud but it is mainly accessible through a browser.
File hosting in the cloud help you the most if your business concerns:
Fast exchange of files: Allows multiple users to collaborate. Different file versions belong to the past.

Work Mobility: Vital for any successful business! Especially since 2020 with the growing popularity of home office and remote work.

Constant backups: Never worry about losing data again!

Search options: Never waste time looking for files manually again!
A document hosting and sharing application:
Saves precious time!
Energy! and
Keeps you and your collaborators up to date!! -Ensures your company's ability to function during lockdowns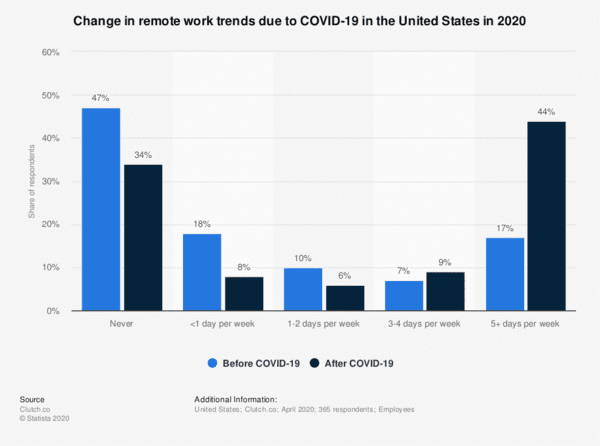 Covid-19 has caused a significant shift towards remote work in the United States.
Because of the COVID-19 Pandemic, the amount of remote work increased by 44%, which is more than double than before the outbreak (when it stood at 17%).
3.Project Management with cloud computing
Maintaining control over a project's progress can be tricky without a tool that allows you to track your team's progress and the various working strands involved.
A cloud project management service allows you to:
Share documents in uniform file versions!
Coordinate project milestones and tasks!
Use online networking tools!
Complete and deliver the project via the cloud!
4. Cloud Identity and Access Management
A company's raw data needs to be protected and managed accordingly.
So if your cloud server stores:
Important technological resources
Software licenses
Restricted customer or project information
You can use a sophisticated identity and access management service to ensure that the right people connect with the proper tools (and the wrong people don't).
(For more on "Cloud Security" see: Is Cloud Hosting Secure?)
All of this now leads to the question: Which type of cloud is the right one?
What Types of Cloud Servers Exist?
Cloud servers come in different types and adapt to your needs.
Depending on your IT Strategy, you can choose between:
A private
A public or
A dedicated cloud
You can manage all of them with the free CloudPanel.
1. What is a private cloud?
A private cloud consists of different virtual servers, which are only available to a single company or a single organization.
A private cloud provides you with:
A precise overview and control over your daily business
Project updates and file sharing
A toolkit for software development
Constant backups
Additionally, a private cloud proves most useful if you need to:
Control costs!
Prevent bottlenecks or downtime!
Manage sensitive data!
A private cloud is recommended for organizations with high needs on control and security.
2. What is a public cloud?
A public cloud offers virtual server space accessible online.
Some of the best-known cloud providers are:
Google Cloud
Amazon Web Services
Digital Ocean
Microsoft Azure
Depending on your business or personal use, you can choose between free, subscription or pay-per-use to:
Access your data and business correspondence anywhere and anytime.
Save costs on hardware and software components.
Use the most up-to-date technology.
Benefit from a comprehensive security strategy
Therefore, a public cloud is most efficient if you need to maintain an agile workflow in a rapidly changing business world without needing a highly secured tech-solution.
3. What is a dedicated cloud?
A dedicated cloud is like a public cloud only accessible by a single user or company. Compared to a private cloud, the hardware is not shared virtually but part of a specific on-premise solution within a LAN (local area network).
A dedicated cloud is very suitable if your company:
Deals with massive data transfers!
Needs additional security based on self-containment!
Hosts different databases with highly sensitive data!
As we can see, the options are wide and varied and offer something for any kind of business.
| Recommended Usability for: | | |
| --- | --- | --- |
| The Public Cloud | The Private Cloud | The Dedicated Cloud |
| Easy to access for file sharing and project management | Restricted access to protect sensitive data | Highly restricted on-premise cloud to protect very sensitive information and large data transfers |
With all these possibilities at, it is evident that a cloud solution will make:
Your daily work life easier
Your company more agile and competitive
Your project take-off faster
But most important of all:
Every application and service in your cloud can be managed with the free CloudPanel.
Because CloudPanel's easy to use graphic interface will give you a comprehensive oversight of all the activities within your cloud solution.
While also saving you a lot of money, which brings us to our final topic:
Why CloudPanel Raises Your Company's Performance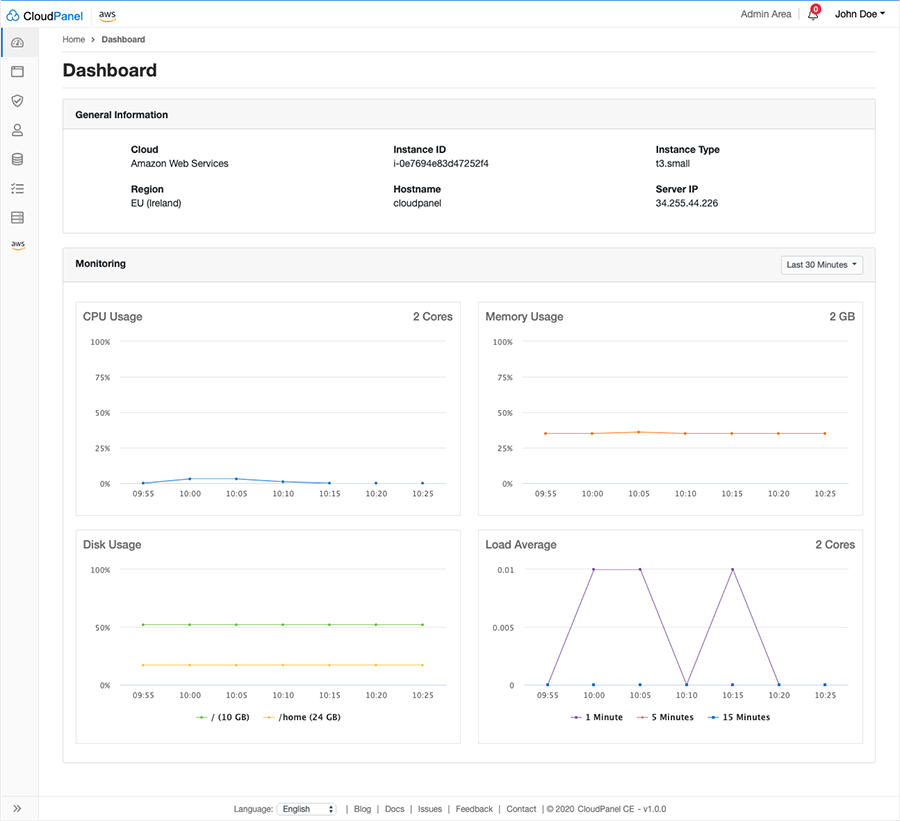 CloudPanel offers you everything you need to manage any cloud type.
Given all these choices within the world of cloud computing, it should be clear how essential it is to properly manage your cloud space.
And there is no better way than with our free server panel.
Because:
Is easy to use
Is up and running within 60 seconds
Supports all common PHP Apps
One-Click Let's Encrypt Certificates
Offers multiple PHP versions
Has NGINX support
Don't wait any longer! Install your Free CloudPanel today to optimize your cloud and improve your company's workflow and your overall process management!