Vesta Control Panel vs. CloudPanel
A server control panel is an integral part of **web hosting**. Its interface and a suite of tools make **server management much easier**.
Vesta Control Panel and CloudPanel both have impressive features. But they differ in many ways, such as interface layout, functions, pricing.
In this article, let's compare the two panels and see their main differences. You can decide which panel will best suit your web hosting requirements.
Overview of Vesta Control Panel:
Vesta Control panel is a free and open-source web hosting control panel. You can use it for Linux/Unix systems. It has all the essential features to maintain a web hosting server.
The panel works well with small servers. You get regular updates to improve its functionalities. You also get a wide range of community support.
Vesta Control Panel Highlights include:
Easy to use GUI
Open Source
Works with CentOS, Debian & Ubuntu
DNS, Database, Mail, FTP Serve
NGINX + Apache / NGINX + php-fpm / Apache
Commercial plugins
Auto Application Installer
GPL v3 License
Auto updates
Antivirus/ Anti-spam
Overview of CloudPanel
CloudPanel is a free and modern server control panel for PHP applications. The stack is built for high performance with Debian, NGINX, PHP-FPM, MySQL, and Redis. It is fast, secure, and responsive.
Along with the essential features to manage your servers, CloudPanel offers advanced cloud functionalities. Its unique cloud-centric features make cloud server management easy.
CloudPanel Highlights include:
Easy to use GUI
Up and running within 60 seconds
High performance & security
NGINX Support, PHP-FPM, MySQL (Percona)
Multiple PHP Versions
Advanced cloud functionalities
CloudPanel CLI
One-Click Let's Encrypt Certificates
Supports > 10 languages
Vesta Control Panel vs. CloudPanel Comparison
1. Interface
VestaCP User Interface
Vesta Control Panel has a clean & simple interface. You get information regarding users, domains, DNS records, Mails, and databases right on the dashboard.
It has a top navigation bar that shows server updates, IP address, Graphs, Statistics, Log, Updates, and Firewall.
CloudPanel User Interface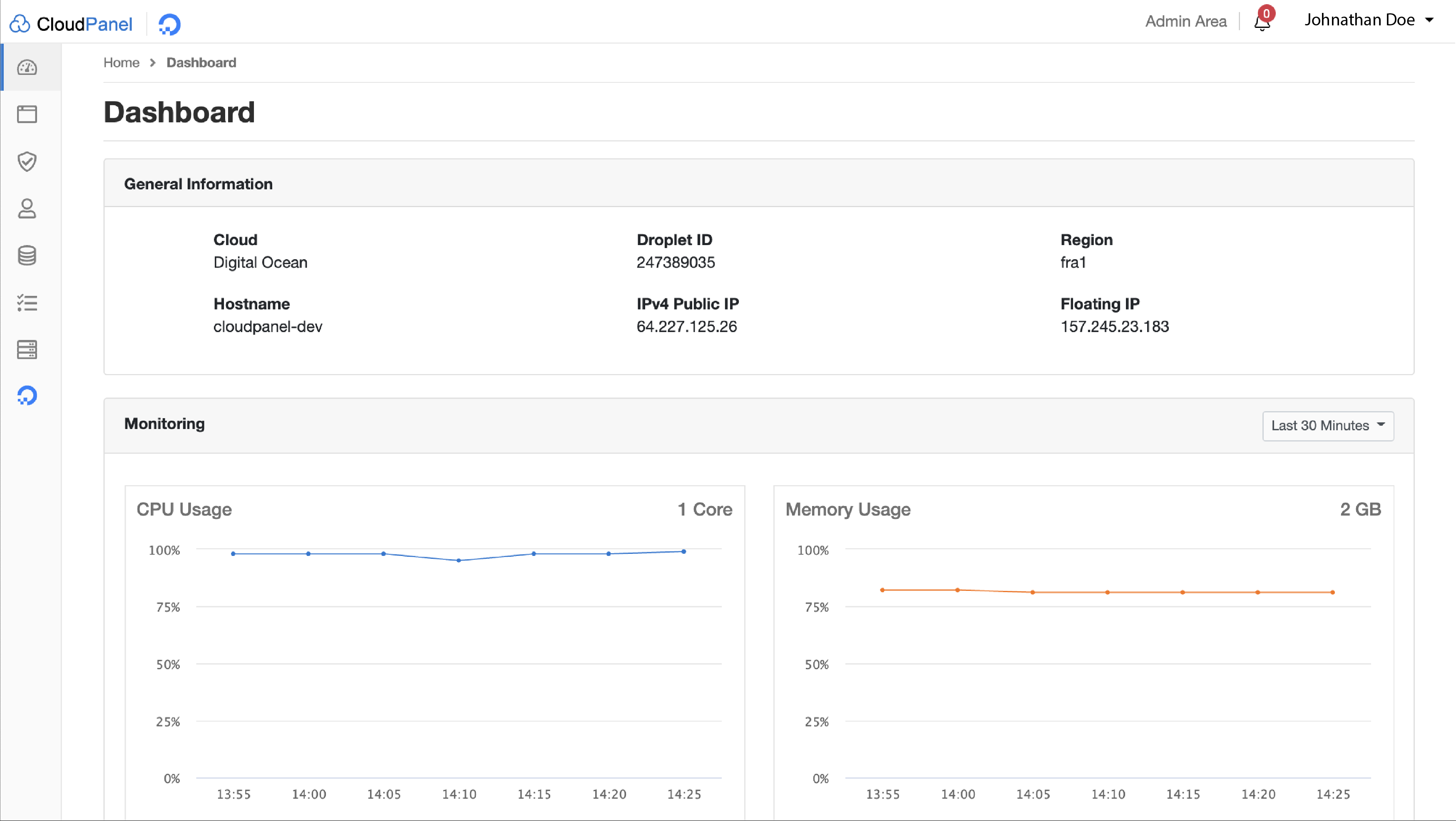 CloudPanel has a modern and sleek interface. It is more visually appealing than Vesta CP.
The dashboard has a clean & elegant design. It displays server information using graphs. You can see general information, CPU usage, Memory usage, Load Average, and Disk usage on the dashboard.
The side navigation bar shows Account, Domains, Security, Users, Databases, Cron Jobs, and Services.
2. Features
CloudPanel and VestaCP have a few different features. However, you get all the primary functions of managing your servers in both panels. Let's look at the top features of each panel.
Vesta Control Panel Features include:
General features: Web Domains, DNS, Database, Backups, Cron Jobs.
Mail features: SpamAssassin, Dovecot, Exim + RoundCube (mail server)
FTP: VsFTPD / ProFTPD
GPL v3 License: GNU General Public Licence to change, modify & redistribute source code.
CLI & API: Uses 381 Vesta CLI calls.
SSL Certificates
Firewalls: Comes with filters for various services (Apache, Exim, SSH) to ban any unwanted host IP address.
File Manager
Logs: Access Log, Error Log.
Languages: Web interface can be used in 26 languages.
CloudPanel Features include:
General features: Domains, Databases (phpMyAdmin), Cron Jobs, Services.
Domains: Vhost Editor, PHP Settings, Basic Auth, Log Viewer.
Cloud Functionalities: Execute cloud server management tasks directly from the panel.
CloudPanel CLI: Use the commands for backing up & restoring databases, 2FA, resetting user admin passwords.
Multiple PHP Versions: Change the PHP Version for an app with just a click.
SSH/SFTP Users: Add, delete, and manage users. Get secure remote login & file transfer for two endpoints.
Logs: Access Logs, Error Logs, Action Logs.
SSL Certificates by Let's Encrypt.
Firewalls: Individual configuration options for your cloud servers.
Languages: Available in more than ten languages.
3. Performance
VestaCP offers optimized configuration for Low/Medium/High RAM server types. Opt for NGINX rather than Apache for faster performance. With Vesta, a 512 MB VPS can handle 5k-8k visitors per day.
CloudPanel uses lightweight technology for maximum performance. It is built on NGINX, so the responses are very fast with minimal resource use. The stack also comes with Redis, Nodejs, My SQL (Persona), and ProFTPD. CloudPanel is built to handle websites with high traffic.
4. Security
Vesta Control Panel comes with Firewalls such as iptables and Fail2ban to prevent brute force attacks. You can schedule backups to ensure your data is protected. By default, you get three backups created by cron jobs.
CloudPanel comes with IP Blocker to filter out unwanted traffic. You can use the Bot Blocker security feature to enter Bot names. It denies access to all your websites. You can manage firewall rules directly via CloudPanel, without accessing your cloud accounts.
CloudPanel provides Two-Factor Authentication. You can use it for secure login.
CloudPanel automates the backup process without performance degradation. It allows you to create scheduled backups. You can set it for every hour, three hours, six hours, twelve hours, and once per day.
5. Installation requirements
VestaCP Installation Requirements
Vesta Control Panel supports the following OS:
RHEL / CentOS (5, 6, 7)
Debian (7, 8, 9)
Ubuntu (12.04 - 18.10)
The minimum system requirements to install VestaCP are:
RAM: 512 Mb
HDD: 20 GB
CPU: 1 GHz
You can run the panel using the command: bash vst-install.sh
CloudPanel Installation Requirements
The only requirement for running CloudPanel is to use Debian 10 (Buster). It also provides a quick launch for all major clouds. You can use it for AWS, Digital Ocean, Google Cloud, and Microsoft Azure.
The minimum system requirements of CloudPanel are:
OS: Debian 10 (Buster)
Cores: >= 1 Core
Memory: >= 2 GB of RAM
Disk: >= 15 GB
6. Application integration
VestaCP comes with the Softaculous Auto Installer plugin. It offers one-click installation for 426 applications like WordPress, Joomla, and PrestaShop. The Free License has 55 scripts, while the paid version comes with 426 scripts.
CloudPanel supports a wide range of applications such as WordPress, Joomla, Drupal, WooCommerce. You can install the applications via the panel for free. You can get the installation steps in the CloudPanel documentation.
Both panels are not available for a Windows server. They are specific for Linux systems, which is a standard for web hosting.
7. Pricing
VestaCP free model offers all Vesta core functionalities. The paid version comes with commercial plugins. You can activate SFTP Chroot support.
Vesta also offers paid technical support. One-hour support costs $ 60.
CloudPanel offers all functionalities entirely for free. There are no hidden costs or license fees.
Conclusion
Analyze your requirements before choosing a web hosting control panel.
The panel should support your preferred OS, applications, and server type. Check if the panel is easier to use and helps you get things done faster.
VestaCP is better suited for beginners with small servers. You can use it for personal server management. VestaCP is not a good option for hosting resellers.
CloudPanel is built for all business sizes. You can use it for SMBs or large-scale enterprises. It is robust and offers high performance for all server types. If you have cloud hosting, you can extract the full potential of its cloud features.
To learn more about CloudPanel and cloud hosting, check out our blog.