CloudPanel 2.0.3 Release Notes
We keep expanding the CloudPanel v2 capabilities with new features, enhancements, and updates.
CloudPanel 2.0.3 version is now available for everyone.
Release Highlights for CloudPanel 2.0.3
1. Remote Backup
A remote backup (or offsite backup) is a process of backing up data to a remote server or media transported offsite.
It helps secure the data from malicious attacks. You get a backup in case the primary site gets damaged.
A common form of remote backup is cloud backup. The copy of the data is sent over a network to an off-site server.
CloudPanel v2.0.3 offers a remote backup feature. You can store copies of your sites to services such as:
Amazon S3
Wasabi
Digital Ocean Spaces
Dropbox
Google Drive
SFTP
Other storage options
The backup solution is based on Rclone. You can select your preferred storage provider and click on continue.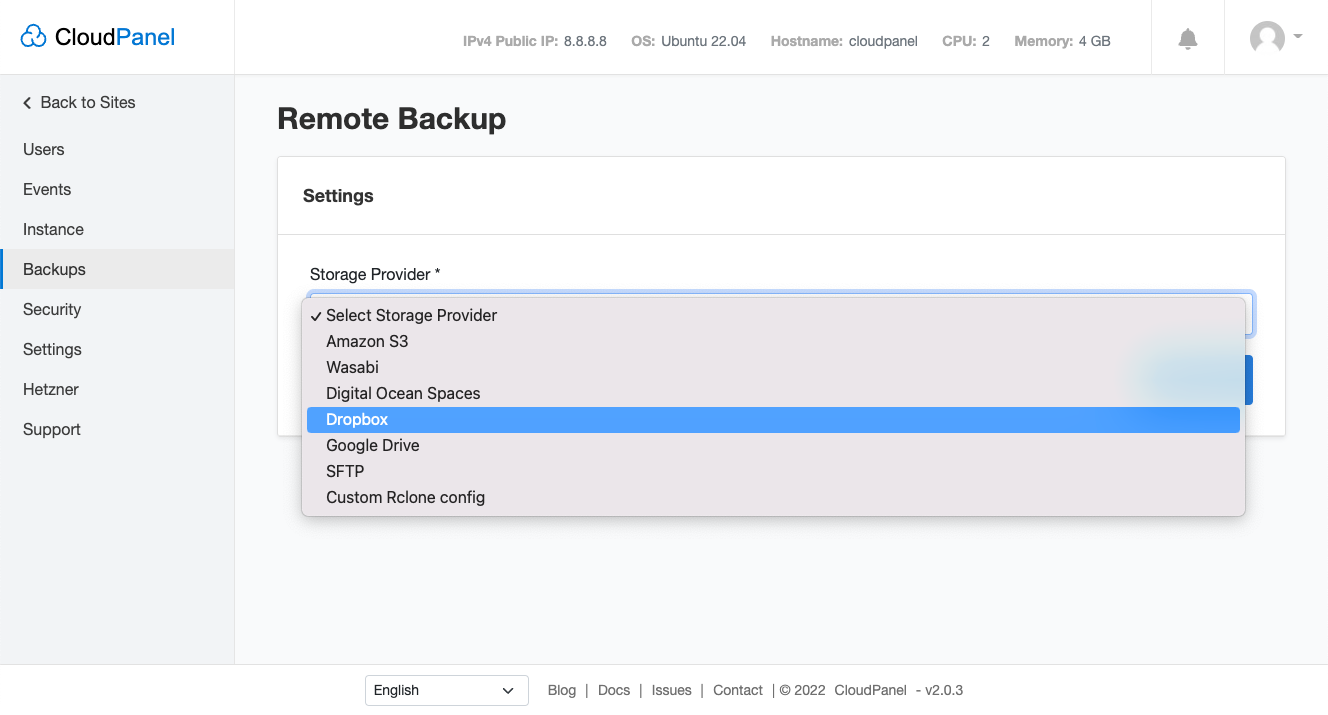 The CloudPanel v2 Docs have individual configurations for each storage provider.
2. Translations
CloudPanel 2.0.3 now supports the following languages:
Italian
Indonesian
Spanish
Romanian
Russian
Polish
Vietnamese
You can go to Github to add more translations for CloudPanel's next updates. It allows the software to be accessible in multiple languages worldwide.
3. Bug Fixes
The following bugs are fixed for CloudPanel 2.0.3 -
Summary
The CloudPanel 2.0.3 version has new translations for enhanced user experience and localizing the software.
You get a remote backup feature to store your data on an offsite server with your storage provider.
For more CloudPanel v2 updates, check out the CloudPanel Blog or join us on Discord.